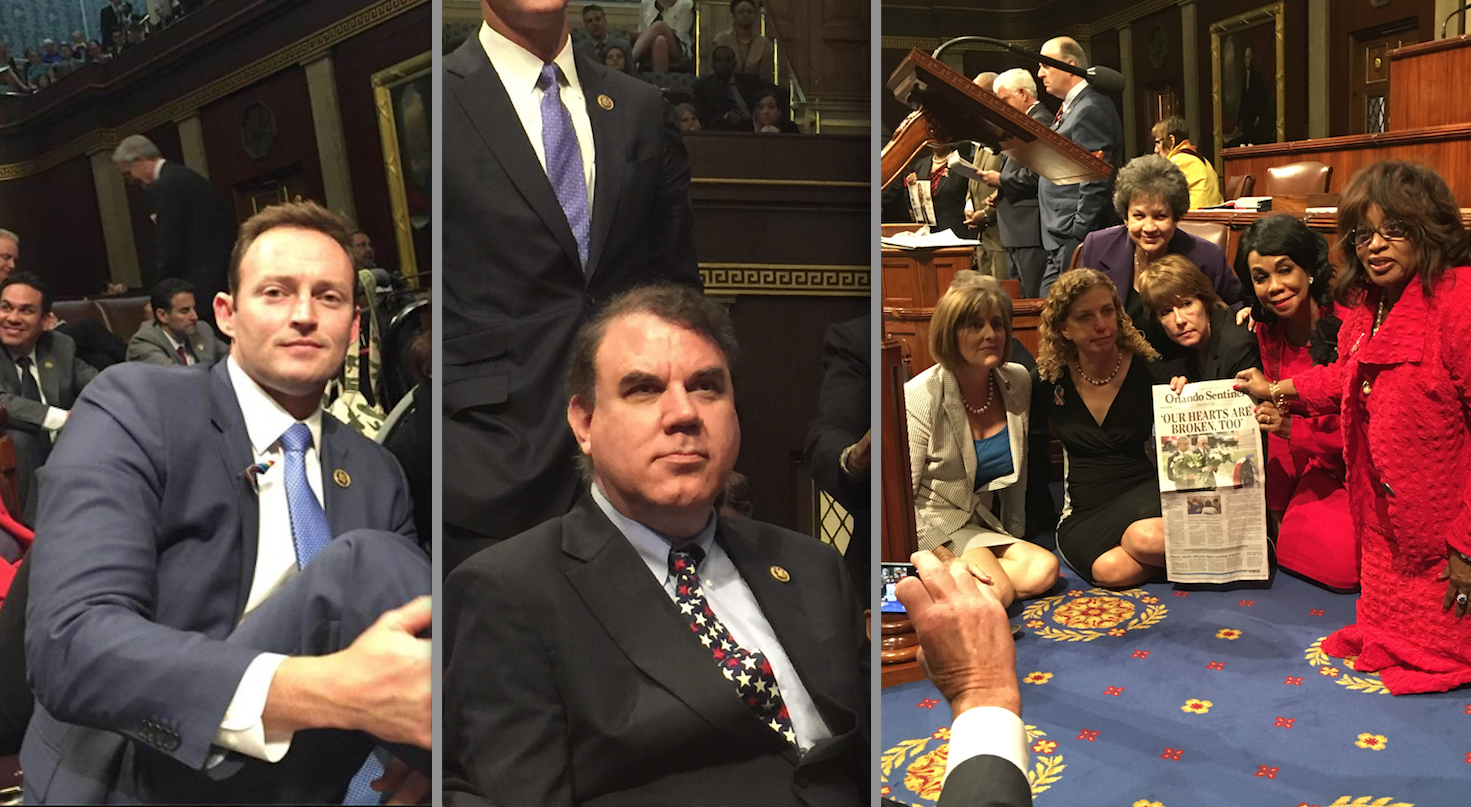 Most of Florida's Democratic members of Congress are among 168 House of Representatives Democrats and 34 Senate Democrats staging a sit-in on the House Floor Wednesday, and U.S. Rep. Alan Grayson took the occasion to remind the others of Orlando's Pulse nightclub massacre victims, by name.
Besides Grayson, of Orlando, the protest includes his U.S. Senate Aug. 30 primary opponent, U.S. Rep. Patrick Murphy of Jupiter; U.S. Rep. Corrine Brown of Jacksonville, whose district includes the Pulse nightclub in Orlando; and U.S. Rep. Debbie Wasserman Schultz of Weston, who chairs the Democratic National Committee.
The sit-in, which started at 11:15 a.m. and was headed toward its eighth hour, was organized by Democratic U.S. Rep. John Lewis of Georgia, a veteran of 1960s Civil Rights protests. The Democrats are seeking another attempt by Congress to consider various gun-control bills. Grayson has his own bill, which would re-institute a ban on semi-automatic weapons that was in place from 1994 to 2004.
House Speaker Paul Ryan, a Wisconsin Republican, called the sit-in a political stunt.
With the House microphone and video cameras turned off, the scene of the Democrats' protest appears on C-SPAN broadcasts, which is broadcasting audio and video feeds from Democrats' cellphones.
Grayson, of Orlando, read the names of the 49 people killed June 12 when gunman Omar Mateen entered Orlando's popular gay nightclub Pulse to kill gay Americans in the name of ISIS. Mateen, using a handgun and a semi-automatic rifle, also wounded 53.
"The shooting took place eight blocks from my district, a week ago last Sunday. Here is the list of the victims," Grayson began, shortly before 3 p.m. And then he slowly read the names and ages of each of the dead.
"You can look at a video taken by one of the dead during the attack itself, and you can count 17 gunshots in five seconds, and the shooter stopped in the middle," Grayson said. "It is far too easy to kill too many people too quickly in this country today. And we have to do something about that. Otherwise, these people died for no reason."
Brown also spoke out for the dead and wounded of her district.
"Congress must not leave Washington, D.C. without voting on commonsense gun violence prevention legislation to save lives," Brown said. "Mass shootings have become unacceptably commonplace in our country, and it is clearer than ever that we have a responsibility to do more to keep guns out of the wrong hands."