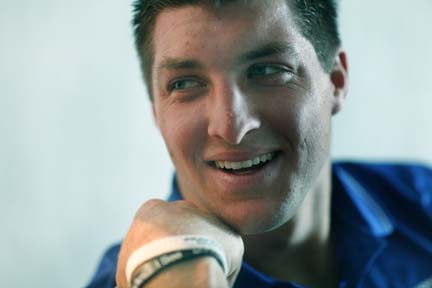 Alas, former Florida Gator quarterback Tim Tebow will not be immortalized in marble or bronze anytime soon.
At least not in the U.S. Capitol.
Nor will Miami Herald columnist and novelist Carl Hiaasen, adult film star and Florida native Riley Reid and former Gov. "Jeb Bush's political career (not him, his career)."
They were among nominees proposed by members of the public but rejected by staff to replace a statue of a Confederate Army general, one of two representing Florida in the Capitol's National Statuary Hall. The other statue, of scientist-inventor Dr. John Gorrie of Apalachicola, a pivotal figure in the invention of air conditioning, will remain.
The list of rejects was released by Department of State officials Wednesday.
Some of the suggestions were likely meant to be funny (Mad magazine mascot Alfred E. Neuman, misspelled as "Newman"), others were chilling (serial killer Ted Bundy) and still others obscure (anybody know "James L. Pippin"?).
Earlier in the day, a special panel of the Great Floridians Program recommended Bethune-Cookman University founder Mary McLeod Bethune, Publix Super Markets founder George W. Jenkins and author and Everglades defender Marjory Stoneman Douglas.
State lawmakers will pick one of those finalists next year.
To be eligible for consideration, nominees had to be a "citizen of the State of Florida, either by birth or residence" and be "deceased for 10 years or more, as of January 1, 2017."
Tebow, Hiaasen and Reid are all still living. "Jeb Bush's political career" was disqualified for being "not a human entity."
Tebow got the most votes, 153.
In second place on the ineligible list was Confederate Army Gen. Edmund Kirby Smith, the very man sought to be replaced. He got 49 votes, probably in protest. He was dismissed as "already in Statuary Hall."
Third place was claimed by GOP U.S. Sen. Marco Rubio of Florida, also not dead. He received 27 votes, or 28 if you count a debatable entry for "Little Marco's tiny … ," followed by the word for a certain male body part. (It was disqualified as "not a human entity.")
Other notable nominees include retired Florida State football coach Bobby Bowden (still living), the late congressman from Pinellas County Bill Young (not dead for 10 years), Tallahassee native and chocolate chip cookie entrepreneur Wally Amos (still living) and "Florida Man" (fictional character, though some would disagree).
Also getting votes were Sandra Hull-Richardson, the first black president of the Junior League of Jacksonville (still living), and Mary Athalie Wilkinson Range, the first black to sit on Miami's City Commission and the first woman to head a Florida state agency, the Department of Community Affairs (dead fewer than 10 years).
And "Statuey McStatueface" got a vote but was turned away for being "not a human entity." The name is likely a play on "Boaty McBoatface," the winner of an online vote by a British government agency to name a $287 million polar research vessel.
The complete list, unedited, is here. Reader discretion is advised.