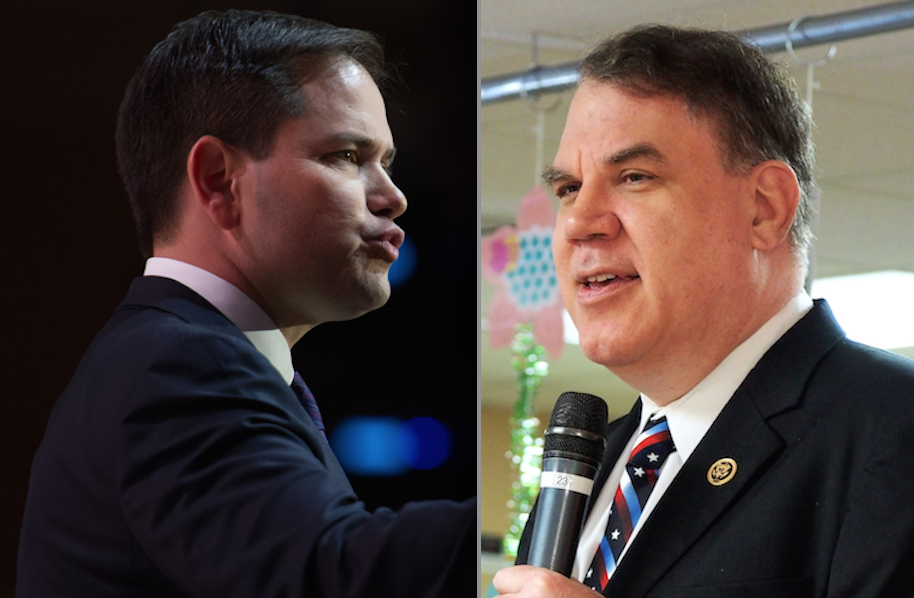 Dueling responses on the U.S. Supreme Court's latest abortion law ruling, from Republican U.S. Sen. Marco Rubio, his Democratic challengers U.S. Reps. Alan Grayson and Patrick Murphy others, show how divisive the issue remains between the major parities.
In a 5-3 decision, the court tossed both parts of a Texas law that is similar to one approved last spring by t5he Florida Legislatures. The Texas law had required doctors performing abortions to have admitting privileges at a nearby hospital, required clinics where they work to be set up and regulated similar to outpatient surgical centers.
Within a short time of the Supreme Court's ruling in Whole Woman's Health v. Hellerstedt throwing out a Texas law, Rubio responded by expressing his disappointment and cautioning about future Supreme Court appointments.
"With the Supreme Court issuing its final opinions of this term, we were reminded again of just how high the stakes are when it comes to appointing Justice Scalia's successor," Rubio stated.
Moments later Grayson, a Democratic U.S. Senate candidate from Orlando, issued a statement calling it an important victory for women's reproductive rights, and cautioning about allowing Rubio to have a vote on future Supreme Court appointments.
"This decision also shows how destructive it would be to allow Marco Rubio to maintain his power to approve future Supreme Court justices," Grayson stated. "Rubio favors restricting abortion access even in cases of rape and incest, and would unravel these vital health protections for women."
Murphy also went after Rubio, who had filed a friend of the court argument in the case, siding with the state of Texas.
"This law was designed to make it nearly impossible for women in Texas to access safe and legal abortions," Murphy commented in a statement released by his campaign. "This dangerous anti-women's health effort was praised by Marco Rubio, who wants to ban abortion access even in cases of rape or incest, punishing women and taking away basic health care rights. We need a Senator who will stand with Florida women and families against continued attacks on women's health care. In the U.S. Senate, I will continue fighting to protect these basic rights."
Other Democrats also quickly joined in.
"Women and their health care providers across the country can breathe easier today after the Supreme Court struck down an outrageous Texas law that closed clinics and blocked medical access to women's health services," stated U.S. Rep. Kathy Castor, a Tampa Democrat. "This ruling sends a loud and clear message to politicians in Congress and in states like Texas and Florida… instead of engaging in political games and witch hunts, we should work together on meaningful policy that protects women's access to health care."
Anti-abortion lawmakers, including most Republicans, had argued the law's necessity in trying to make abortion clinics as safe as any other hospital.
And that's what Rubio argued. He pointed to a Philadelphia doctor who was convicted in 2013 of first-degree murder for abortions conducted in 2011 and earlier.
The Texas law… is designed to safeguard women who choose to have abortions by ensuring that all Texas clinics are sanitary, regulated and in proximity to a hospital in the event complications arise," Rubio said. "Kermit Gosnell is a name we should never forget, given the atrocities he committed against women and unborn children in unsafe and unsanitary conditions that inspired this Texas law."
Abortion rights lawmakers, including most Democrats, had argued that the law was another attempt to shut down clinics and further restrict women's access to abortion.
And that's what Murphy and Grayson argued.
"Today's Supreme Court ruling is a victory for the health and safety of women in Texas and the right to choose for women across the country," Murphy stated. "This is a powerful declaration that women have a constitutional right to make their own health decisions and that extremist attempts to undermine that right will not stand.
"The Supreme Court's decision not only strikes down an offensive Texas law designed to deny millions of women access to safe abortions, but it reaffirms the legal protections outlined in Roe v. Wade," Grayson stated.