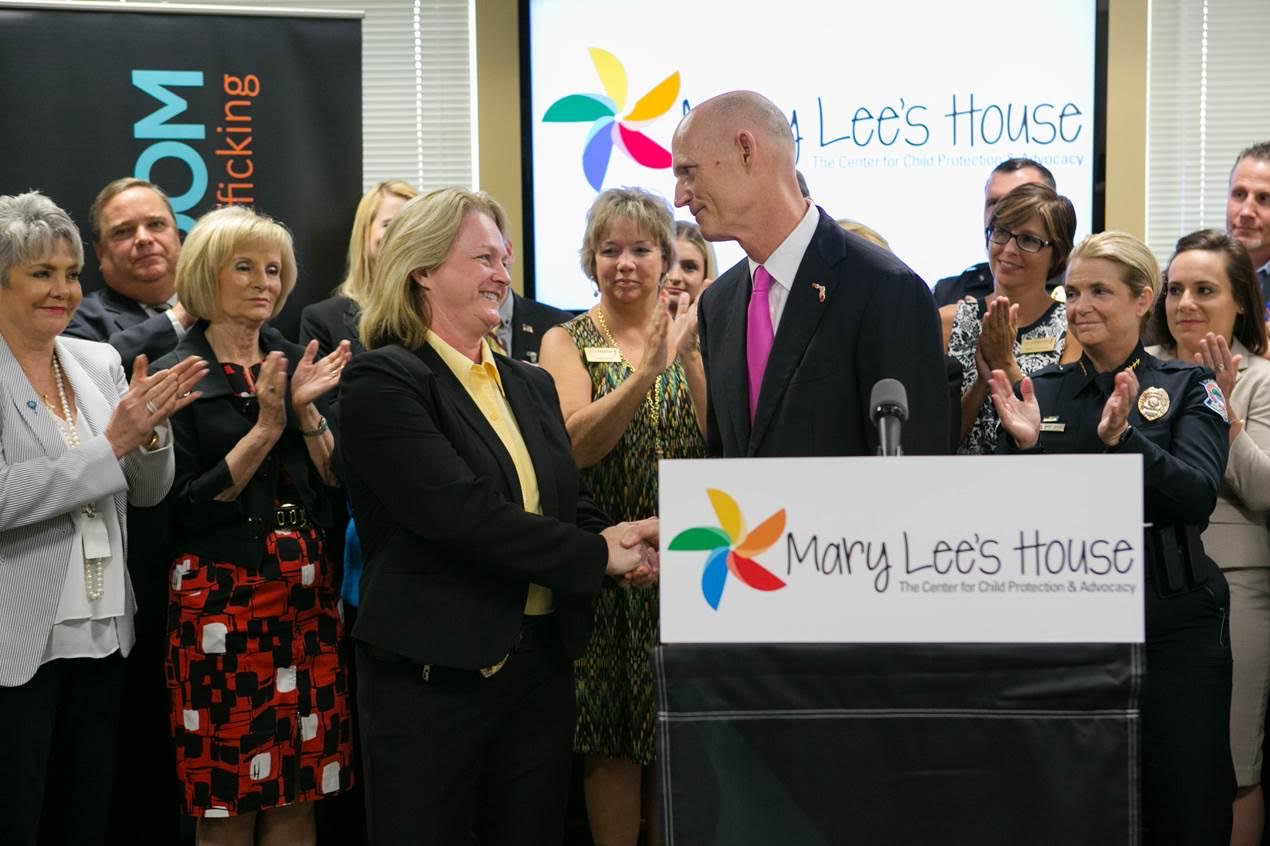 Gov. Rick Scott, Attorney General Pam Bondi and state Rep. Ross Spano were among the public officials who gathered at an event in Tampa Monday that celebrated legislation passed this year to combat human trafficking in Florida over the next fiscal year.
Speaking at Mary Lee's House, a nonprofit child protection and advocacy center serving more than 100 children every week in West Tampa, those public figures were joined by dozens of state and private sector employees who are in the business of reducing the level of trafficking in the state.
That includes $1 million for Selah Freedom, a Sarasota-based national nonprofit that focuses on ending sex trafficking and sexual exploitation. In addition to children, Selah Freedom has a program for women between the ages of 18-26, a demographic frequently overlooked, says Elizabeth Fisher, Selah Freedom's president and CEO.
Selah Freedom also helped to create the Turn Your Life Around program (TYLA), a diversion program so women involved in sex trafficking don't get charged with up to three charges of prostitution, which triggers a felony conviction. "With a felony, you can't get a job, you can't do anything, so our girls are stuck in the system," Fisher said.
Other local centers getting funding include Bridging Freedom in Tampa, which acquired $1.2 million in funding, and the Florida Dream Center in St. Petersburg, which received $250,000 for the coming fiscal year.
Also speaking at the Monday morning press conference was a woman identified only as "Brandy," a 35-year-old woman who says she lived on the streets of Florida for 12 years.
"I also felt very ashamed of myself at those times in my life and never thought life would be anything else but," she said of her time where she was trafficking. She says that it all changed for her when she became involved with the TYLA program at Selah Freedom.
Scott also recently signed legislation which establishes harsher penalties for human traffickers and protects victimized children from being convicted of criminal charges.
Bondi said currently, her office has 76 pending defendants and 81 open investigations when it comes to human trafficking in Florida. "These victims are young girls, and now we know young boys, too," Bondi said.
The attorney general said those children or young adults are contending with so many issues when they're able to escape sex trafficking. Many of them are runaways, moved from foster homes, living on the streets, in some cases addicted to drugs and severe emotional issues.
Bondi said that in some cases, such people have been raped, "Twenty to 40 times a day. A DAY. Seven days a week. That is human trafficking. It's real; it's going on around our country."
Dover Rep. Spano said it was fine to celebrate what's been achieved, but said there's far too much work for advocates to congratulate each other too aggressively.
"We have a lot of work to do," Spano said. "There are still children and adults out there being held against their will. There are still venues and ways in which the bad guys are taking advantage of technology , that we're having a hard time keeping up with."