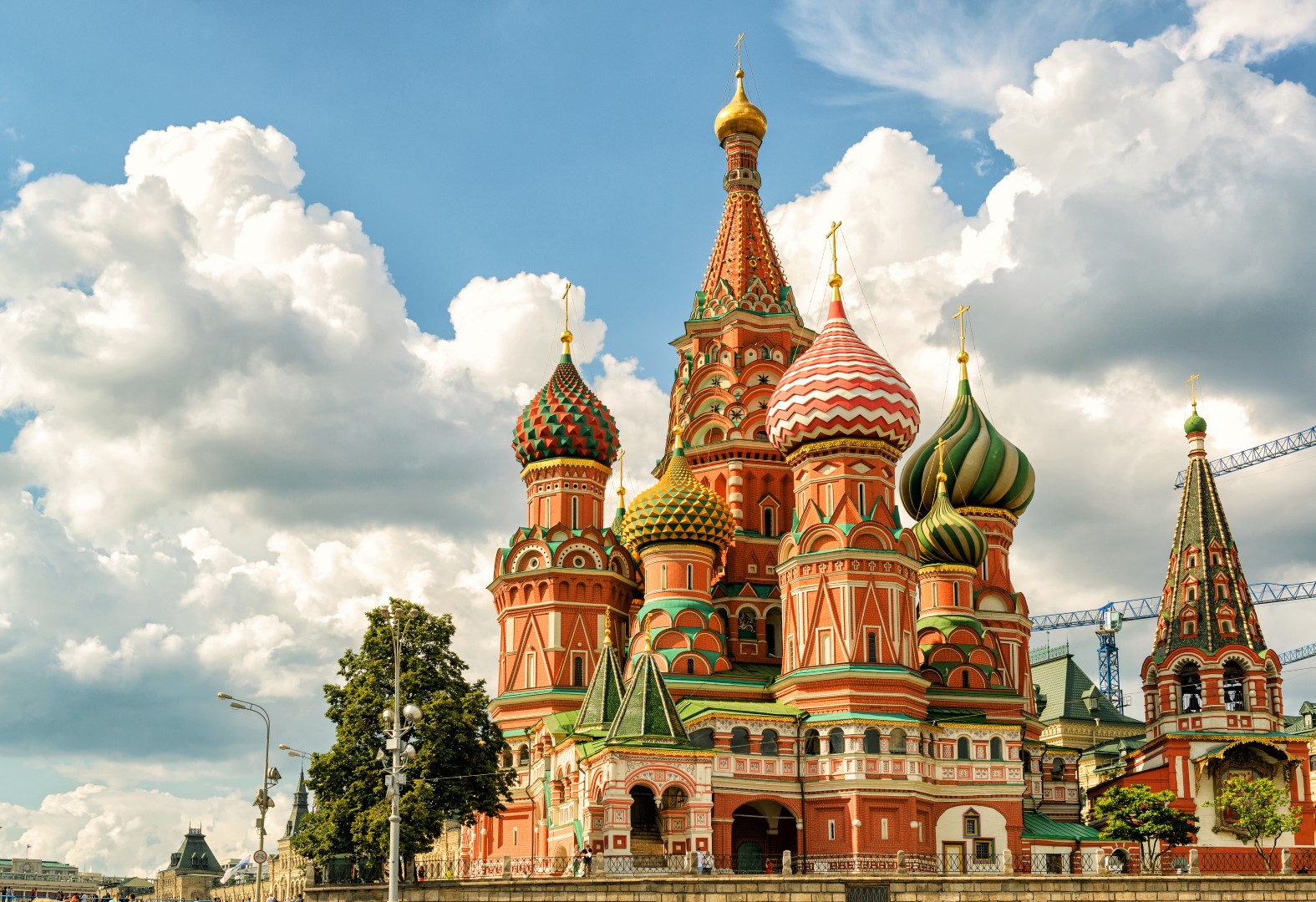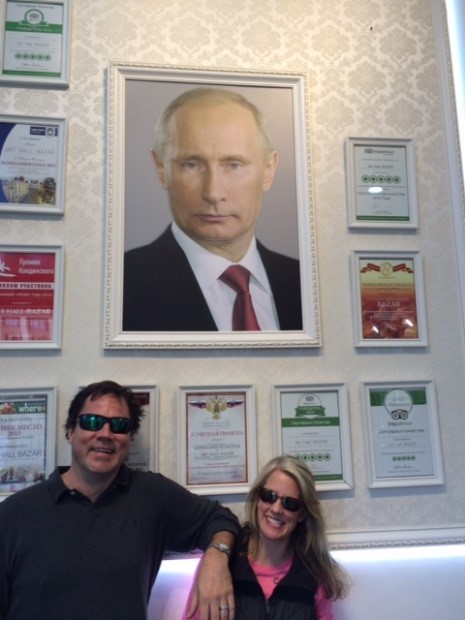 I visited Russia for the first time this summer.
Growing up a Cold War kid, the prospect of visiting the Motherland was a little freaky — and the constant visibility of the Russian Navy in the Baltic Sea had me sleeping with one eye open.
Once I overcame these minor fears, the country was truly a gem to explore and discover. Who knew drinking straight vodka with lunch was such fun? It also makes bland food taste fabulous.
Our guide kept telling us how nice Russians are and how they love Americans; this was a farce. I detected no love for the United States. In fact, half of the souvenir shirts that I saw, mocked our president and other world leaders.
Barry [Obama] is an easy target; but still, this is 'merica, ya'll. (see T-shirt below for an example).
It is interesting that our guide said to use cash only while visiting the former USSR. Credit card fraud is so rampant they said to just avoid it. So rubles it is, I think the ratio was 66 to 1 rubles/dollars.  T-shirts were 450 rubles, so was a Diet Coke.
Anyway, as we roamed — through the Hermitage Museum (Who would have thought DaVinci and Rembrandt had pieces there?), Catherine's Palace, checked out the ballet, and had lunch where Putin celebrated his 50th birthday —  cyber-crime and fraud were always in the back of my mind.
Some of the world's most diabolical cyber threats originated in Russia. The CryptoLocker virus was developed by a Russian hoodlum, and it is the Bill Cosby of cyber threats. It is believed a man with the online name of "Slavik" created CryptoLocker.
The FBI has identified Slavik as Evgeniy Mikhailovich Bogachev, a Russian national whose whereabouts remain unknown. He is believed to be the creator of two of the most sophisticated and destructive forms of malicious software in existence — Gameover Zeus and CryptoLocker.
Through the Zeus program, he was able to take control of almost half a million computers worldwide in what is called a botnet, controlled by criminals. The primary goal of the Zeus program is to capture your keystrokes, so that when you go to a financial site, it copies your passwords and then they go about stealing your money. In the crypto-locker scenario, your computer and all its data are locked, with demand for ransom. Once the ransom is paid, you may or may not get the encryption keys to release files. (Make sure you keep a solid backup of your data in case you are infected and need to wipe and reload your machine).
It is estimated hundreds of millions of dollars have been stolen with these tools.
It appears Bogachev is still on the run and is facing charges from Russian and American authorities.
Also making news while we were visiting Russia was the doping scandal and the subsequent Olympic ban. Man, they are pissed about this.
No one I talked to denied anything, they were all cool about the fact that the culture of doping was widely known over there.
Russia has a lot of alarming trends.
Did you know that Russia's homicide rate is one of the highest in the world?
Organized crime in the country has its hands in everything you could imagine: human trafficking, assassins for hire, extortion, drugs, money laundering, etc.
The Russian military rolled into the Ukraine and annexed Crimea, and actively assisted a separatist force in destabilizing the region.
What are we doing? Our government has cut our military spending by 25 percent in the past five years.
We are a joke to them and not the America they once feared. Who knows how global politics and conflict will end up in the coming years? One would assume China and Russia will eventually try something on a grander scale, and then there are our pals in Iran.
As the downed fighter pilot, Col. Andy Tanner said in the movie "Red Dawn" about how the the fictional invasion of the U.S. by Russia started, "I don't know. Two toughest kids on the block, I guess. Sooner or later, they're gonna fight."
The sun sets around 11 p.m. in Russia this time of year, and it was a pleasure to visit and learn more about this nation. It is a nation of grandiose history and horrendous violence (see Lenin, Stalin) but a nation worth checking out if you get the chance.
And don't forget to drink some vodka while visiting; it worked for my wife and me.
We just need to make sure not to take that ritual home with us …
___
Blake Dowling is Chief Business Development Officer for Aegis Business Technologies in Tallahassee, and he writes columns for several organizations.
You can contact him at [email protected].