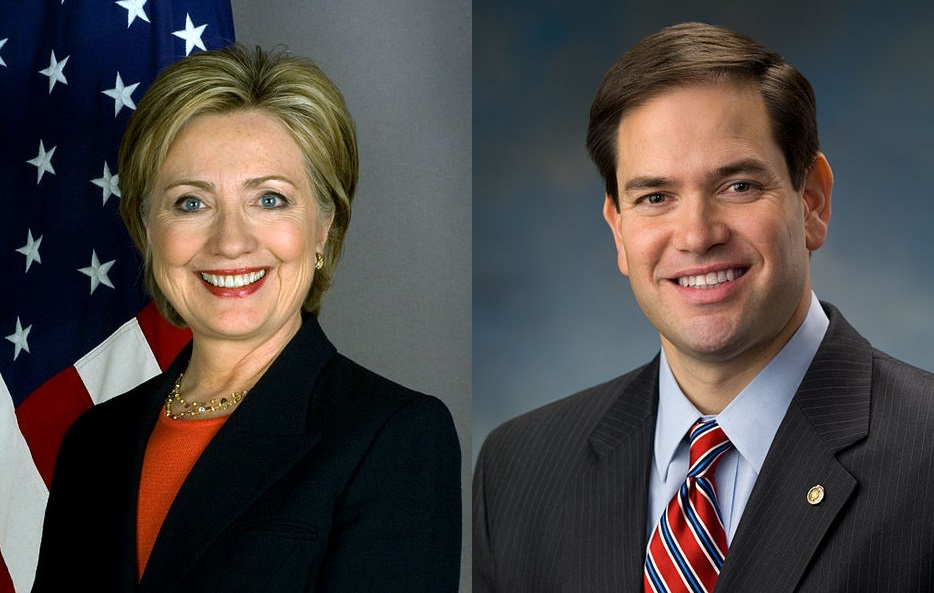 Marco Rubio is no longer running for president, but he's still using some of the same lines of attack against Hillary Clinton as he resumes his run for Senate.
Early Tuesday, House Republicans concluded their two-year investigation into the 2012 terror attacks in Benghazi, Libya with an 800-page report that blames politically motivated bureaucratic delays for failing to prevent or stop the deadly attacks that claimed four American lives. While there's no new evidence of wrongdoing by the former secretary of state, it does critique her State Department for inadequately protecting its staff.
While Clinton says it's now time to move on, Republicans like Rubio are getting in their verbal shots at the presumptive Democratic presidential nominee.
"Today's report by the House Select Committee on Benghazi is a reminder of the extraordinary failure on the part of officials at the State Department, including Secretary Hillary Clinton, to grasp the security risks in Libya and Benghazi in particular, and take the appropriate action to protect Americans stationed in that country," Rubio said in a statement. "It was a reminder of why those failures should outrage every American: because those failures resulted in the extraordinary sacrifices made by the four brave Americans who lost their lives in the deadly terrorist attacks against U.S. facilities in Libya on the night of September 11, 2012."
According to the L.A. Times, the report reveals the vice chairman of the Joint Chiefs of Staff, who normally would be expected to take a leading role in responding to an attack on Americans, was not at the Pentagon but instead hosting a dinner party for foreign dignitaries at his home. It highlights the confusion among intelligence officials about which militias could be trusted in Libya, and how it was fighters loyal to deposed dictator Moammar Kadafi who ultimately aided Americans. And as the attacks were going on, the report notes, military officials were debating whether troops sent to respond should wear uniforms or civilian clothing.
"Following the attack, the administration's spread of misinformation, which is now confirmed in this official report, and its lack of meaningful action to hold those involved in this terrorist attack accountable or even to  discipline anyone at the State Department were a further disgrace to the memories of the four fathers, husbands, and sons who lost their lives that night, " Rubio said on Tuesday. "Secretary Clinton's failure to adequately address these issues during her tenure at the State Department is a glaring indictment of her leadership and the way in which she lied to grieving families one thing about the facts that night, while privately admitting the true nature of the terrorist attack is truly appalling."
Democrats say that the Republicans have politicized Benghazi far too often in the past three and a half years, citing the seven different government investigations in the House that took place before the most recent committee, chaired by South Carolina Republican Trey Gowdy.
"After more than two years and more than $7 million in taxpayer funds, the committee report has not found anything to contradict the conclusions of the multiple, earlier investigations," said Clinton spokesman Brian Fallon. "This report just confirms what Majority Leader Kevin McCarthy and even one of Trey Gowdy's own former staffers admitted months ago: This committee's chief goal is to politicize the deaths of four brave Americans in order to try to attack the Obama administration and hurt Hillary Clinton's campaign."