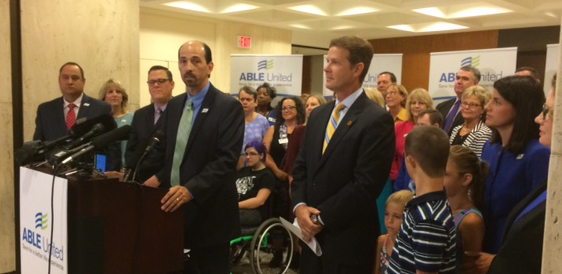 Floridians with disabilities will now be able to save up to $100,000 in a tax-free account to pay for their health care, education and job training without jeopardizing their government benefits.
Under a 2015 law, sponsored by Estero Republican Rep. Ray Rodrigues and Sen. Lizbeth Benacquisto, a Fort Myers Republican, ABLE United launched the program July 1. The state law is the result of the federal Achieving a Better Life Experience (ABLE) Act, which U.S. Rep. Ander Crenshaw, a Jacksonville Republican, shepherded through Congress in 2014.
"The mission of ABLE United is to encourage and assist the saving of private funds to help people with disabilities to cover costs that support their health, independence and quality of life," said Kevin Thompson, director of the program. "Simply put, to have a better life experience."
Senate President Andy Gardiner, who attended the Capitol news conference with his wife and children, said the savings accounts would help Floridians with "unique abilities," like his son who has Down syndrome, have more opportunities, ranging from going to school to finding a job.
"ABLE United provides the opportunity for people with unique abilities to save for the future without the concern of losing important state and federal benefits," Gardiner said.
Under the former law, disabled Floridians could not earn more than $700 a month or have more than $2,000 in assets without the threat of losing benefits like Supplemental Security Income or Medicaid.
The limits led to some "troubling" statistics, Rodrigues said, including the fact that the unemployment rate for the disabled was around 36 percent, and the poverty rate for them was 24 percent in Florida.
Rodrigues, who has a son with cerebral palsy, said many disabled Floridians want to work or otherwise improve their lives, but they were afraid of losing the "safety net" of government support.
"For the benefit of the safety net, you have to accept a life of extreme poverty," he said.
Through a website, ableunited.com, Floridians with disabilities, like blindness, muscular dystrophy and cystic fibrosis, can create the savings account, which is similar to a federal 529-college savings plan. The law allows up to $14,000 a year to be contributed to the account.
Eligible individuals must be Florida residents and have acquired their disability before age 26.
The money can be used for health, housing, education, employment training, transportation, legal fees and other activities.
Florida is a national leader in the program and is one of three states that have established ABLE savings accounts, said Michael Roush of the National Disability Institute, a nonprofit group whose aim is to lift disabled Americans out of poverty.