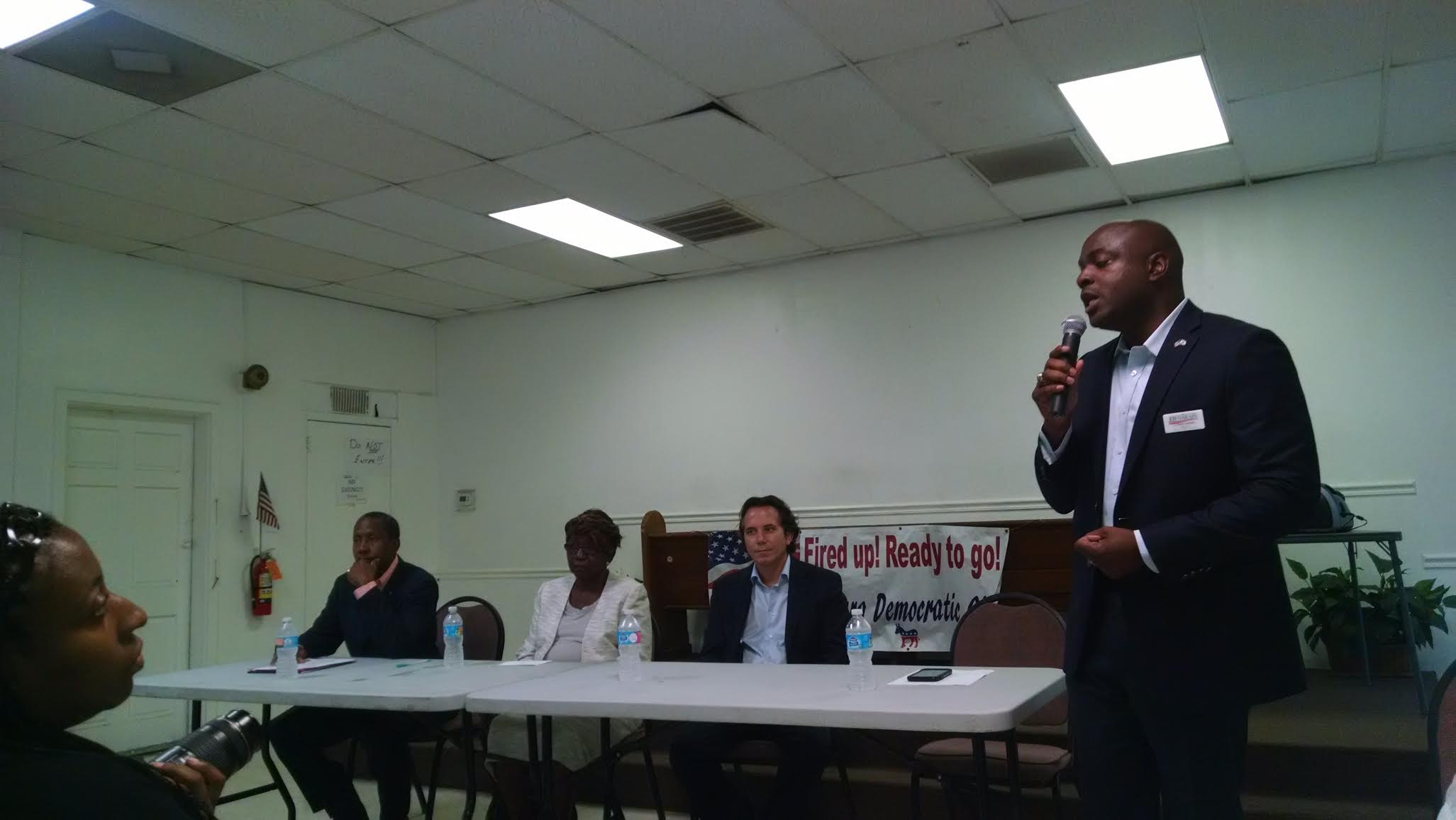 When he announced his candidacy for Senate District 19 last month, St. Petersburg based attorney Augie Ribiero said he was convinced he should enter the contest after he came away uninspired by hearing fellow Democrats Ed Narain, Darryl Rouson and Betty Reed speak at a candidates forum in south St. Pete.
He doubled down on those comments in the past week in an interview with the Tampa Bay Times, saying the citizens in the Hillsborough/Pinellas district "need a skilled voice and loud champion."
Those comments didn't sit well with Narain, who blasted Ribiero in the final moments of a 90-minute candidates forum hosted by the South St. Pete Democratic Club at the Sanderlin Center on Saturday, specifically his comments about the district needing someone "with a greater skill set."
"I took offense to that personally, because despite Representative Rouson's and my differences, we have worked together the last couple of years on many things, and I'd like to believe that we're both skilled and that we're both loud champions," he said, before then referring to Reed and current and past state senators who have represented the district (Arthenia Joyner, Les Miller and James Hargrett) as all being "skilled and loud champions."
"So when we want to talk about why people want to get into races, is it really just about having the title of senator in front of your name?" Narain continued. "Or do you want people who have been invested in your community for the last 25 (years) and in some cases their entire lives, people before they had positions and titles, actually got up and did the work?"
Ribeiro stands out as the only Latino in the race with three black candidates in a district that has traditionally elected a black representative to office. A native New Yorker who has only lived full time in St. Pete for three years, Ribeiro has said his cultural values are aligned perfectly with the district.
Narain also questioned Rouson's bona fides on the environment after Rouson said he had opposed fracking in the Legislature. Narain said people should look at the record, which shows that Rouson voted in support of HB 1205 in the 2016 legislative session, which aimed to regulate hydraulic fracturing.
In his 2014 campaign against Sean Shaw, Narain had to combat allegations that he was too corporate, in part because of his regular employment as an area manager for AT&T.
"I'm not endorsed by AT&T and other corporations," Rouson said,  but Narain countered that neither was he, before reciting a list of organizations that are supporting him, beginning with the AFL-CIO.
However, Narain is the only candidate not completely supportive of raising the minimum wage for all workers in Florida to $15 an hour (it's currently at $8.05). He says that while he supports such an increase for health and home care workers, he resists that increase for fast-food workers, saying their rate should go to $12 an hour.
"I read an article what Wendy's is looking into doing is automating their systems," he said. "If we were to move to $15 an hour I can guarantee you, they're going to automate people out of jobs."
Ribeiro on the other hand, sounded like he worked with the SEIU, so passionate was his support to "Fight for $15."
"You fight, you fight, you fight and that's what's going to win…we're fighting all the way," he said. "My friends, it's an indignity if we don't take that position, if we don't stand strong. We're Democrats. We care about the community. That's what we're going to do!"
Rouson frequently began his responses by saying he wasn't going to talk about what he hoped to do if elected, but instead explain what he has accomplished after having served nearly eight years representing not only his his home base of Pinellas in House District 70, but also parts of Hillsborough, Manatee and Sarasota counties.
Reed stayed above the fray, also often alluding to her past work while serving in the House. She said nobody would work harder for women's rights if elected. Discussing abortion related bills in the House, she said she would ask, "Where are the men? The woman didn't get this way just by herself. So where are the men?"
The candidates will debate again Tuesday night, July 12, at the Enoch Davis Center in St. Petersburg, beginning at 6:30 p.m.