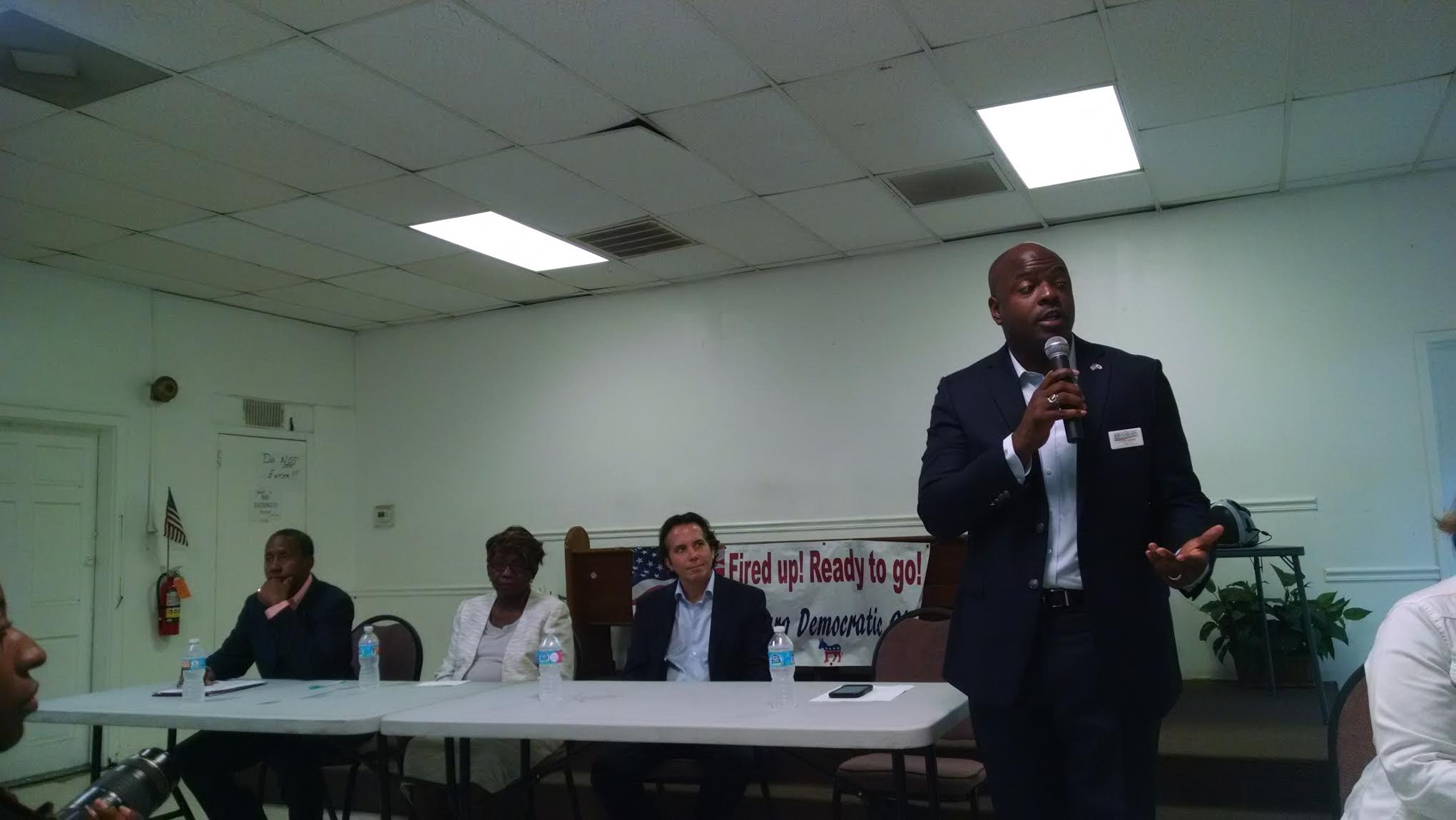 The issue of school choice and vouchers is a touchy one for Democrats. In the Democratic Party platform completed last weekend in Orlando, it declares support for "high-quality public charter schools" and opposition to "for-profit charter schools focused on making a profit off of public resources."
The national NAACP, however, is against public support for school choice AND vouchers, saying it takes away resources for public schools. At an NAACP-sponsored campaign forum Tuesday night with the four Democrats running for the Senate District 19 seat in South St. Petersburg, the first question posed to the candidates by moderator Patrick Manteiga was where the candidates stood on charters, which have received major funding from Florida's GOP-led Legislature in recent years.
"I do believe families should have choices," said former District 61 state representative Betty Reed, who said her daughter runs a charter school. Reed did say she doesn't believe "a lot of money" should go into charters if they aren't governed by the same standards as regular public schools.
Darryl Rouson, who is term limited out of his House District 70 seat that, like SD 19, also crosses Tampa Bay, seemed to want to have it both ways. "I believe that parents should have a choice, but I am invested in public schools, and I want a strong, high-quality, free, accessible public education for our children. But I do not believe one size fits all."
The other two candidates came out strongly in support of public schools.
"Vouchers are not going to save all of our kids," said Ed Narain, who currently represents House District 61 in Tampa and has been endorsed by the Florida Education Association. "We can't pick and choose. We've seen these public charters rip millions away from the state of Florida's education budget, and we've gotten no return."
"I agree with the NAACP," said attorney Augie Ribeiro, the newest entrant into the race. "In the nation, we need to build and have a strong public and robust educational system," he said, adding that there could be exceptions.
The forum was the second South St. Pete-based event between the candidates in SD 19 in the past four days. The minority district  includes West Tampa, all of East Tampa, Riverview, Gibsonton, Apollo Beach and then crosses the bay into downtown and South St. Petersburg. For decades it's been held by a black representative (currently Arthenia Joyner).
On many, if not most, policy issues, the candidates were all on the same page. The difference was in the substance of their answers. As they both are currently serving in the Legislature, Narain and Rouson can talk about legislation they've passed or attempted to pass to give substance to their responses.
Ribeiro is the wild card in the race. The New York City native (as is Narain) entered the race on the second-to-last day before the qualifying ended, but he brings tremendous financial resources to the task. He's also the only non-black candidate in the race, and he needs to introduce himself to as many voters as possible in the seven weeks before Election Day. However, he seemed to err on Tuesday night by frequently invoking the same response to different questions.
"There has been a repeated, continuous systematic perpetuation of racial injustice, social injustice, and it's put the black community at a great disadvantage," he replied when asked if he would support the automatic restoration of voting rights for ex-felons.
Later on, the candidates were asked in light of the shootings of black men in Baton Rouge and in suburban St. Paul, what legislation would they draft to protect African-Americans, Ribeiro responded with generalities, saying, "I've been repeated myself all day. It starts with an education. It starts with an understanding how we got to this point. We need an education, we need a police department, we need the public to understand, I'll repeat it again, racial injustice, social injustice, has perpetuated this type of thought process." There was no legislative proposal, however.
Rouson boasted about getting $250,000 from the Legislature targeted toward youth and gun violence this past session that was ultimately vetoed by Gov. Scott. He also talked about banning assault weapons, which would seem unlikely in the GOP-led Legislature. "They have no place in any part of this country in the hands of civilians and citizens that can use them to kill police officers or wreak havoc in our communities." He then acknowledged that difficulty, saying since 1987 no gun restriction bill has passed in the Florida House and Senate, other than his proposal that would stop practice shooting in some neighborhoods that Gov. Rick Scott signed earlier this year.
Narain said he'd like to propose legislation modeled on a bill introduced by the Palm Beach County Congressional delegation — named for shooting victim Corey Jones — that would withhold federal grant money from police departments that allow plainclothes officers in unmarked cars to make routine traffic stops.
"How many of us would want to be in that situation where some car just pulls up and someone who's not in uniform stops you and asks you for ID?" Narain asked. "We can work with the police to get this done."
Reed talked about funding mental health, but wasn't very specific. "I think that will start us having a conversation that will deal with mental health. There are people who are sick, they know they are sick, but they have limited mental health care," she said, without alluding to what she would propose.
Florida ranks 49th out of the 50 states in per capita funding for mental health services.
When asked about what the candidates could do in terms of transportation, Rouson said there is a crying need to revamp the process by which the state suspends drivers licenses, saying there are more than 102,000 people just in Pinellas County who have had their licenses suspended in the past year. "There are four offenses: truancy, graffiti, worthless check, and minor possession of marijuana, and we need to change that. It should only be suspended for driving-related offenses."
Narain agreed, but also referred to allowing large municipalities the ability to offer their own referendums for transportation, an issue frequently mentioned by people frustrated by voters in the outlying areas of Pinellas and Hillsborough that have helped doom recent transportation referendums (such as Bob Buckhorn).
"The reality of it is, people in the outskirts of our counties don't feel the need to expand mass transit. They're not dealing with the issues that the people we represent up here deal with."
For the second straight debate, Narain indirectly needled Ribeiro in his closing remarks, referring to the $300,000 cash infusion the civil justice attorney added to his campaign on Monday.
"I'm telling you folks, the last time Florida elected an outsider it didn't work out too well for us," he said, referring to the $70 million Rick Scott spent to win the governor's race in 2010. "So while I respect candidates who choose to run for office, you have to question the motives when you see the type of money thrown into these races like we're seeing. It's about our community, and you've got to KNOW it, in order to represent it."