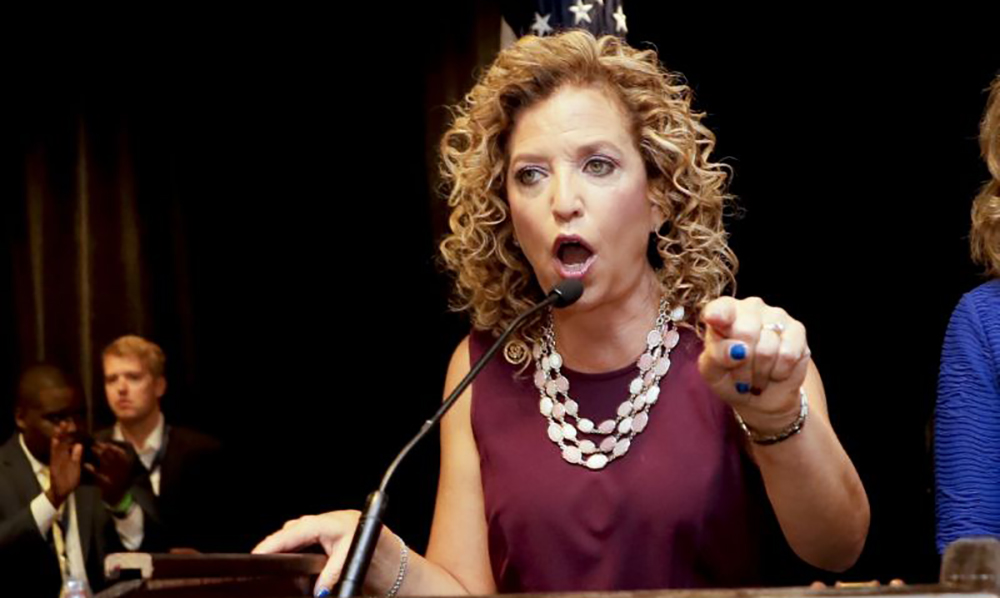 The furor over leaked emails not only got U.S. Rep. Debbie Wasserman Schultz heckled out of her speaking role Monday at the Democratic National Convention; it's also providing fodder for her congressional primary opponent.
Wasserman Schultz announced her resignation as Democratic National Committee chair for the sake of party unity after the e-mails indicated that under her leadership, the committee sought to undermine Vermont Sen. Bernie Sanders' campaign before Hillary Clinton became the Democrats' presumptive presidential nominee.
Her opponent in Florida's Aug. 30 congressional primary is Tim Canova, a Nova Southeastern University law professor who tweeted Monday that "DWS must be defeated in this election and removed from Congress. It's time to end her political career for good."
Canova calls Wasserman Schultz a politician who bends to the interests of big donors and no longer votes as a progressive. That message – and the endorsement of Sanders – has helped the political upstart raise a surprising $2.2 million through June 30, mostly through small donations, after refusing to take money from political action committees.
It's clear there is a lot of disdain for Wasserman Schultz, even among her home state's contingent.
"To not be fair during this entire process, it's kind of shameful," delegate Sanjay Patel, a Sanders supporter from Brevard County said before she spoke at Florida delegation breakfast. He said he hoped she would be stripped of her speaking role at the convention.
That wish was granted after she was booed and heckled by her fellow Floridians. Sanders' supporters nearly drowned out her remarks with screams of "Shame!" and "You're ruining our democracy!" Her own supporters yelled back, standing on chairs and waving T-shirts bearing her name.
"We have to make sure that we move together in a unified way. We know that the voices in this room that are standing up and being disruptive, we know that's not the Florida that we know," Wasserman Schultz shouted over the crowd. "The Florida that we know is united."
Then she left the room, refusing to speak to reporters.
But Sanders had his own troubles when he tried to rally his own supporters toward party unity.
He got loud, prolonged applause when he mentioned Wasserman Shultz's resignation as party chair, saying it "opens up the possibility of new leadership at the top of the Democratic Party that will stand with working people and that will open the doors to the party to those people who want real change."
But Sanders also was heckled and booed when he said voting for Clinton is key to defeating Donald Trump.
And while he was speaking, Wasserman Schultz announced she would not gavel in the convention, an embarrassing acknowledgment that her presence onstage would only showcase deep party divisions.
Wasserman Schultz is such a fixture in Florida politics that Canova is the first primary opponent she's faced since being elected to the U.S. House in 2004.
"We know Debbie. No one has been more of a fighter and a champion for our values than Debbie Wasserman Schultz. She has shown time and time again her resilience and she is not scared to stand up to the right and defend our platform and defend our values," said Ana Cruz, a delegate from Tampa.
Still, there's no telling how the email leak will hurt her re-election campaign, said Florida delegate Mitch Ceasar, who has known her for 24 years in Broward County politics.
"We live in odd times and the only thing we can be sure of is that the unpredictable will happen," Ceasar said. "Florida loves to be the center of attention, regardless of the context."
Republished with permission of the Associated Press.