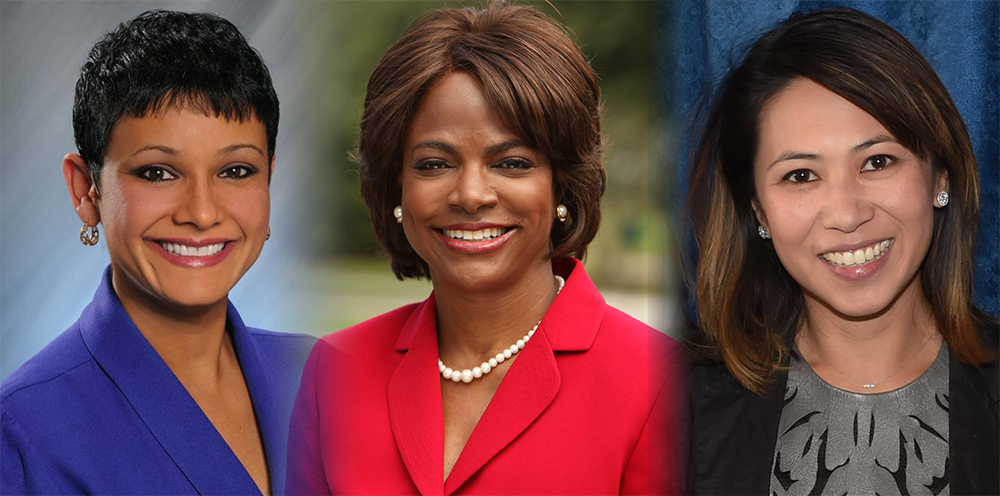 This year, Central Florida voters have an unprecedented diversity of candidates to pick from for the region's five congressional districts, and at least one, probably two, and possibly more heterosexual-white-male dynasties will fall.
Straight, white, male members of Congress have always held the congressional seats in Florida's 6th, 7th, 8th, 9th and 10th Congressional Districts. But that racial-ethnic-gender-sexual-orientation dynasty is certain to change in at least one of those districts, highly likely to change in at least one other, and at least remotely possible to change in any of the five.
In those congressional races that include parts of the Orlando market, white, heterosexual men are a distinct minority of the 23 Republican or Democratic candidates who qualified last month for the Aug. 30 primary. Black, Latino, Asian or women candidates have qualified to run in all five districts.
Ten candidates are women. Three are African-Americans. Two are Vietnamese Americans. Two are Puerto Ricans. One is Brazilian-American. Two are openly gay, which in itself breaks new ground, twice over, for Central Florida.
"Some of that is because of the changes in the district, because of the Fair Districts Amendment. This is creating a number of new opportunities where incumbents are not necessarily as entrenched as they normally would be,' said University of Central Florida political scientist Aubrey Jewett. "Also, you have seen, particularly in 9 and 10, the creation of Democratic districts, where gay candidates, or people of color, or women, particularly progressive women, are expected to do better. If they can win the primary, they have a good chance of winning the election."
It's not as if Central Florida voters have not had female or minority representation. U.S. Rep. Corrine Brown has represented Florida's 5th Congressional district for the 22 years it stretched from Jacksonville's black neighborhoods to Orlando's. But redistricting has pushed that area out of the Orlando market, and brought CD 6 back into the Central Florida market. Also, Florida's 24th Congressional District once stuck a leg into Central Florida, and Republican U.S. Rep. Sandy Adams and then-Democratic U.S. Rep. Suzanne Kosmas, both women, were elected to one term each from the Orlando area. But it's long gone.
— CD 10, redrawn for this year to replace CD 5 as the likely minority-representation district for Central Florida, is guaranteed not to have a straight, white man in Congress next year, since none is running.
The district, which covers west Orange County and west and central Orlando, now has a majority of voters who are black or Latino, and Orlando's largest LGBT communities. It's also heavily Democratic now, so four Democrats are fighting for it.
Former Orlando Police Chief Val Demings, who has the money, endorsements, campaign structure, resume, and personality to be the front-runner; and state Sen. Geraldine Thompson, who has the proven record of winning elections and a strong record for voters there, both are black women. Former Florida Democratic Party Chairman Bob Poe is a white man, but he could be the first openly gay congressman from Florida if elected, and he has more campaign money than Demings and at least as many political connections. Lawyer Fatima Rita Fahmy is a Brazilian-American woman.
The Republican nominee, Thuy Lowe, is a Vietnamese-American woman.
— In CD 9, covering south-central Orange County, Osceola County and eastern Polk County, only Republican businessman Wayne Liebnitzky is a straight, white man. His Republican rival, Kissimmee Vice Mayor Wanda Rentas, is a Puerto Rican woman in a district that has a large Puerto Rican population.
But CD 9 also has a heavy Democratic lean, so, as in CD 10, the winner of the Democratic primary will be heavily favored to win in November.
The Democrats fighting for the nomination include state Sen. Darren Soto, who [along with Rentas] wants to be the first Puerto Rican congressman from Florida, and three white women, Susannah Randolph, Valleri Crabtree, and Dena Grayson. Crabtree, like Poe, could become Florida's first openly gay member of Congress.
— In CD 8, straight, white, male incumbent U.S. Rep. Bill Posey may have little to worry about seeking re-election in a district that is solidly Republican, covering east Orange County and all of Brevard and Indian River counties. Democrat Corry Westbrook, a white woman, may be his toughest opponent yet.
— The same may be true in CD 7, which covers north-central Orange and Seminole County. Straight, white, male U.S. Rep. John Mica may be heavily favored, first against his primary opponent, straight, white, male Mark Busch, and then in the general election. But national Democrats are investing heavily in Democratic nominee Stephanie Murphy, a Vietnamese-American woman, in a district they see trending their way.
— The majority of the ten straight, white, male congressional candidates running in Central Florida this year — six of them — are found in CD 6.
That district traditionally had been a Jacksonville-oriented, First Coast district, but was redrawn for this year to stretch through Volusia County into Lake County, giving it more voters in Central Florida than on the First Coast.
Even there, with incumbent Republican U.S. Rep. Ron DeSantis and five other straight, white males running, Democrat Dwayne Taylor, a former Daytona Beach vice mayor who is African-American, may offer a serious challenge.
The other Republican candidates are state Rep. Fred Costello and businessman G.G. Galloway, who both are convinced the redrawn, Volusia County-centric district will eliminate much of DeSantis's advantages of incumbency, money, and endorsements. The other Democrats are Bill McCullough, Jay McGovern, and George Pappas.