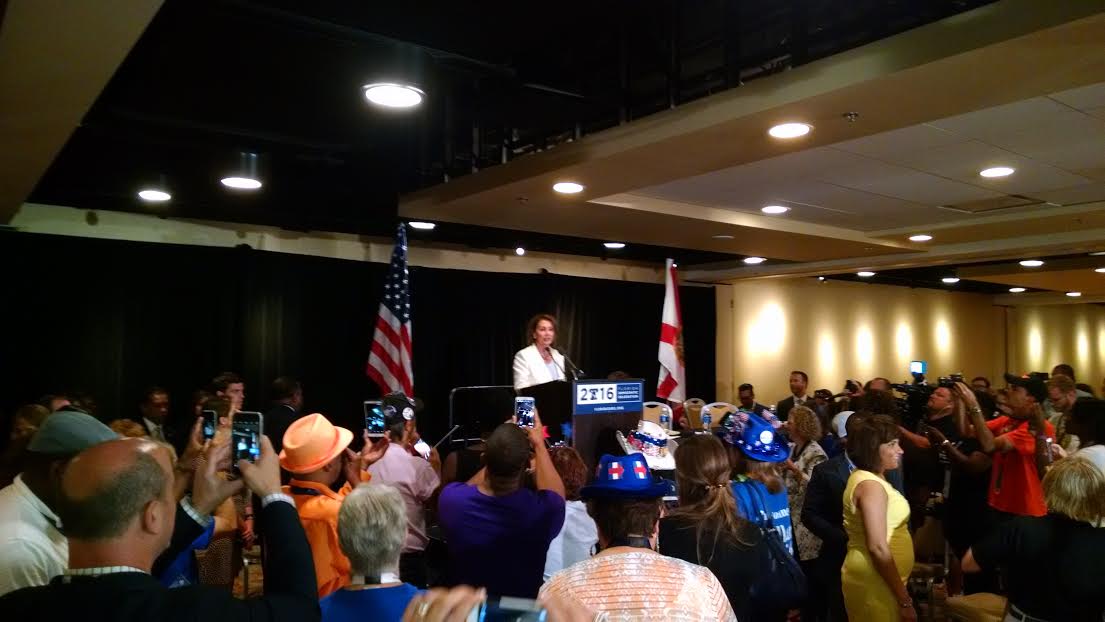 The Florida Supreme Court's decision a year ago to declare eight of the state's 27 congressional districts to be drawn up in violation of the state's constitution was greeted with delight by Democrats, and not just in Florida.
Although the odds of recapturing the House of Representatives are considered extremely low this fall, House Minority Leader Nancy Pelosi is certainly going to keep hope alive during the party's convention week in Philadelphia, and she praised Florida Democrats for fighting for fairer representation in Congress and the state Legislature.
"We love that delegation. We want more," Pelosi said while speaking at the Florida Democratic Delegation Breakfast at the Marriott hotel in downtown Philadelphia Tuesday morning.
Pelosi gave a shoutout to Florida Democratic Party leaders Allison Tant and Scott Arceneaux, but showered that love to the entire audience "for leading the way in our country to more representatives and fairer redistricting."
"Because of your work, we will pick up seats to gain a majority of the U.S. House of Representatives," she gamely asserted, receiving a hearty round of applause for depicting that scenario.
Although Florida Democrats have complained for years (if not decades) of unfair gerrymandering of congressional and legislative districts, it took passage of the Fair District Amendments via the popular ballot in 2010 to put the wheels in motion for activist groups to challenge the GOP Legislature's district mapmaking, which they did after the lines were redrawn in 2012.
The League of Women Voters, Common Cause of Florida and a group of Democrat-leaning voters successfully challenged the Florida Legislature's maps regarding the congressional and state Senate districts last year and, when lawmakers couldn't agree on a plan to redo it, the court approved plans submitted by the activist groups.
Pelosi then threw out the name of some Democratic aspirants in those newly drawn districts — even if it was at the exclusion of others in their respective primary races. Pelosi name-checked Val Demings in Florida's 10th Congressional District. She is running against businessman Bob Poe, state Sen. Geraldine Thompson and Fatima Fahmy there.
She also mentioned Stephanie Murphy, who is running against Republican incumbent John Mica in CD 7; Charlie Crist in CD 13, who is running against the winner of the David Jolly-Mark Bircher GOP primary next month; and Annette Taddeo and Joe Garcia, both competing in the Democratic congressional primary in Florida's 26th District in Miami, where the winner will face GOP incumbent Carlos Curbelo.
Roll Call rates the CD 26 race as a tossup, says that CD 7 is "Republican-favored," and says CD 13 is "Democratic-favored."
Pelosi then shifted toward discussing the gun shooting massacre at the Pulse nightclub in Orlando last month, in which 49 people were slain. She said she was impressed with how the community came together in the wake of the tragedy.
"Never forget that word community has that word — unity — in it. A very important word for us to succeed," the House Minority leader added.
Pelosi said she hopes Orlando could ultimately become "the tipping point" regarding the politics of gun control.
"All the world is looking at Florida," she said about this November's presidential battle between Hillary Clinton and Donald Trump. "The difference will be made in Florida to elect the first woman president of the United States. That's thrilling."