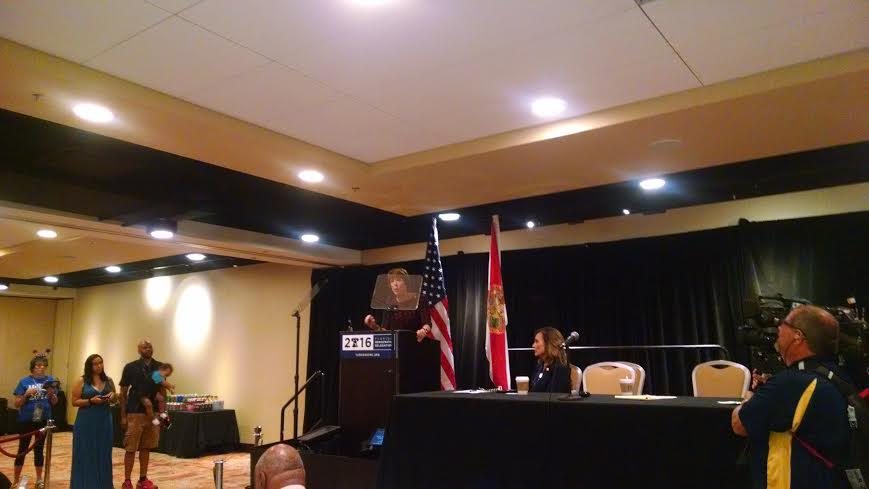 Tallahassee-based Democratic Congresswoman Gwen Graham spent a few minutes unfavorably comparing Florida Gov. Rick Scott to Donald Trump while addressing state Democrats in Philadelphia Thursday morning.
"Make no mistake, Rick Scott and Donald Trump are cut from the same wing of the Republican Party," she said. "Not the conservative wing, but the con man wing, and if you want to know what can happen to America, just look at what's happened to our beautiful state."
Graham said even though Florida has become the third-most-populous state during Scott's six-year reign in Tallahassee, the state ranks 38th in wages, something she says he boasts about while on out-of-state recruiting trips.
"I can tell you that Florida workers are as hard working as anywhere in the country, and they deserve a raise!"
The first-term representative has already declared she is considering a run for governor in 2018. In fact, she used a teleprompter (as did some other speakers on Thursday) in giving her 10-minute-plus address in the fourth-floor conference room at the Marriott, home of the Florida Delegation breakfasts all week long at the Democratic National Convention.
Graham continued to refer to questionable Trump comments or actions and turned that back to Scott, such as on public education. But she reserved her most biting criticism for the governor's environmental policy, calling his DEP the "Department of Environmental Pollution," and saying just this week he had voted to allow more cancer-causing chemicals in the state's water supply.
She was referring to the state's Environmental Regulation Commission vote to approve a proposal by state regulators that would impose new standards on 39 chemicals not currently regulated by the state, and change the regulations on 43 other chemicals.
Although Scott won't be on the ballot in '18, Graham sounded like she was definitely going to be, giving praise to FPD Chair Allison Tant and name-checking various state caucuses.
She then brought it back to why Hillary Clinton was the obvious choice for the country this year.
"Do you want a president who will build up our economy, or do you want to tear it down?" she asked, before shouting out, "Build it up!" She went through a call-and-response a few more times, with limited enthusiasm from the weary crowd. Several people did get up to give her a standing ovation as she departed the stage.
With Graham, Bob Buckhorn and Philip Levine addressing the delegates this week, it looks like the low-level campaign for Florida Democrats' hearts, minds — and money  — has begun.