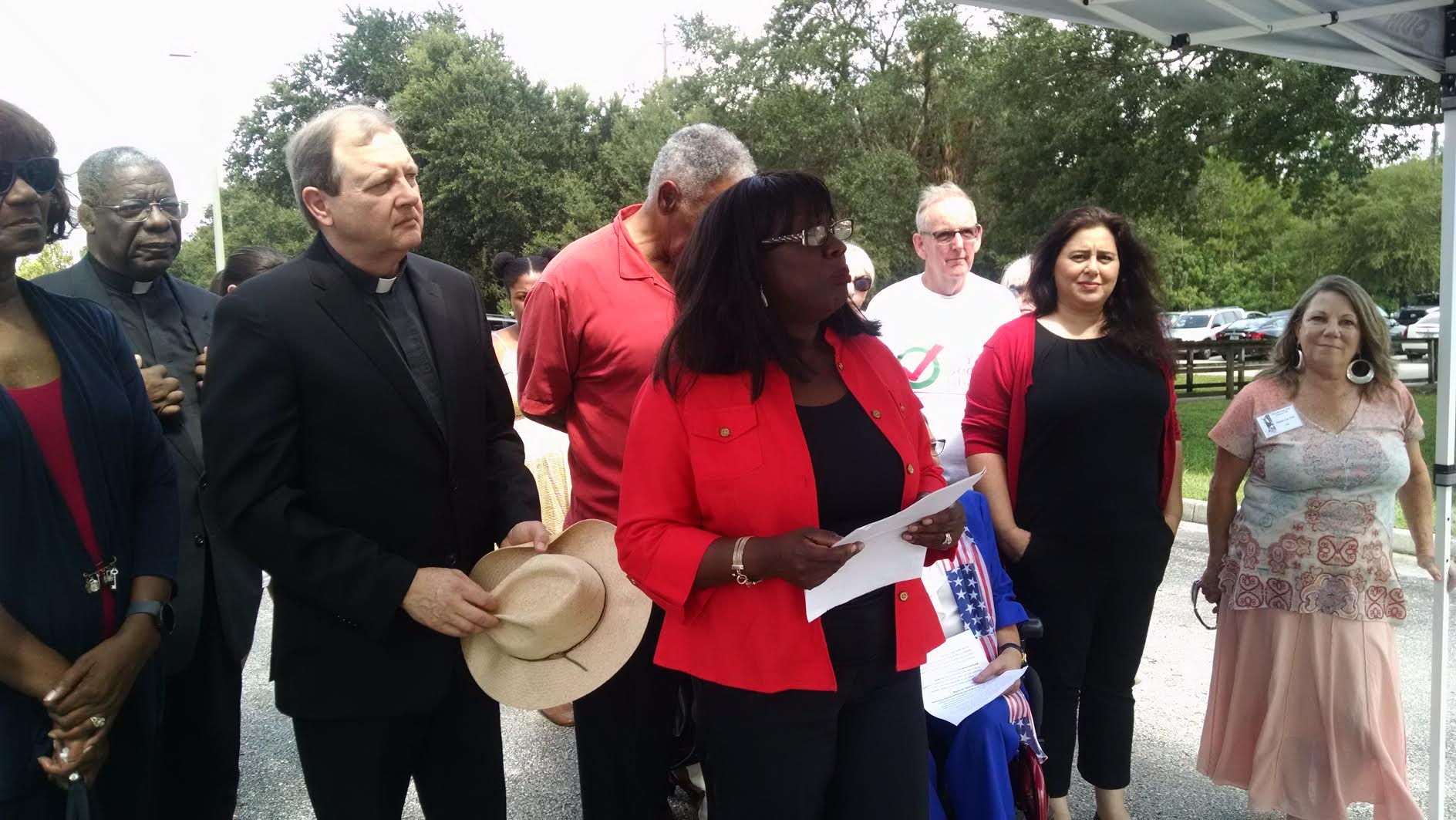 Florida is one of only three states in the nation where felons and ex-felons permanently lose their right to vote, according to the National Conference on State Legislatures. So on the last day to register to vote in the Aug. 30 primary election, advocates throughout the Sunshine State called for a repeal of that law Monday.
"The voting ban is the single most powerful voter suppression tactic in the country," said Dr. Joyce Hamilton Henry, director of advocacy for the ACLU of Florida, at a press conference held outside of the supervisor of elections offices in East Tampa. Similar events were held in Orlando, West Palm Beach and Tallahassee.
According to an analysis by The Sentencing Project, a research and advocacy group, an estimated 5.85 million are unable to vote because felony convictions, and more than one-fourth — 1.5 million — reside in Florida. Hamilton Henry noted roughly one of four blacks of voting age in Florida are denied the right to vote because of a previous felony, and said that the racist impact of the voting ban is "no surprise to those of us who know the racist origins of this policy."
As a report by the U.S. Commission on Civil Rights said back in 2008, despite Constitutional voting protections under the 15th Amendment, for more than 100 years following the Civil War most blacks were denied the right to vote in many parts of the South, including Florida.
The 1.5 million figure of those disenfranchised because of their felon status in Florida dates from 2010. When Gov. Rick Scott took office in 2011, he immediately rolled back a policy of his predecessor, Charlie Crist, who automatically restored the rights of many felony offenders who had completed their sentences. Scott introduced new rules requiring people convicted of nonviolent felonies wait five years before they can apply to have their civil rights restored; those convicted of violent and certain more serious felonies must wait seven years to apply. Under Crist, tens of thousands of felons, on average, won back their right to vote each year. As of the end of last year, Gov. Scott had restored the rights of just 1,866 ex-felons.
Hamilton Henry called on Gov. Scott to change the law, but there has never been much interest by state Republicans to do so over the years. That means the only way to change the law under present circumstances is to collect nearly 700,000 signatures from registered voters to get the issue on the ballot as a constitutional amendment. A drive last year by activist Demond Meade to get the issue on the 2016 ballot failed because of a lack of support. He's the man behind the Florida Rights Restoration Coalition.
Congresswoman Kathy Castor, who appeared at the rally but did not participate in it, says that the state of Florida can't reach it's full potential until "all of its neighbors reach their full potential."
"It's a Jim Crow relic of the past that makes Florida a complete outlier on how we treat our neighbors," said Castor, adding she's confident the current statewide ban on ex-felons will be history in a couple of years.
One way to address it would be if Florida elects a Democrat as governor in 2018. The new governor has the authority to change the law, as has been previously done under Govs. Scott and Crist. The Hillsborough County area's representative also says Congress could address the ban when it addresses the Voting Rights Act following the Supreme Court's 2013 decision gutting the law, but proposals in both 2014 and 2015, both which have bipartisan support, have not moved in Congress.
"The church comes to speak as a voice not as political awareness, not as a voice of social correctness, but a voice of moral imperative, believing that we cannot continue to allow such a large segment of our population to not participate fully in the benefits of this society," declared the Rev. James Golden, the social justice chair, 11th Jurisdiction with AME Churches, who spoke at the press conference.
"Law enforcement, faith leaders, employers, and a large majority of Floridians from all walks of life support people being able to earn back their right to vote because it gives them a stake in the community and makes it less likely they will end up back in prison," said Dr. Benny Smalls, president of the Hillsborough NAACP.
While Florida is one of only three states with such a restrictive ban on ex-felons voting, the governor of one of the other two outlying states, Virginia's Terry McAuliffe, recently took matters into his own hand by signing an executive order seeking to reinstate the right to vote to approximately 206,000 Virginians who had been convicted of a felony but had completed their sentences. After the Virginia Supreme Court ruled McAuliffe's blanket order unconstitutional last month, McAuliffe announced he will individually sign nearly 13,000 individual orders to restore voting rights to felons, and will continue to do so until there has been a complete restoration for all 200,000 Virginians.
"My faith remains strong in all of our citizens to choose their leaders, and I am prepared to back up that faith with my executive pen," McAuliffe said.