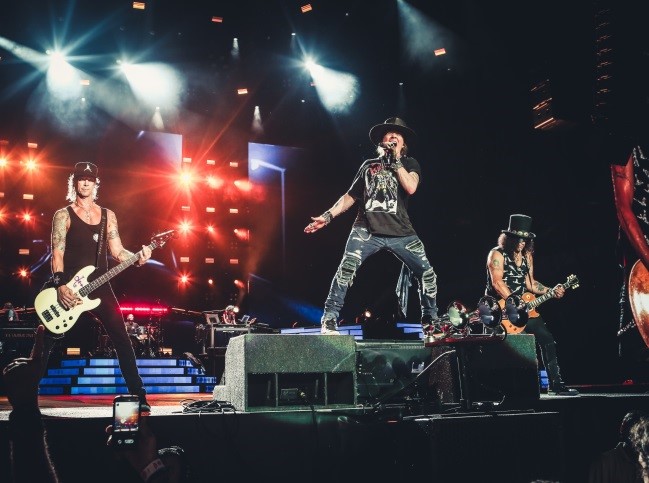 On a Wednesday evening in 1988, I joined my friend Quinn Borland for an epic concert in Albany, Georgia.
Opening for rock legends Motley Crüe was a little-known band called Guns N' Roses.
I was in middle school, so it was an incredibly big deal to be out on the town on a school night.
The show was spectacular, and in the years to follow, the band rocketed to worldwide success.
Fast forward to 1992, and my friend Ron LaFace and I caught the band in Tampa on the "Use Your Illusion Tour." The band was on top of the world; in their prime. Soon after that, they broke up.
About 10 years ago, lead singer Axl Rose was asked if the band would ever re-form. "Not in this lifetime," he said.
Never say never, as earlier this summer most of the original lineup launched a massive reunion that rivals any traveling show on the planet.
It's called the "Not in this Lifetime" tour.
Over the weekend, I caught their performance at Orlando's Citrus Bowl; they delivered an evening of 100 percent gold.
It's interesting to note how the world has changed since the original heyday of GNR.
Andy and I were rolling down Interstate 10, and he kept looking at his iPad to check some map. I asked him what he was doing, and he said he uses the Waze app for travel. Waze points out traffic issues, accidents, police, cheap gas and anything else you might need while going down the road. It is a community app, so you rely on other drivers to get you the information you need; you can contribute also. Very cool.
It would have been nice to have this in the '80s.
I used Uber to get a ride to the stadium. Andy had never used that app, so I explained how I use the app while traveling, from the tailgate spot back to the hotel in Gainesville, etc.
For the two of us, it was $10 to get dropped off in front of our gate. What a deal.
(I assume I don't need to define Uber.)
The world of rock and roll and technology have indeed formed a bond. My friend was obsessed with the GNR Twitter account as they randomly awarded guests seat upgrades and free swag throughout the evening.
We did not win.
However, we had a truly authentic engagement with the GNR brand and community. That was thanks to social media.
Speaking of social media, I try to keep posts short and sweet.
While I will post a column I wrote, a concert pic, me and the family on vacation, etc.; I shy away from political rants, sharing personal problems with the world, how much l love my dog, etc.
But I couldn't help but post a two-minute video of the encore, "Paradise City."
There was so much going on, it was irresistible. Fireworks, epic jam, sound and lights off the chart, plus the band sounded amazing (that's important). Axl is not 25 anymore, but he can still bring the thunder as good as anyone.
The conversation about music and technology is usually about how tech, specifically how online file sharing has destroyed the business. And, believe me, I understand that dialogue; I used to work in the business.
However, if you think about how technology has changed the concert experience for the user, it is mind-boggling. Getting to the show, enjoying the show and documenting it for vital Facebook posts make the 2016 concert experience both unique and weird.
I say weird because half the stadium was staring at their phones during the show — maybe they were playing Pokémon Go? LOL.
If you get a chance to see the 2016 GNR, I say go for it.
___
Blake Dowling is chief executive officer of Aegis Business Technologies. His columns are published by several organizations. You can reach him at [email protected]