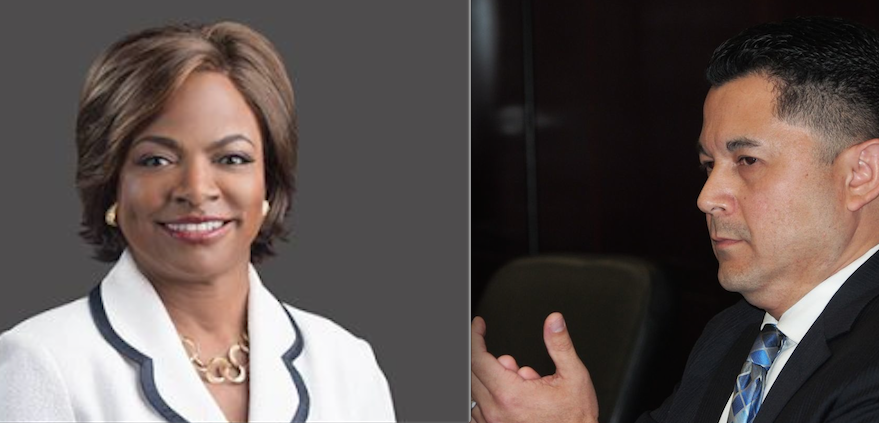 A politically-potent public employees and health workers union has released more endorsements in Central Florida races including those of congressional candidate Val Demings and Florida House candidate Henry Lim, who are both in tough Democratic primaries.
The Service Employees International Union also endorsed both Democratic candidates in the House District 48 race, Alex Barrio, who used to work for the union, and Amy Mercado, a former Orange County Democratic Executive Committee chair.
The union's backing of Demings in Florida's 10th Congressional District, Lim in the House District 47 race, signals that one of the Florida Democratic Party's biggest financial and grassroots support organizations is weighing in on two hard-fought primaries. The group has just 55,000 members but is an aggressive player in election campaigns and in the lobbies of Tallahassee.
In the Barrio-Mercado race, the union declared either would be fine. The winner faces an independent candidate, Gus Martinez, in the November general election.
Demings, the former Orlando police chief, is in a battle with former FDP chairman and businessman Bob Poe of Orlando, state Sen. Geraldine Thompson of Orlando, and lawyer Fatima Rita Fahmy of Orlando. The winner of the Aug. 30 Democratic primary would take on Republican nominee Thuy Lowe in a district that was redrawn to be heavily Democratic.
"Chief Val Demings is the most prepared candidate to take on the challenges facing Congressional District 10. Our members are proud to endorse her," SIEU Florida President Monica Russo stated in a news release issued by Demings campaign. "Val knows hardship. From very humble beginnings, she worked hard and shattered records of achievement, never forgetting to reach back and help people in need. As a social worker and a law enforcement officer, Val saw first hand the plight of working families and spent her career trying to improve the quality of life of those she served. Val has long been an advocate for working families and we know she will continue to be a champion for them in Congress."
Lim, an Orlando lawyer, is in a three-way battle for the HD 47 primary with Orlando television producer Beth Tuura and lawyer Clint Curtis of Orlando. The winner faces incumbent Republican state Rep. Mike Miller of Orlando for a seat that has flipped back and forth between Democrats and Republicans in recent elections.
"I greatly admire SEIU's work fighting for the rights of workers," Lim said. "I especially appreciate their advocacy work to ensure all working families are paid living wages. Growing up, I experienced firsthand what it was like to live below the poverty level. For this reason, I firmly believe that every person who works full-time should not be forced to live in poverty."