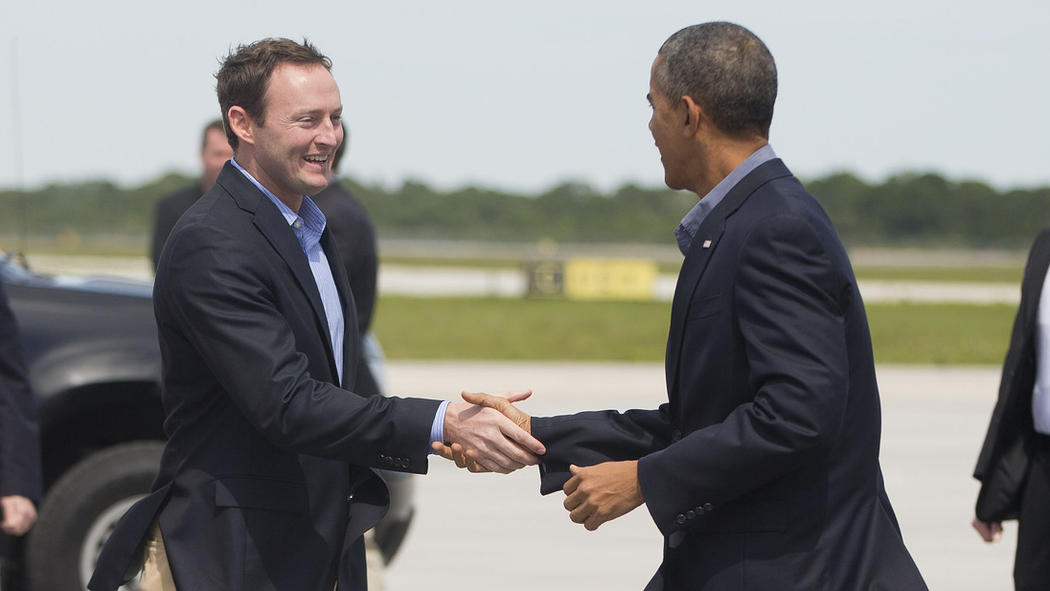 President Barack Obama has a question for Florida voters: Can you pitch in a few bucks to help Patrick Murphy?
The campaign is sending out a fundraising email from Obama to supporters Tuesday. While the president has lent his support to Murphy in the past, the email marks the first time he has sent a fundraising appeal to voters in Florida's U.S. Senate race.
"Patrick's a strong progressive who's fought special interests on behalf of working families — and won. In Congress, he's also fought to strengthen Medicare and Social Security, stand up to the NRA for gun violence prevention, and protect a woman's right to choose," the president said in the email. "With all that's at stake, we need Patrick Murphy in the Senate. But he'll need your help to get there."
The email goes on to say Murphy "stands up to Republicans on behalf of our shared values."
"It's why they're attacking him. They know he can win in November, and they'll spare no expense to defeat him," he writes in the email.
Both Obama and Vice President Joe Biden have endorsed Murphy, a Treasure Coast Democrat, in the U.S. Senate race. Both Biden and Obama have helped raise cash for Murphy's campaign. The president attended a Miami fundraiser for Murphy in June, and Biden has attended several fundraisers for Murphy, including one in Tallahassee last week.
Obama also cut a campaign advertisement for Murphy, and penned a letter encouraging Floridians to vote for Murphy in the primary.
Murphy faces Alan Grayson and Pam Keith in the Aug. 30 primary. A recent Suffolk University poll showed 36 percent of likely voters said they would vote for Murphy, while 17 percent picked Grayson, an Orlando Democrat. About 2 percent of voters picked Keith, while 40 percent said they were still undecided.
The support from the president and vice president — as well as other establishment Democrats — could be critical come November. Much like Murphy, Sen. Marco Rubio is expected to win his primary. The same Suffolk University poll showed Rubio led his opponent, Manatee County Republican Carlos Beruff, 62 percent to 12 percent.
The general election is expected to be one of the most-watched Senate races this election cycle, and outside groups are poised to spend millions of dollars in the Sunshine State. Recent polling averages compiled by RealClearPolitics show Rubio has a slight lead over Murphy.
"It's more important than ever that we retake the Senate," said Obama the email to Murphy supporters. "It's critical to our country's future — and continuing the progress we've made together under our next President. And Florida could be the state that decides it."