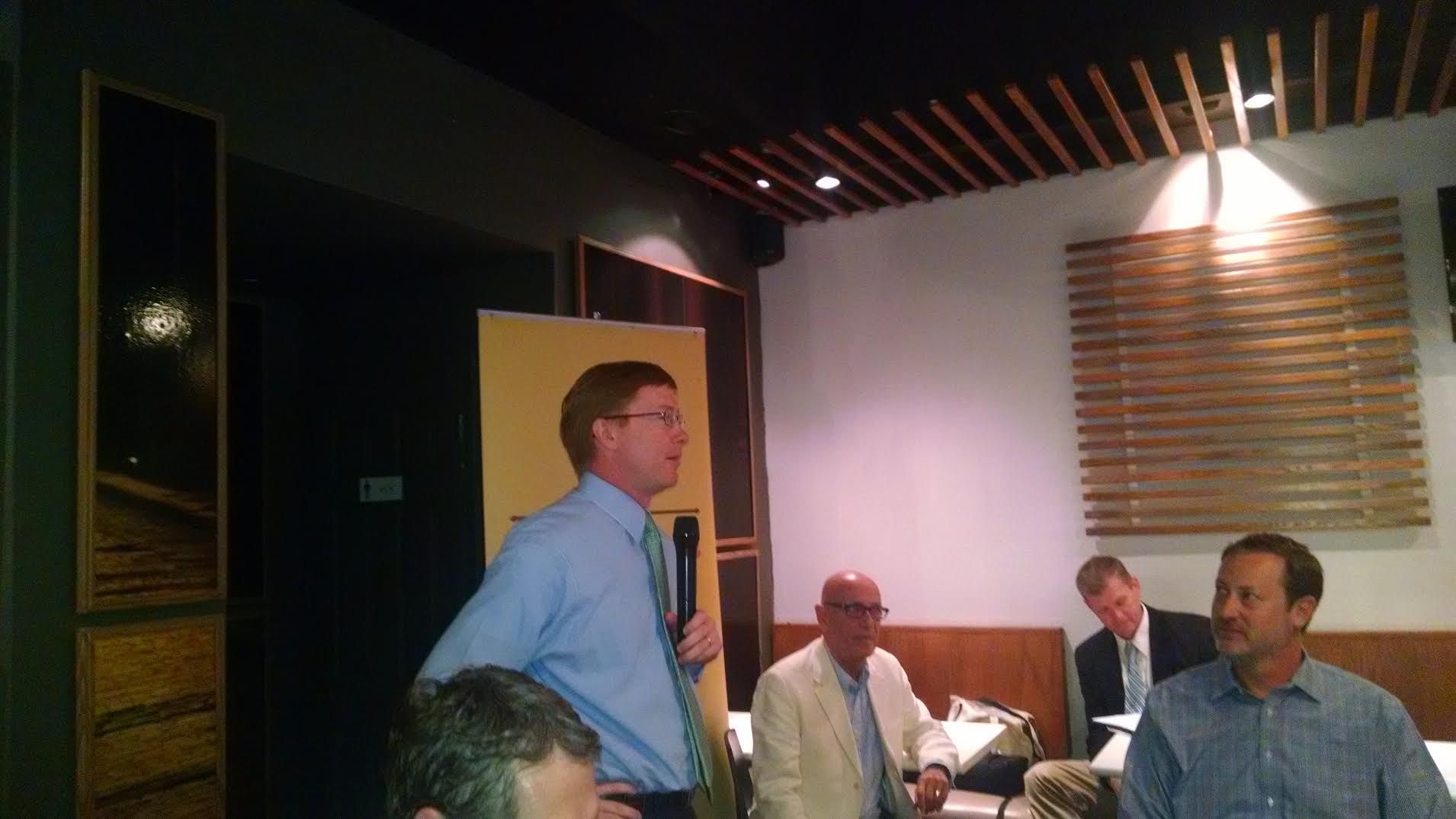 If Florida Agricultural Commissioner Adam Putnam has a central governing philosophy, it might be the importance of having a long-term memory about the Sunshine State.
"Having a longer memory I think helps us maintain the types of protections for our citizens that they expect and that they deserve," he said while speaking at an hour long town-hall meeting at Hugo's restaurant in South Tampa Friday morning.
The Polk County native, who just turned 42 last month, loves to talk policy, and if he ultimately chooses to run for Florida Governor in 2018, his intricate knowledge of the state and his prescriptions to improve it will undoubtedly make him a formidable candidate
Citing a statistic that an official with Florida Power & Light told him about 40 percent of their customers didn't live through the seven major hurricanes that rocked Florida in 2004-2005, Putnam warned about the public becoming too complacent about a major weather event, since so much of the state's population hadn't endured what real damage those storms can have.
He took a similar attitude when discussing handling the Zika virus.
"Mosquito control programs are the kind of thing that Dave Barry or Carl Hiaasen would write a joking column about, right?" he told the overflow crowd. "Only in Florida would there be mosquito control programs. Until you get Zika. Or Dengue. Or Chikungunya."
Putnam also spoke extensively about water policy. He said water infrastructure in the state simply hasn't received the type of attention it should.
"There is nothing more important to Florida's health, Florida's economy, Florida's future, than water," he said plainly. He called it the state's original "tourist attraction," well before Disney came to Orlando.
Florida faces a billion gallon per day shortfall statewide by 2030, he said, with a third of that shortfall in the Orlando area. He said that the creation and implementation of Tampa Bay Water is a model that needed to be expanded statewide.
He said it wasn't cheap to convert 1950's era subdivisions in Martin and St. Lucie Counties to central sewers, "but that's the best thing that you can do for the water in those communities."
He also said the state needs to develop more ways to capture and use reclaimed water, create better stormwater infrastructure, and agriculture needs to do its part. And he said, the feds and the state have to fix Lake Okeechobee, what he referred to as the world's largest retention pond.
Referring to the toxic discharges from Lake Okeechobee into Stuart and Jupiter on Florida's Treasure Coast, Putnam said if he owned waterfront property there, he'd be as angry as those residents right now. "Because they didn't do anything wrong, and for 40 years it's going to be fixed. And when it stops raining. And the release is in, people kind of move on to the next shiny object. And that's why we have to have a consistent, dedication to a comprehensive water policy in the entire state of Florida."
The crowd – which included Hillsborough County Commissioner Sandy Murman, Senate District 19 Democratic hopeful Bob Buesing, House District 60 Republican contender Rebecca Smith and former County Commissioner and mayoral candidate Ed Turanchik – was a little larger than the usual Friday morning "Cafe Con Tampa" breakfast events held every Friday at the South Tampa eatery, which is produced by Tucker Hall's Bill Carlson and Del Acosta, a former historic preservation manager with the city of Tampa.
Turanchik referred to All Aboard Florida, the passenger rail project connecting Miami to Orlando with stops in Fort Lauderdale and West Palm Beach. He asked Putnam if he supported to bring that rail ultimately to Tampa.
The Agriculture Commissioner said he did, "How much wider can we make I-4?," which elicited a round of applause. "Congestion in Florida is becoming in places an inhibitor to economic development and quality of life. And that's unacceptable. I don't want Florida to become like Atlanta. I hate Atlanta," he said, calling the traffic conditions there "a nightmare."
As he does in most speeches, Putnam discussed how for so many Americans (especially in the Midwest and East coast), Florida is a "reward" for a life well lived.
"Keeping that dream alive, keeping Florida special…is a special burden that all of us who are proud enough to serve in elected office are honored to carry," he said.
As the event ended, Putnam was asked about his plans for 2018. By every measure, he is considered to be one of the top Republicans who will be running for governor, and is probably the early favorite to win the office, more than two years out.
"Well I think the American people's appetite can handle only one circus at a time," generating laughter from the audience, who seemed to be in his corner. "So we're going to get through November, and then I'll have some decisions to make the first part of the year."