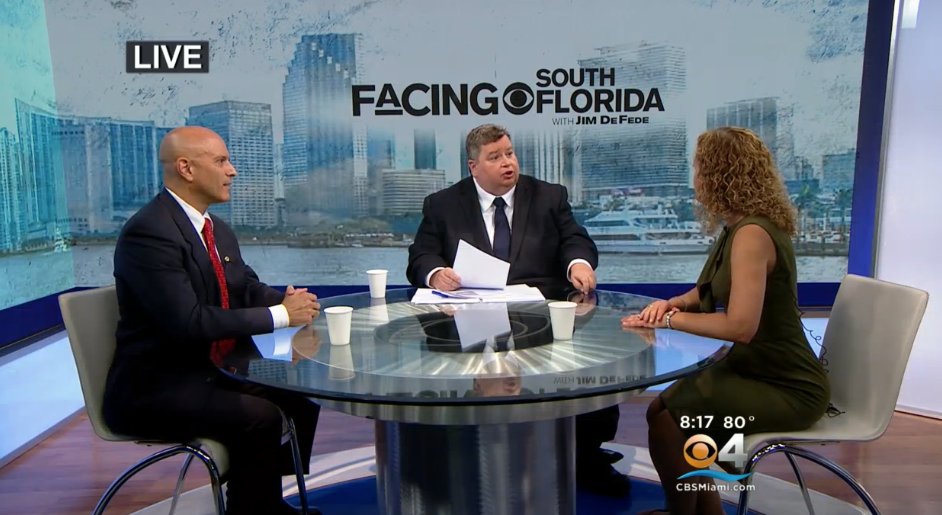 For what will probably be the only time before the Aug. 30 primary election, Debbie Wasserman Schultz debated her opponent in Florida's 23rd Congressional District, Tim Canova. The setting was an hourlong debate broadcast live on "Facing South Florida with Jim DeFede" on CBS4 Miami at 8 a.m. Sunday.
Canova, an international law professor at Nova Southeastern University, has been calling on the six-term incumbent for months to debate him, a request Wasserman Schultz had blown off until just recently. With early voting beginning in Miami-Dade County Monday (it begins Saturday in Broward County, the other part of the district), it may be the only time the two engage in an exchange on the issues.
The most contentious moment of the debate came regarding the Iranian nuclear deal that President Obama made with the P5+1 countries in the summer of 2015. Canova has tied himself to Democrats who voted against the Iran nuclear deal, including Ted Deutch and Lois Frankel (both of whom have endorsed Wasserman Schultz). But he's also been criticized by saying he couldn't say himself whether or not he would have supported the nuclear deal since he wasn't a member of Congress at the time.
DeFede told Canova he was "confused" about his stance on the pact.
"Quite frankly, I will say right now that was not a good agreement," he said, admitting that he's never come out that strongly against it until the debate.

"Let's be clear: my opponent has been mealy-mouthed and waffling his position on Israel from Day One," Wasserman Schultz replied. She defended the nuclear pact, but was asked by DeFede if she could "guarantee" the money that Iran has now begun to receive with the sanctions being removed "won't be used to finance terror against Israel?"
"You can never guarantee anything, Jim," she said after the moderator continued to ask that question.
Regarding the Israeli-Palestinian conflict, Wasserman Schultz said Canova had been all over the map on the issue, "He's taken three different positions in the last eight months," and said he supported disarmament in the Middle East, "including Israel. Which, anyone supporting Israel understands would jeopardize Israel's security."
Canova said he did support disarmament in the region, but insisted he never singled out Israel. "I am specifically speaking of Saudi Arabia and Iran. That's where the cycle of violence is coming from."
The debate kicked off for the first six minutes with a spirited back-and-forth about the WikiLeaks revelations of Democratic National Committee emails that showed party officials conspired to undermine the campaign of Vermont Sen. Bernie Sanders. The revelations forced Wasserman Schultz to resign her post as chair of the DNC and prompted Canova to file a complaint with the Federal Elections Commission, alleging she illegally utilized the resources with the Democratic National Committee to undermine his campaign.
"I know how to run my own campaign," Wasserman Schultz replied to that complaint. "I didn't need anyone to help me. I've won every election where I've been on the ballot." She went on to say she would hope the people she works with would be interested in her political success, but "that type of intangible incidental activity" did not violate any rules or laws.
The exchange about the WikiLeaks document dump ceased shortly after Canova said, "nobody cares about these emails right now," as he tried to pivot to the series of policy positions in which he has accused Wasserman Schultz of being insufficiently progressive.
But before that happened, DeFede hammered Canova on his bona fides with the people in CD 23 and the Democratic Party, noting how he only re-registered back with the party in the last year.
Canova chided the moderator for that question, saying he had worked with former Massachusetts Sen. Paul Tsongas when Wasserman Schultz was still in high school back in the 1980s (He's 56 years old, she turns 50 next month). He then added that he had become disaffected with the party for becoming "more corporatized" on certain issues, and said Wasserman Schultz leadership at the DNC was part of that disaffection.
Canova has been endorsed by Sanders, which has helped fundraise his campaign coffers to the tune of about $2.8 million. It's become a national campaign because Wassermann Schultz is a national figure, who has been severely criticized by Sanders supporters who think she "rigged" the Democratic primaries, mainly because of televised debates that were scheduled to not bring in large audiences.
Those national donations prompted DeFede to then ask Canova point-blank: "Are you really just a vessel for the anti-Debbie Wasserman Schultz people around the country — the Bernie people — who are so angry at her, that they want to basically use you as an instrument to attack her, you're less of a candidate than a revenge cycle for Bernie Sanders?"
"I don't see that at all," Canova responded. "If I had a different type of politics I would not get this kind of support nationwide that I have."
When it comes to who's the most progressive, Wasserman Schultz pushed back on any charges that she's too corporatist. "I'm a liberal. I embrace the 'L-word.'"
Two years ago, Wasserman Schultz opposed the citizens led initiative on medical marijuana. With the measure coming back on the ballot in Florida this November, DeFede asked about her stance on the issue this time around. After slightly equivocating, she said she supported "evidence-based medical marijuana."
Canova also hammered on Wasserman Schultz not supporting benefit increases for Social Security, which she pushed back on strongly.
The big guns in the Democratic Party are for the incumbent. Hillary Clinton and Nancy Pelosi endorsed her re-election bid during a campaign swing through South Florida, and President Obama and Vice President Joe Biden announced their support for Wasserman Schultz in March.
Sanders is backing Canova, and said at one point he would campaign with him, though that has yet to occur.
Canova said there needed to be more debates before the Aug. 30 primary. In response, Wasserman Schultz said she was "thrilled" to talk about the important issues, and said she would continue to reach out to the voters in CD 23 until Election Day.