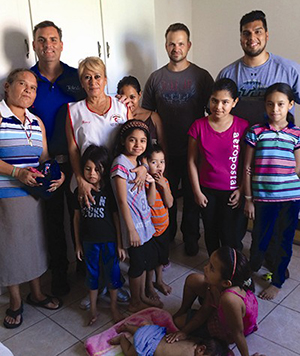 Jackie Toledo says she'll crack down on "illegal aliens" if elected to the Florida House , but her husband went across the border two years ago to bring over undocumented children escaping gangs in Honduras.
As FloridaPolitics reported earlier this week, Toledo sent out a mailer to voters in House District 60 that said if elected to the Florida Legislature, she'd work to repeal two immigration laws passed by the Republican majority in 2014. The campaign mailer says, "Jackie Toledo: Cracking down on Benefits for Illegal Aliens."
Toledo is a native of Peru who came to the U.S. legally with her parents. Her husband, Jose, is an immigration attorney in Tampa, and according to a story in the Florida Bar News dated October 1, 2014, he "set out on his own to see the people crossing the border from Mexico into the U.S.A."
Here's what the short report says:
TAMPA ATTORNEY JOSÉ TOLEDO, second from the left, set out on his own to see the people crossing the border from Mexico into the U.S. A church had referred an unaccompanied minor to him, and he took the case pro bono, describing his 10-year-old client as walking by himself from Honduras because he had been bullied by the gangs and if he didn't join, they would kill him. "I am doing it on my own. I'm willing to help any of these children," Toledo said. "I have five children. I would have a hard time telling any of them, 'You have to go cross through these countries on your own.' But they are so desperate, and this was the only way. . . . I'm of Cuban descent and it reminds of the Pedro Pan movement, which was spearheaded by the [Catholic] Church. I would welcome any help from any organization." In his three days witnessing those crossing the border, Toledo met a group of Central American immigrants staying at The House of the Immigrant, in Mexico, run by the Catholic Church. "They were there to rest and eat and get some shelter. They were going to make their way north through McAllen, Texas," Toledo said.
It was during that period of time that waves of Central American migrants — many of them children — tried to reach the U.S., risking detention by law enforcement, abuse by human traffickers, and dire conditions along the way. The Mexican government detained close to 92,000 Central American migrants from October 2014 to April 2015. During the same period, the United States held 70,448 people from places other than Mexico, according to data from  the Washington Office on Latin America.
"Spouses don't always agree on everything and this is one of those instances," said Ryan Wiggins, a spokesperson for Toledo's campaign. "While her husband has a law practice to run, it is Jackie, not her husband, who is running for office. Jackie stands by what she has already said on this issue."
In a statement given to FloridaPolitics earlier this week, Wiggins said "nearly every voter Jackie talks to is concerned about illegal immigration and its effects on our economic well-being and national security, and rightfully so. Voters are upset that politicians continue to give taxpayer benefits like subsidized, in-state tuition rates to undocumented immigrants, and then passes legislation that allows undocumented immigrants to practice law. It's not fair to hardworking Floridians who play by the rules and follow our laws each and every day."
Toledo is a civil engineer and entrepreneur making her second run for public office. She's running against South Tampa businesswoman Rebecca Smith in the Republican Primary . The district includes all of South Tampa, much of south Hillsborough County, and Town N Country. The winner will face Democrat David Singer in the fall.
Neither Smith, nor Singer chose to respond when asked for comment.