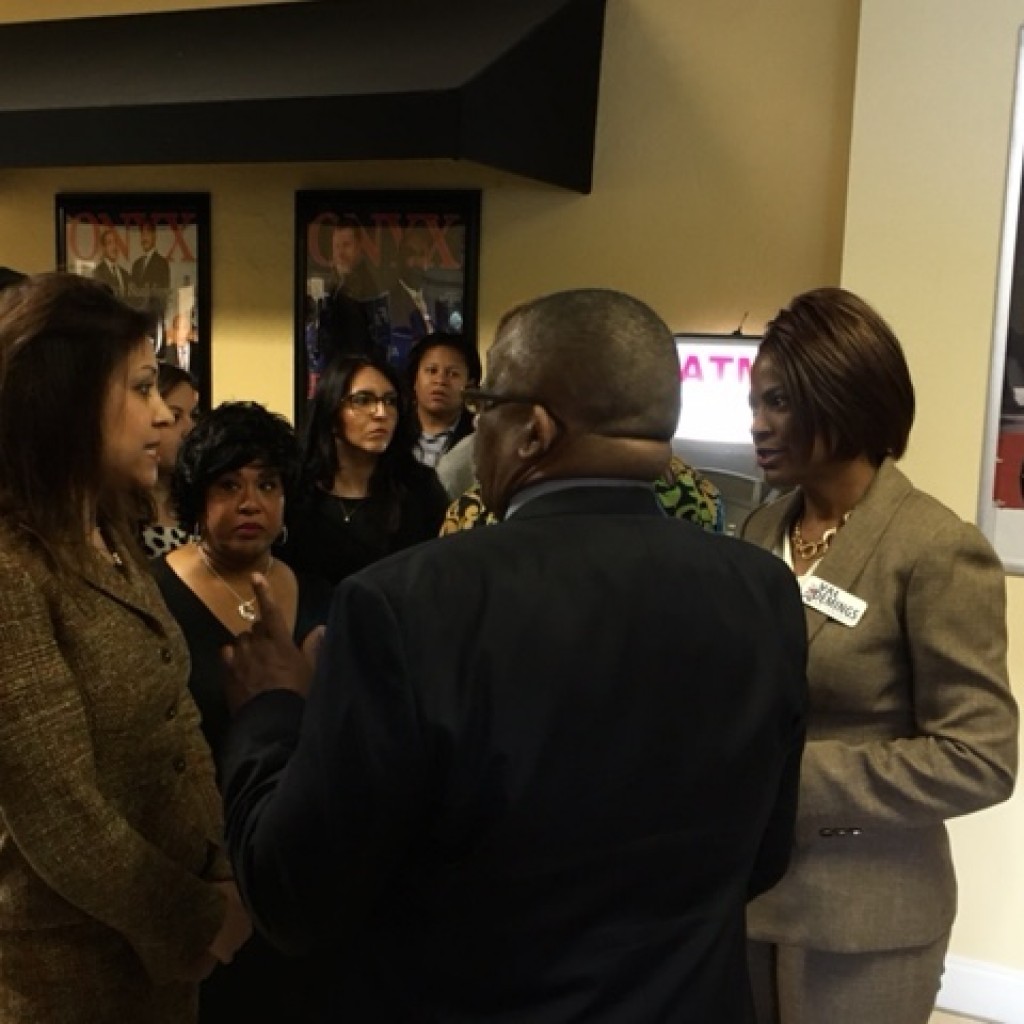 Democratic congressional candidate Fatima Rita Fahmy is charging that her leading opponent in the Florida's 10th Congressional primary, Val Demings, is taking money from organizations fighting against Democratic issues such as marijuana, Everglades restoration and renewable energy.
The latest criticism is part of Fahmy's ongoing efforts to paint Demings, a former Orlando police chief who has dominated the only released polls in CD 10, as Washington D.C.'s choice for Orlando, not the other way around.
Fahmy's crusade against Demings is an effort sometimes joined by other Democrats in the CD 10 race, businessman Bob Poe and state Sen. Geraldine Thompson. They're all frustrated that national party organizations are pouring or steering money, staff, endorsements and other help into Demings' campaign even though there is a primary with other viable Democrats.
Fahmy, a family lawyer who lacks Poe's campaign money and Thompson's successful election record, is the least viable of Demings' three challengers this year. Yet Fahmy also has been the most visible and vocal critical of Demings' Washington connections. Fahmy has even crashed or protested private Demings meetings with Washington leaders.
This time Fahmy argued that Demings' huge amount of political action committee money seems to be indiscriminate, including money from tobacco, alcohol, Big Sugar and coal interests.
"It tells us that she's already bought and paid for," Fahmy charged. "And if the DNC [Democratic National Committee] succeeds in getting her elected into office, they've got a foot soldier lined up to do their bidding and not represent the interests of the voters. It couldn't be more clear."
Demings has always defended her party support as earned: In 2012 she agreed to take on entrenched Republican U.S. Rep. Dan Webster against long odds, and nearly beat him. Washington Democrats were impressed, and felt they owed her for agreeing to run in that race in the first place, when she had to know she was unlikely to win.
And this week her campaign defended her PAC support, noting the vast majority of it comes from organizations representing "working families."
Fahmy, Demings' campaign pointed out, has her own campaign finance problems, some serious, with nothing to do with anyone's efforts to connect dots between contributors and political interests.
First, Fahmy has hardly raised any money, and no PAC money. More seriously, Fahmy failed to file her campaign finance disclosure reports in July and her latest contributions still are not available for public review.
Fahmy said that involved a software problem and "technical issues," and that she was working with the Federal Election Commission to get the records straightened out. She said she hoped to file the reports this weekend.
Nonetheless, The FEC sent her a notification July 22 giving her until July 26 to get the reports in, or start accumulating daily fines. That deadline passed, and those fines are running into the hundreds of dollars now and could be in the thousands of dollars, depending on how much money should have been reported in that July 1 filing.
Fahmy said her latest report will show only another $13,000 in contributions, bringing her grand total to about $31,000.
"I'm not hiding anything. It'll be the world's most boring report. The only [thing] semi-controversial is the [U.S. Rep.] Alan Grayson contribution. I wasn't hiding that; I even posted that on my Facebook page," she said.
In fact, in June Fahmy proudly posted that Grayson had written her a check. That check, which still has not shown up in FEC public information, was for $2,000 she said. She said there is no other Grayson money.
But her own campaign finance issues have not stopped Fahmy from going after Demings' campaign finances, based on connecting dots between contributors and interests and motivations.
The coal mining interests — Demings got $1,000 from the United Mine Workers PAC — can only expect support for carbon fuels, or opposition to renewable energies, since there is no coal mining in Florida, Fahmy charged. The tobacco money, $1,000 from the Altria Group Inc. PAC, comes though Florida has very little tobacco agriculture. Demings' Big Sugar money — at least $8,000 — does represent a Florida industry, but it's an industry Democrats blame for the environmental problems in the Everglades and off Florida's coasts, notably this year's huge algae blooms, Fahmy charged. And the liquor money? A lot of candidates in Florida get liquor PAC money. Fahmy said there appears to be a new reason why.
Among the national Democratic Party documents hacked in July and released earlier this week were reports indicating Democrats believe the Wine & Spirits Wholesalers of America appeared to be mobilizing opposition of marijuana initiatives. Demings received $2,500 from that PAC in June.
"They're not so much contributions as they are investments," Fahmy said.
Demings' $291,000 in PAC money received through the Aug. 10 federal campaign finance reporting period is the most of any non-incumbent running in Florida this year.
Next is Democratic state Sen. Darren Soto, who has accepted $203,000 from PACs in his race in Florida's 9th Congressional District. Democrat Charlie Crist has received $184,000 in the 13th. Democrat Annette Taddeo has accepted $174,000 in the 26th. Republican Neal Dunn has taken $118,000 in the 2nd. And Republican Rebecca Negron has accepted $108,000 in the 18th.
Yet, as Demings campaign said, the vast majority of Demings' PAC money has come from organizations completely uncontroversial to Democrats' interests, including numerous labor unions, Democrats' leadership PACs, and liberal organizations representing groups ranging from police to feminists.
Demings also has collected $674,000 from individual donors.
"Chief Demings has been humbled to receive support from thousands of people this election, with the most common contribution to her campaign being $25," campaign spokeswoman Caroline Rowland stated in a response to FloridaPolitics.com. "Chief Demings has also received support from many organizations that represent thousands of working families, all across Florida and the country.
"The best indicator of future performance is past performance, and if you look at her record of service you will see the people of Central Florida have always been Chief Demings' priority," Rowland continued. "In Congress Chief Demings will continue to put the people of Central Florida first."