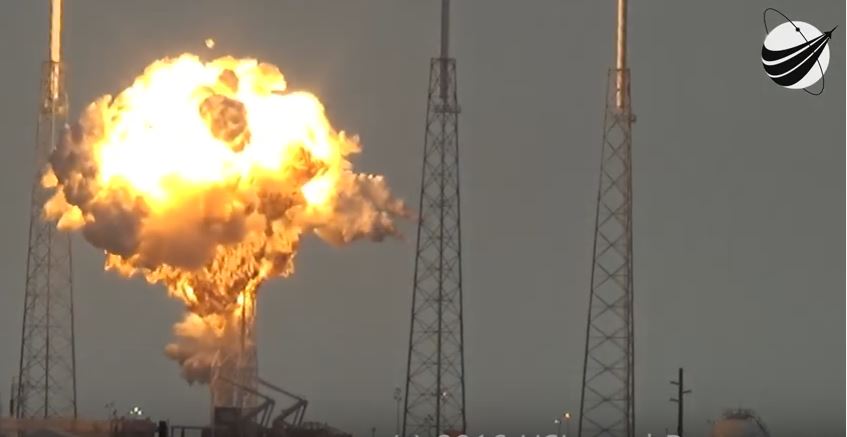 Updated with 1:30 p.m. Thursday statement from SpaceX:
A SpaceX Falcon 9 rocket preparing for launch Saturday morning blew up on the launchpad at Cape Canaveral Air Force Station (CCAFS) Thursday morning, followed by a fire and high plumes of black smoke.
No injuries are being reported.
"At approximately 9:07 am ET, during a standard pre-launch static fire test for the AMOS-6 mission, there was an anomaly at SpaceX's Cape Canaveral Space Launch Complex 40 resulting in loss of the vehicle.
"The anomaly originated around the upper stage oxygen tank and occurred during propellant loading of the vehicle. Per standard operating procedure, all personnel were clear of the pad and there were no injuries.
"We are continuing to review the data to identify the root cause. Additional updates will be provided as they become available."
The rocket and a commercial communications satellite built by Israelis were destroyed in the explosion and fire.
The Air Force 45th Space Wing reported that the explosion occurred at 9:07 a.m at Launch Complex 40, where SpaceX has a long-term lease.
"Initial reports indicated that there were no causalities and has been no threat to public safety," the 45th Space Wing reported. "CCAFS Emergency Management is providing the initial on-scene response. Roadblocks will be set up in and around CCAFS, so we ask that you avoid the entrance to the Air Force Station until further notice. We will provide updates as they become available."
SpaceX reported its rocket and cargo were lost.
"SpaceX can confirm that in preparation for today's static fire, there was an anomaly on the pad resulting in the loss of the vehicle and its payload," SpaceX stated in a news release issued Thursday morning. "Per standard procedure, the pad was clear, and there were no injuries."
Television reports are showing black smoke rising from the launch complex.
The rocket was set to launch at 3 a.m. Saturday morning to carry the AMOS-6 communications satellite built by Israel Aerospace Industries for Space Communication Ltd. The satellite was to provide communication services, including direct satellite home internet, for Africa, the Middle East, and Europe.
This would be SpaceX's second catastrophic failure in 15 months. In June 2015, a Falcon 9 rocket intended to resupply the International Space Station blew up seconds after launch. That shut down SpaceX's launch program for six months. Officials determined the problem was a faulty strut inside the booster and took steps to assure the issue would not occur again.
There may be significant political ramifications. NASA and congressional backers of commercial space have invested heavily in SpaceX, as well as other rocket companies, to take the load off the federal government by taking over almost all activity in lower-Earth orbit. That includes plans to start ferrying astronauts to and from the space station as early as late next year.
Not everyone in Congress is convinced it's a good idea. Between Oct. 2014 and April 2016 four rocket companies that NASA is counting on had failures, three of them catastrophic. All four companies had to shut down launch operations for a period.
Democratic Sen. Bill Nelson, a big supporter of commercial space, quickly weighed in with confidence Thursday.
"Today's incident reminds us all that space flight is an inherently risky business," he said in a news release issued by his office. "As we continue to push the frontiers of space, there will be both triumphs and setbacks. But at the end of the day, I'm confident that our commercial space industry will be very successful."
A failure on the launch pad in preparation for a static-fire of the booster would likely not be related to a faulty strut inside. The strut caused the explosion only because of pressures caused by the launch itself.