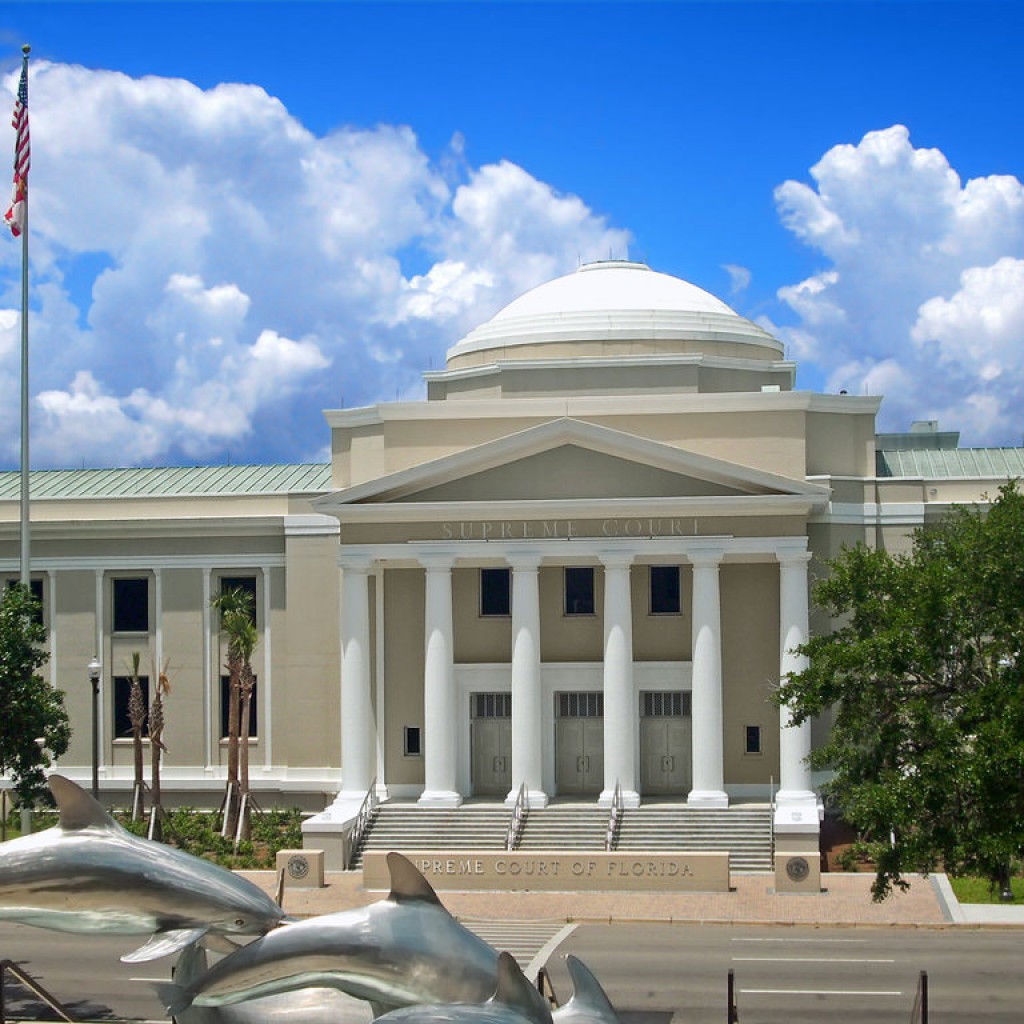 The Florida Bar squared off Thursday against a coalition of corporate and criminal defense lawyers over a change to the state's expert witness standard.
The Florida Supreme Court heard more than an hour of argument on whether to adopt a change to evidence law that lawmakers passed in 2013. The Bar is against it; defense counsel supports it.
The switch would align Florida's courts with the federal system. The federal courts now follow a stricter standard of allowing certain scientific expert testimony, known as the Daubert standard.
It usually requires a sort of "mini-trial" before a judge decides whether an expert can appear in front of jurors. Most other states also use Daubert.
Florida, however, historically has used the less restrictive Frye standard, which gauges whether expert testimony is "generally accepted" in a particular scientific community. Both standards are named after court cases.
It's generally considered easier for plaintiffs to get damaging expert testimony before a jury under Frye, and much harder to do so under Daubert, which is seen as more defense-friendly. Republican Gov. Rick Scott and conservative lawmakers favor the move to Daubert.
But Thursday's argument added the wrinkle of criminal cases, where Daubert might help defendants' lawyers hold police crime labs more accountable, in cases involving drug-sniffing dogs and testing for arson, for example.
Overall, "the idea is to keep expert testimony that is not based in knowledge out of courts," said attorney Stephen Mahle, arguing for Daubert. "Jurors are wonderful contributions to our system of justice, but you've got experts that make millions of dollars a year convincing jurors of things that may or may not be true."
He used the example of jurors interviewed after the O.J. Simpson murder trial who said Dr. Henry Lee, a renowned forensic scientist, came off as credible because he "looked over and smiled at us every day."
But John W. Hogan, representing the Bar, told the justices the question was whether they "should not trust jurors to be able to distinguish between the testimony of a variety of experts that over the years (have been) permitted" to testify. The Florida Bar's Board of Governors voted to recommend against the change. 
Those pushing the Daubert standard want to try "to keep juries from doing what juries are, by Constitution, supposed to do," that is, evaluate any witness testimony for themselves, and instead are "suggesting that individual trial judges … are better able to make that kind of determination. They don't have the time and they don't have the resources."
The court heard the case in part because of a question over whether changing the expert testimony rule is substantive or procedural.
The Supreme Court may periodically consider "whether to adopt, to the extent they are procedural, the Legislature's changes to the Evidence Code," according to the state Constitution, It gives lawmakers sway over substance and the Florida Supreme Court authority over procedure.
State Rep. Larry Metz, who sponsored the law that included the Frye-to-Daubert swap, told the court the change "gets to the fundamental purpose of courts," having "a greater standard of reliability so we can get to the truth in cases."
The Yalaha Republican, who chairs the Justice Appropriations Subcommittee, said that includes criminal cases in which defendants need to challenge flawed scientific evidence that could otherwise result in wrongful convictions.
Plaintiff's attorney Howard C. Coker said Daubert hearings are burdening federal judges — "they're breaking at the seams" — and causing extra attorney's bills to clients.
Justice Barbara Pariente asked if Daubert was being misused to keep out, for instance, ordinary medical testimony in a personal injury case.
Coker suggested it was, saying it's being used as "a tactical tool … used to challenge causation in the simplest of cases," though he didn't mention specific cases.
But Pariente also said it was up to trial judges to call balls and strikes on lawyers' invoking the use of the Daubert standard. And when lawyers abuse the process, judges can and should sanction them, she added.
As usual, the court did not set a timeframe on when they would rule.