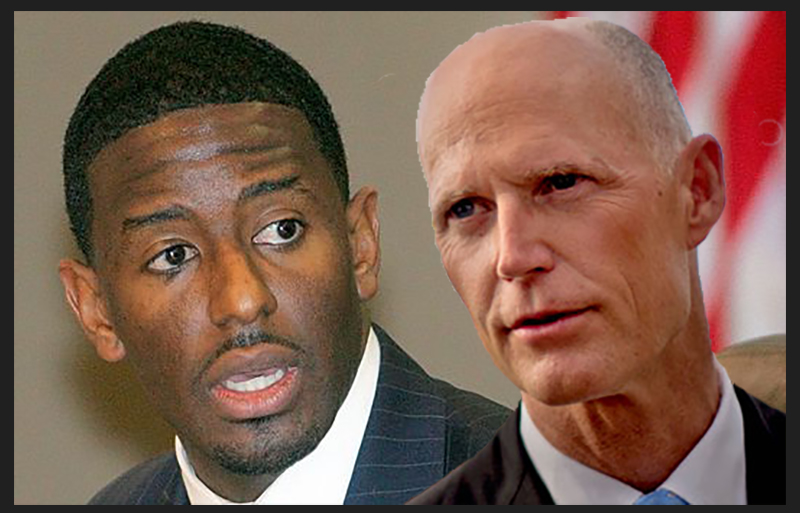 Democratic Mayor Andrew Gillum of Tallahassee and Republican Gov. Rick Scott on Monday had a testy faceoff over the speed of repair to the city's electric system that was battered by Hurricane Hermine.
On Sunday, Scott said in a press release that "the City of Tallahassee and Leon County have declined further 'cut-and-toss' assistance from (the Department of Transportation) to clear debris such as downed trees and fallen tree limbs. I continue to hear from residents that this is needed. FDOT stands ready to continue providing this service to the City and County."
He also said he was "frustrated" over how long it is taking to get power back on to Tallahassee homes and businesses. And Gillum has weathered his own storm of criticism on social media that he turned down offers of help from outside utilities. As of late Monday, 90 percent of homes in Tallahassee had the lights back on, but around 20,000 homes still were without power.
At a Monday night briefing at the state's Emergency Operations Center, Gillum struck back.
"Tallahassee has not had a storm of this proportion in 30 years," he said, referring to 1985's Hurricane Kate. City linemen and call center workers "are doing a hell of a job, an amazing job … I'm almost at a loss for words for how some of this has gone."
Gillum rejected Scott's DOT claim: "Our people were practically working side-by-side in the field. Your offers of help would be so much more authentic if they also did not come at the same time as these press releases."
The mayor said he had lauded what he saw as the state-city cooperation last week, but this week, "every day that has been chipped away at, time after time after time, as these comments and press releases and tweets have been put out, in my opinion, to undermine our cooperative process.
"We owe it to (the people of Tallahassee) to not be about politics, but to be about getting power to them, the people," he added. "I couldn't sit silent as I listened to the characterization of these folks I know are putting in their very best.
"If I am ever going to come to this meeting room again, I would hope that we will cooperate in a manner in which we are respectful to the roles that each of us has to play," Gillum told the governor.
"Where we don't impugn the work of the folks who are working extremely hard to get this community back up and running … I know we made mistakes — I can't name them all right now — but we're working really, really hard. I want you to share in that pride with us."
Scott immediately countered the critique.
"Everybody's working hard, it's not an issue of not working hard," he said. "It's an issue of, we got to get results. I've never suggested somebody wasn't doing a good job at the call center. I've suggested, just look at your process to make it easy for someone to talk to a live person.
"Your linemen, I talked to some of them today, they are working their butts off," Scott went on. "The question for me is, are there resources, are there ideas, that can be brought to the table … that will accelerate the process? Can we figure out how to do this better and faster and safer?"
As for the critical press releases, the governor said: "In this job, I'm constantly asked what's going on … so I just put it all out on the table. And Jim (Boxold, the DOT secretary) got an email saying they didn't need" any tree-cutting assistance.
"Don't ever feel obligated to come here," Scott said.
Gillum said instead of a press release he would have appreciated a phone call, asking if the city in fact was rejecting offers of help.
"I would have said, 'Governor, absolutely not,' " Gillum said.
Asked by reporters after the briefing whether politics was playing a role in disaster recovery, Scott said, "Absolutely not."
Leon County's registered Democratic voters outnumber registered Republicans by a roughly 2-to-1 margin, unlike the rest of the mainly conservative Panhandle.
"I have not criticized anybody," Scott said. "And I got elected to be governor of the entire state. I want the entire state to have power back."