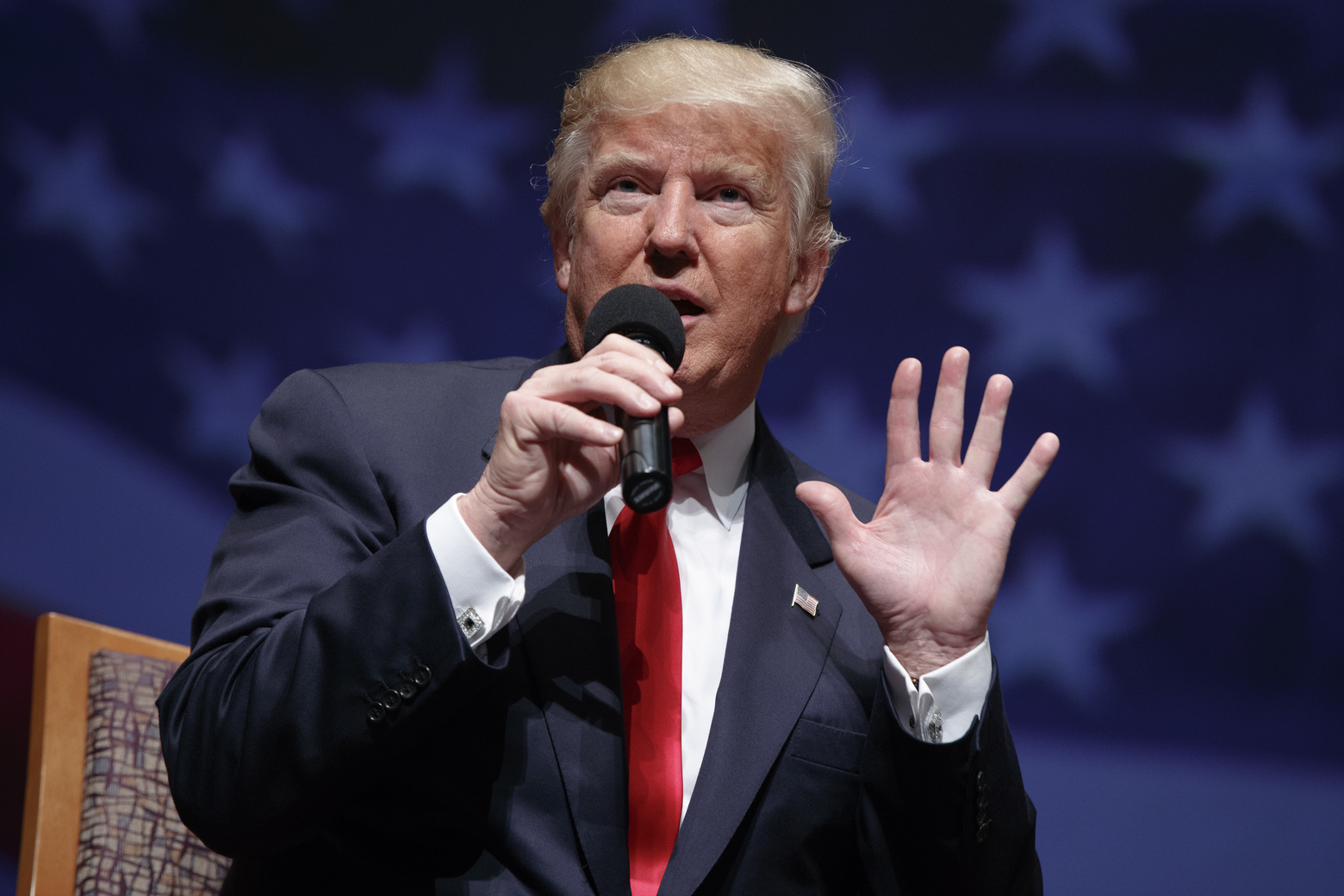 Donald Trump spoke to Florida Attorney General Pam Bondi before his charity cut a 2013 check to support her re-election effort, but his campaign said Tuesday the two never discussed whether her office would join a lawsuit against Trump University.
Trump spokeswoman Hope Hicks clarified details of the conversation one day after the Republican presidential candidate said he never spoke to Bondi about the issue, without providing specifics. Bondi, also a Republican, has endorsed Trump's White House bid.
"I never spoke to her, first of all, she's a fine person beyond reproach," Trump said Monday. "Never spoken to her about it. Never. Many of the AGs turned that case down because I'll win that case in court, many turned that down. … I just have a lot of respect for her and she's very popular."
Bondi's spokesman told The Associated Press in June that she personally solicited the $25,000 donation from Trump during a 2013 phone call. The Donald J. Trump Foundation check arrived just days after Bondi's office told a newspaper it was deliberating whether to join a proposed multi-state lawsuit against Trump University and its affiliates, a business that offered real-estate seminars scores of former students allege were a scam.
Florida didn't join the lawsuit, which was filed by New York's attorney general.
Trump has said in the past that he expects and receives favors from politicians to whom he gives money.
Bondi has said the timing of Trump's $25,000 donation was coincidental and that she wasn't personally aware of the numerous consumer complaints her office had received about Trump University and its affiliates.
Charities are barred by law from supporting political activities. Hicks said Tuesday that the improper foundation check was the result of a series of clerical errors, and that the billionaire businessman had intended to support Bondi with personal funds.
The Trump Foundation on its 2013 tax return then incorrectly reported that the $25,000 was paid not to the pro-Bondi political group, but to a similarly named charity in Kansas that got no Trump money.
The Washington Post first reported last week that Trump's charity paid an IRS penalty of $2,500 earlier this year, following media reports about the impermissible 2013 donation. It was not immediately clear whether the foundation has yet amended its tax returns to correct the reporting error.
"Mr. Trump paid the fine," Hicks told AP. "All is squared away."
Asked what Trump and Bondi discussed during the 2013 phone call, if not Trump University, Hicks said she couldn't immediately provide an answer.
"I don't think this was a lengthy, memorable call," Hicks said. "Mr. Trump talks to a hundred people in any given day. So, I don't know if I will be able to provide that information. That's not exactly a realistic or reasonable request."
Republished with permission of the Associated Press.