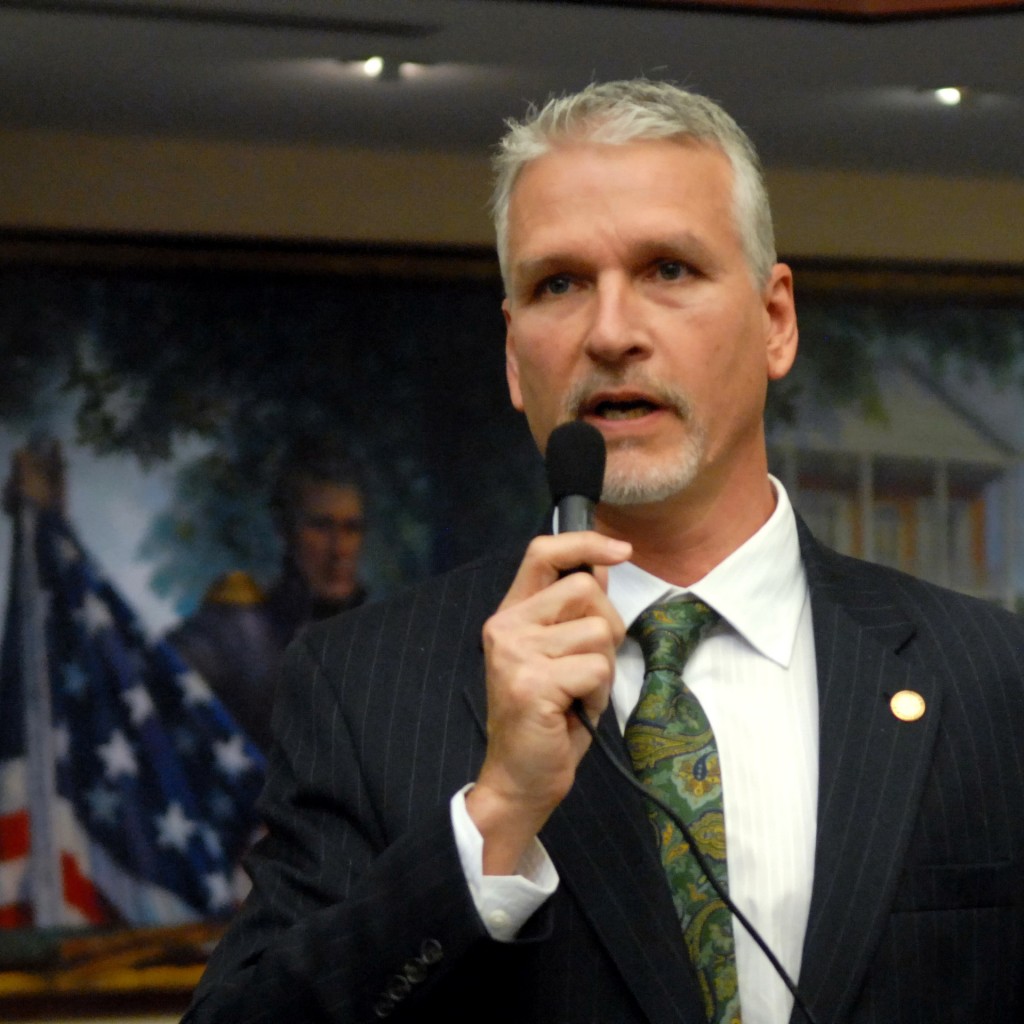 A disagreement over a yard sign turned into a physical altercation between Rep. Keith Perry and a Gainesville resident over the weekend, according to records released by Gainesville police Wednesday.
The Gainesville Police Department released the incident report, surveillance video and a sworn complaint affidavit related to a Saturday incident involving Perry.
In an email Wednesday, a police spokesperson said while the department generally does not release information on "open criminal cases where an arrest has not yet been made," the agency decided to do so "in an effort to be as transparent as possible in an incident involving a politician."
According to an incident report, police were sent to a residence in the 2200 block of West University Avenue around 7:40 p.m. Saturday. When they arrived, they were met by Norman Leppla, 46, who said Perry hit him "with an open hand against the left side of his neck against his will."
Surveillance video provided to the Gainesville Police Department shows Leppla removing several political signs and stacking them on the front porch of a residence. According to the police report, the man said he was temporarily removing the signs from his gate "to minimize vandalism."
According to the report "upon removing the sign, the victim stated a woman came up to him yelling to put it back." Leppla said Perry joined the woman, telling him he had permission to put the sign up there and demanded he put it back. The man told officers he noticed the sign was Perry's, and offered to put it back.
The video shows Perry and Leppla talking, before carrying a large sign out of the frame. A few minutes later, Leppla walks back to the residence. However, he turns back around, walks out of the frame and returns a few minutes later with the sign and returns it to his front porch.
Leppla, according to the report, told officers Perry was rude to him while they were putting up the sign, so he "took the sign back and put it against the door of the house."
The surveillance video appears to show Perry and the man get into an argument. Leppla approaches Perry, bumping him with his body. He then appears to tell Perry to leave.
Leppla briefly walks out of frame, before returning.
The surveillance video again shows what appears to be an argument between the two men. The man approaches Perry, again appearing to indicate he leave the property. The two men continue to argue, and Perry is shown striking him against the left side of his neck.
"Anyone who knows me, knows that it takes quite a bit to rile me up. What began as a silly disagreement over a legal campaign yard sign — that was authorized by the owner to be placed in his yard — escalated, and for my part in that, I apologize," said Perry in a statement Wednesday afternoon. "As you can clearly see in the video, I approached Mr. Leppla in good faith to resolve the issue and at one point, he even agreed to help place the sign back where he found it. I did not react when he chest-bumped me, the first contact made by either of us. In fact, it wasn't until he made threatening comments to my wife and spit in my face that I pushed him away to prevent him from spitting on me again."
According to the incident report, police were dispatched to the residence later that night. During that visit, Leppla "became unsure of whether he wanted to press charges." According to the report, he ultimately decided he did and "would advise at a later date if he wanted to complete complaint withdrawal."
On Monday, Perry issued a statement saying the issue had been resolved. But Gainesville police said Tuesday — and again on Wednesday — they had not received an official request from Leppla to withdraw the complaint.
In his statement Wednesday, Perry said he issued that initial statement because he was "led to believe" the issue had been resolved. Perry said it was his understanding "Leppla attempted on multiple occasions to dismiss his complaint," but the office was off duty until Monday afternoon.
Perry said when Leppla called back "the case had been moved to the State's Attorney office — a procedural development from Mr. Leppla from withdrawing his complaint."
"While I have the opportunity to bring charges against Mr. Leppla, I have no intentions of escalating this any further," said Perry in his statement. "For anybody offended by my actions I humbly apologize."
Perry, a Gainesville Republican, is running for Senate District 28. He faces Democrat Rod Smith in November.
Watch an edited version of the video below. The full surveillance video can be found here.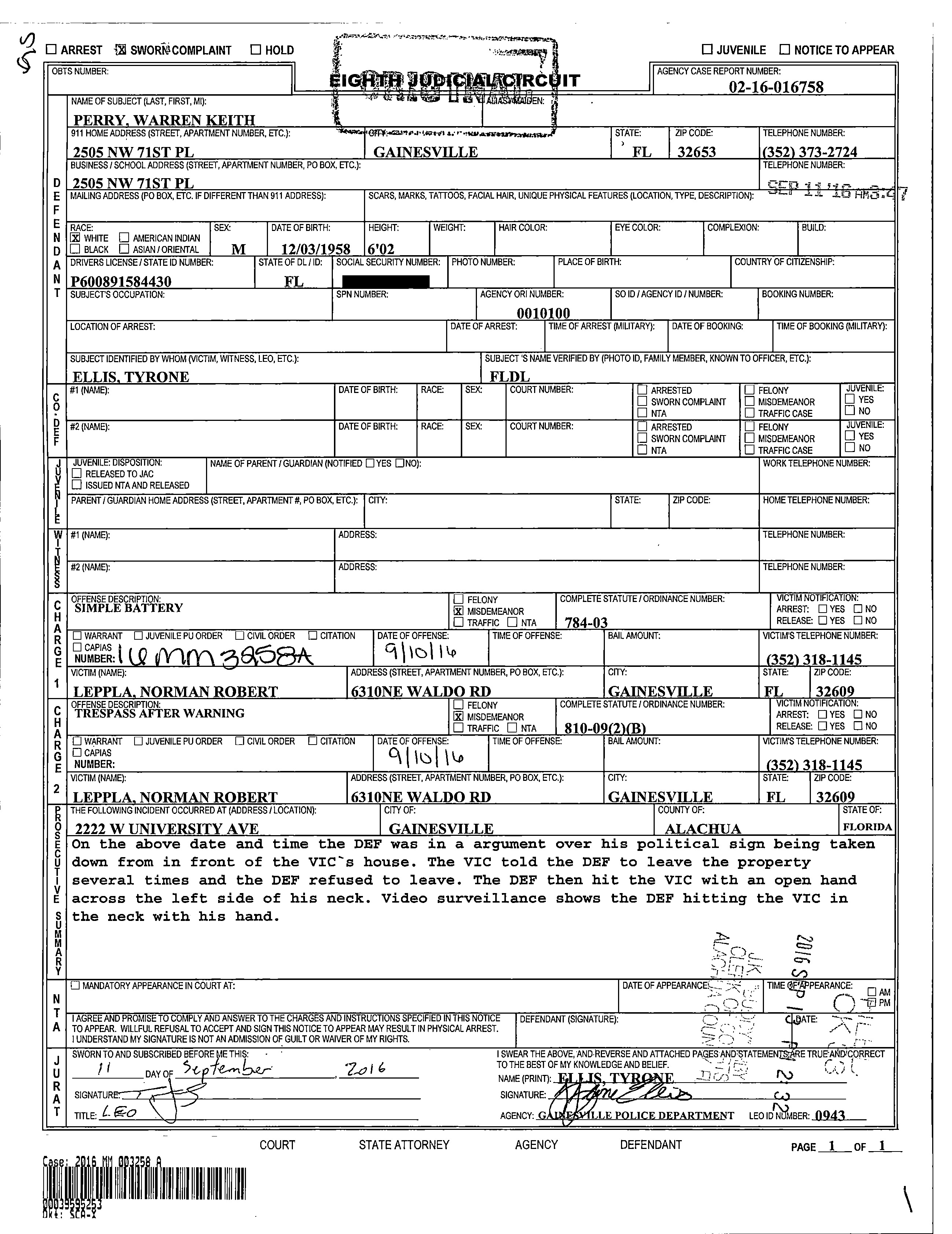 Save
Save
Save