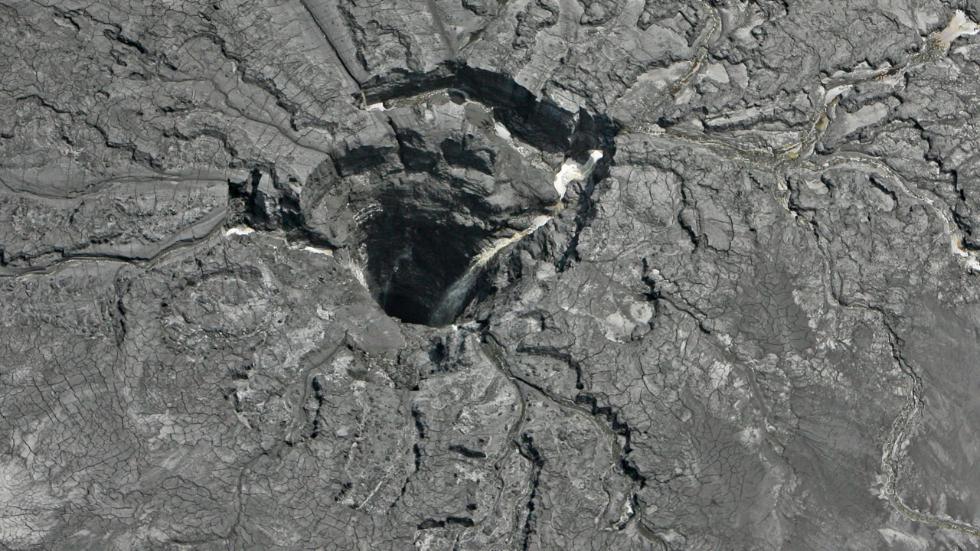 Gwen Graham isn't backing off in her quest to learn how proactive the Florida Department of Environmental Protection was in informing the public about the 45-foot-wide, 300-foot deep sinkhole which opened at Mosaic's New Wales plant in Mulberry on August 27, emptying 215 million gallons of contaminated water into the Floridan Aquifer.
The Tallahassee-based Congresswoman on Friday issued a public information request to the DEP to turn over all electronic communication relating to the toxic sinkhole, following what she says has been "repeated requests" for more information on when DEP informed the public of the sinkhole and called for the department to conduct an investigation into their delayed response.
"Our office has repeatedly asked the Department of Environmental Protection when exactly they began to notify the public of the 300-foot-deep toxic sinkhole in Central Florida, and they have not yet answered this simple question," Representative Graham said. "I'm hopeful this public records request will show the date on which the department notified the public of the sinkhole and why they made the decision to keep it secret for so long."
Although Mosaic said it immediately contacted the DEP about the spill last month, nearby residents concerned that about the potential contamination of their drinking water say they were not contacted, and only learned about the spill when it was reported last Friday.
The New Wales facility produces fertilizer and ingredients for animal feed from phosphate rock.
"The health and safety of Florida's families is no laughing matter. A giant toxic sinkhole is no laughing matter. Government transparency is no laughing matter," Graham said. "I expect this request to turn over a large amount of communication regarding the sinkhole — if not, the DEP isn't taking this issue seriously, or the administration is again trying to skirt our state's Sunshine Laws."
Mosaic and the DEP's transparency regarding the spill has become a national story in the past week. On Wednesday, Hillary Clinton told Tampa ABC affiliate WFTS, "For goodness sake, people are entitled to clean water. People are entitled to know what is in their water and companies that profit off of common resources need to be held liable when something goes wrong. So I have a very clear view about this. Polluters should pay to help clean up the messes that they have created."
And now Marco Rubio has joined with Graham in criticizing the DEP. In a statement given to the Tampa Bay Times, the Florida GOP Senator says,"There's no question that residents should have been informed sooner. I understand that Mosaic is working closely with the Florida Department of Environmental Protection to monitor and mitigate water that has leaked into the aquifer."
The DEP responded on Thursday that Governor Rick Scott had directed the agency to expedite its investigation into the spill. The DEP says it is accelerating all water-quality tests to ensure safe drinking water for residents. Scott has also directed the Department of Health to partner with the DEP to ensure that the drinking water is safe.
The DEP also issued a detailed timeline on Thursday on their course of action since learning about the spill on August 28.
Meanwhile, three Florida residents have filed a lawsuit against Mosaic that seeks to hold the phosphate giants responsible for potential contamination of their drinking water wells.
DEP Secretary Jon Steverson responded later Friday to Graham's request:
"As is the case with all public records requests, DEP will expeditiously process this request and provide the responsive records. DEP has been in communication with Representative Gwen Graham's office throughout the week and has provided information as requested without hesitation.
"Contrary to the Representative's claim that we have not answered her question, DEP yesterday released a detailed timeline of all of the agency's actions including that beginning on Sept. 19, in coordination with Mosaic, DEP began reaching out to nearby homeowners for well testing.
"It is important to know that Deputy Secretary Gary Clark is over the department's Land and Recreation functions and does not, in any way, oversee the department's regulatory functions, especially in regard to water quality. DEP is absolutely committed to the safety of all Floridians and our environment, and our staff was on-site to investigate the issues at Mosaic's New Wales facility less than 24 hours after being notified.
"Following Governor Scott's call to expedite our investigation, we will hold all responsible parties accountable. To keep the public informed of the latest response activities and most recent monitoring data, DEP will continue to issue daily updates on this issue."