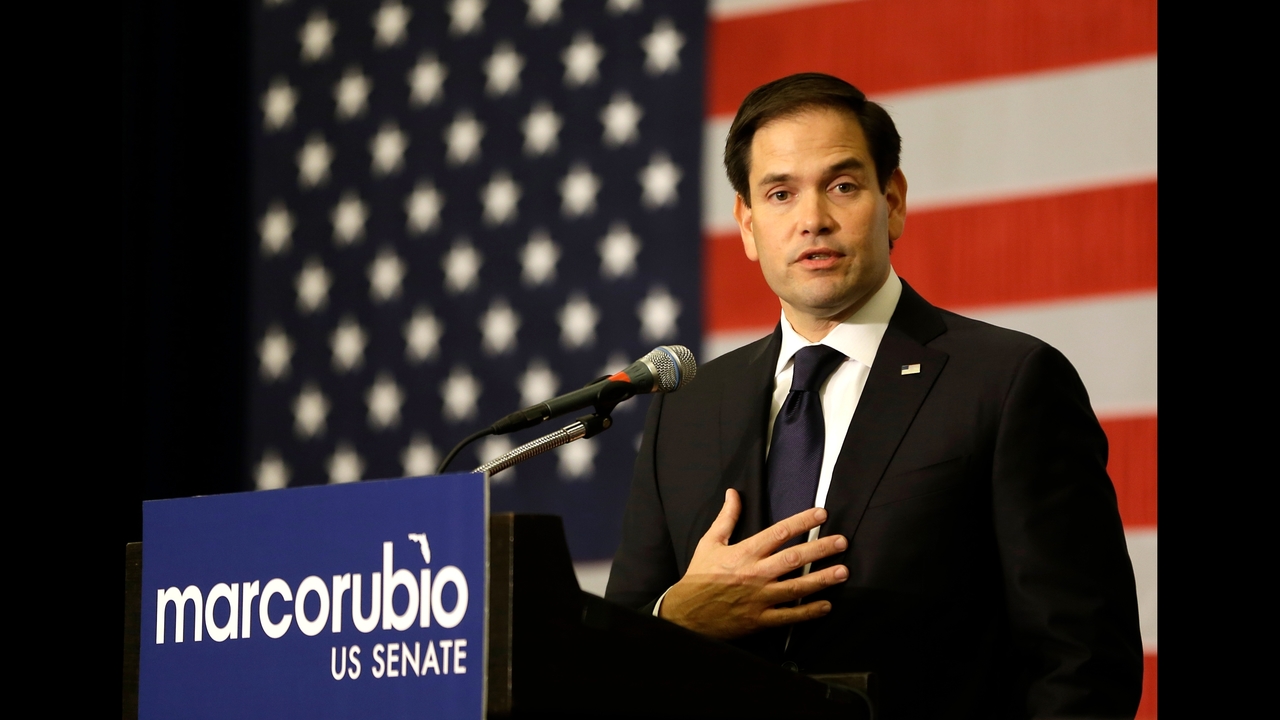 A Democratic congressman with little name recognition is struggling to stop Florida's GOP Sen. Marco Rubio from being re-elected as Republicans pour millions into adds attacking the underdog — Patrick Murphy.
Lately, Rubio and outside Republican groups have outspent Murphy and Washington Democrats more than 3-to-1 with ads blasting Murphy for embellishing his resume, calling him "untrustworthy." So far the Democratic Party arm in Washington focused on overturning GOP control of the Senate on Election Day seems hesitant to fight back for Murphy, who's still introducing himself to voters statewide.
The Democratic Senatorial Campaign Committee is cutting back a planned advertising blitz in Florida, canceling ads into early October though it says it stands behind Murphy. It could be part of a strategy to switch to states where TV advertising costs far less and Democrats have better chances in November.
Murphy said he's not worried, confident of overcoming the ad onslaught though he trails in polls and many Florida voters have barely heard of him.
"The negative ads that Marco Rubio and his allies are running against me have been checked by fact checkers and have been deemed false, so not only are they negative, but Sen. Rubio and his allies are lying about me, trying to smear my record because they have to distract from his terrible record," Murphy said at a Tampa appearance.
Rubio, 45, toppled a sitting governor for the Senate seat in 2010 before running for president. But after Donald Trump soundly beat the junior senator in his home state, Rubio dropped out and also said he wouldn't seek another Senate term. In late June he changed his mind, pressed by Republicans anxious to retain a slim Senate majority. Instantly he became the front-runner against Murphy, a 33-year-old second-term congressman who has trailed Rubio by 7 percentage points in a recent Quinnipiac University poll.
Democrats need to pick up four seats for Senate control, five if Trump's elected. For Democrats, it's been a season of high hopes of taking the Senate seat in a presidential election year that saw some Republicans distancing themselves from Trump. Then entered Rubio.
Republicans for Rubio are hitting Murphy for overstating claims on his resume to be a certified public accountant, small business owner and a college graduate with two degrees. Murphy was a licensed CPA in Colorado but not Florida, where he worked for an accounting firm. He was part-owner of a business established by his wealthy father, and though a double major at the University of Miami, he earned just one degree.
Murphy casts Rubio as self-interested, saying he can't even commit to serving a six-year term and wants to use the office to mount another presidential run.
The question is whether that message is being heard over his opponent's ads.
Murphy has received help from the American Federation of State, County and Municipal Employees and the Senate Majority PAC, but those advertising buys have been dwarfed by outside Republican groups.
Susan McGrath, the Pinellas County Democratic chairwoman, says Tampa Bay television has been plastered with ads attacking Murphy. So far figures show Rubio and groups backing him have poured $16 million into advertising, nearly triple the $5.6 million spent by Murphy and his supporters.
"There's a tremendous amount of money being spent against Patrick Murphy and I haven't seen him respond in kind," said McGrath. "The Republican Party and the super PACs are going to dig in hard for Marco Rubio. They have a huge investment — a potential candidate for president and control of the Senate."
She and other Democrats acknowledge Rubio's advantage. But Democrats say Rubio's flip-flop on a Senate run, combined with Murphy's moderate politics, could yield a Democratic upset.
"Voters are going to have a lot of questions for Marco Rubio — the whole instance of him telling the people of Florida that he didn't want to be a senator," McGrath said. "I do think Murphy is a strong candidate. He's a moderate, and Florida is not a red state or a blue state."
Rubio expresses confidence even as many voters are still making up their minds.
"The reason why someone exaggerates their achievements is because they don't have any achievements. He's been in Congress for four years and no one's noticed because he hasn't done anything," Rubio said by phone.
Tiffany Smith, a public works employee in Ft. Lauderdale, said she generally votes along Democratic lines but is still deciding which one lines up with her on key issues of student loan debt, family leave policies and equality and pay for women.
Other voters see the race as more about Rubio than Murphy.
Kathy Traexler, a 49-year-old engineer from Orlando, recently switched parties after 31 years as a Republican because the GOP nominated Trump. While she doesn't know much about Murphy, she's still voting for him.
"I just know he's not Rubio and for me, that's enough," Traexler said.
Republished with permission of the Associated Press.