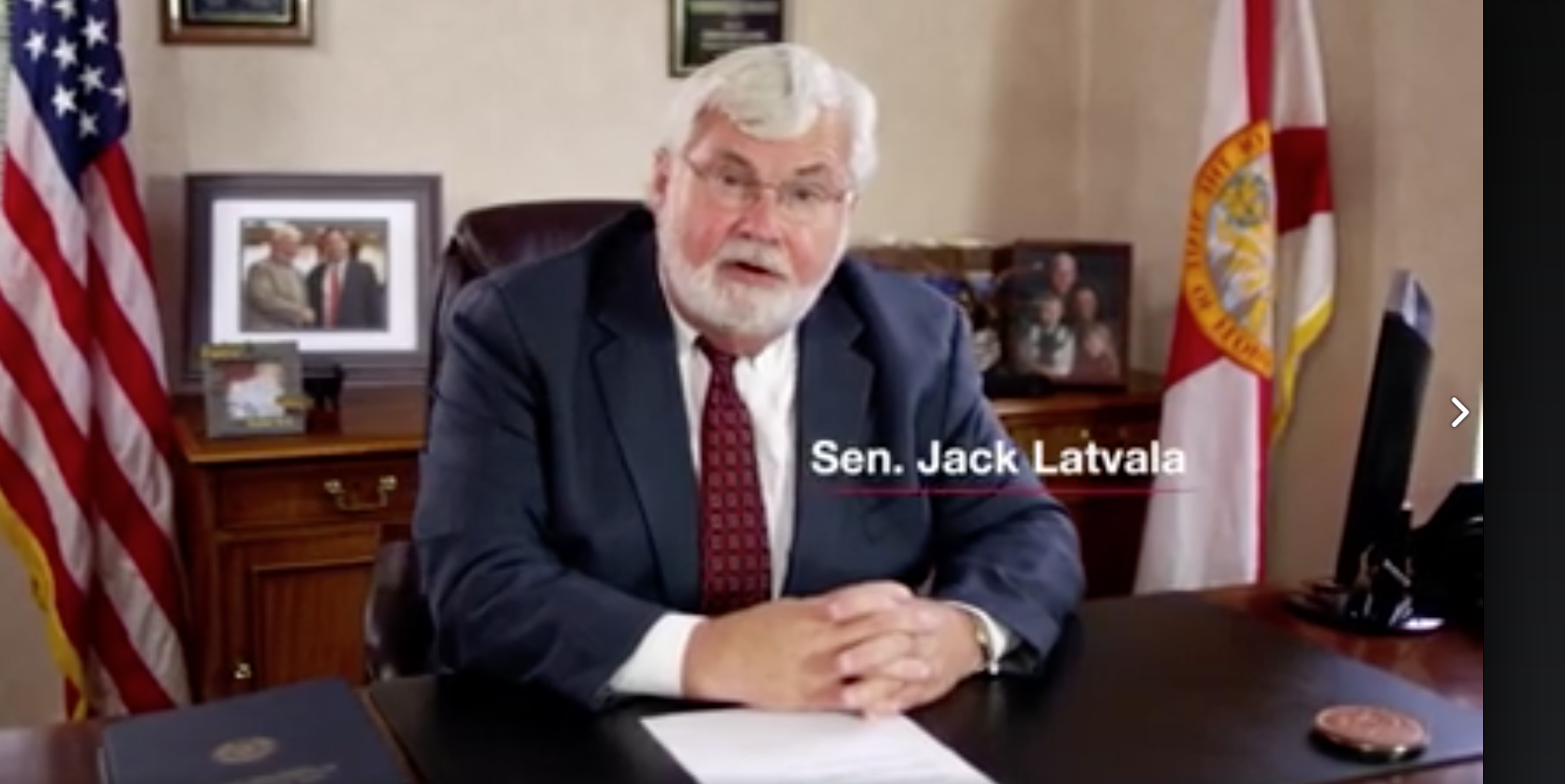 Last Friday, Clearwater Republican state Sen. Jack Latvala announced he would be opposing Amendment 2, the imitative calling for legalizing medical marijuana in the Sunshine State.
"Amendment 2 is bad for Florida," Latvala says in a short video on the Facebook page created for his election campaign. "The constitution is forever," he says. "Future legislators or judges can't change it, even if science finds it harmful."
The reaction has been fierce on social media, with the announcement generating more than 100 comments on his campaign Facebook page, most of them negative.
"How much are you getting from liquor and beer companies to make this PA?" wrote Jose Carlos Buraschi. "Thanks to people like you, my son could not get the medicine he needed back in 2014. Now he is dead!!! Please do research before you say all this nonsense about low THC, and how that is enough. What research have you personally done to say that 'Charlotte's Web' is enough to cure cancer, treat Parkinson's, Alzheimer's, etc.?"
There were plenty of comments suggesting Latvala was heeding the wisdom of "Big Pharma" and that he's endangered his chances of getting elected. The odds of that happening are virtually nonexistent, however, considering that not one Democrat or Republican even bothered to file to run against him in his bid to win his state Senate District 16 next month. Katherine Perkins is a write-in candidate listed as also running for the seat.
"Apparently you've never saw someone who has suffered through chemotherapy and its side effects," wrote Gail Bender. "If you had, I'll wager that you would do ANYTHING that would help. It's so much more important to you that you listen to those drug lobbyists. Well, guess what. Whether you like it or not, it's coming. Oh, and like I said. Your straight answer was quite telling in whom you've sided with. Good luck on winning the next election. Marijuana use will help thousands of registered voters live long enough to vote you out on your next election cycle."
Some reactions were extremely personal.
"I hope that someday your life is touched by you or a loved one having a chronic and painful illness," wrote Norie Berndt. "Then you will understand why it's important to make medical marijuana legal."
It should also be noted more than 133 people gave a "like" to the video. And the reaction is much more balanced on his personal Facebook page.
The senator responded Saturday by posting a photo of marijuana edibles. "Tell me kids won't get ahold of this pot candy if it comes to Florida. #VoteNoOn2," he wrote.
That also generated similar negative feedback.
"Why are you blurring the lines and making up lies?" wrote Tommy Frain. "Amendment 2 gives a ton of power to the Department of Health for implementation and is very restrictive on the illness medical cannabis is allowed to be given for. What's up with these scare tactics, Jack?"
In an interview Monday, Latvala said he wasn't surprised by the reaction, but, to him, it's a moral issue and doesn't have anything to do with politics.
"I just draw the line," he said. "It's what you've got to do sometimes if you're a leader."
Latvala has received contributions from 10 different pharmaceutical companies in his 2016 election campaign totaling $5,500, including $500 contributions from companies like Pfizer, Merck Sharp & Dohme, and Bristol-Myers Squibb.
Latvala notes the total amount of those contributions just above 1 percent of the $508,712 he's collected in his campaign account as of Sept. 16 (there have been a handful of contributions from pharmaceutical companies to his political action committee).
"I generally take money from all legal sources, and I generally don't worry about who I irritate to give me money," he says, adding that he's been tough on groups like the utility companies in Florida, yet has received contributions from them. "There's no connection."
Some fellow Pinellas Republicans disagree with Latvala's stance.
"Our government has failed its citizens on medical marijuana policy," St. Petersburg state Sen. Jeff Brandes said Friday, referring to the "Charlotte's Web law," which legalized the use of a non-euphoric strain of marijuana to treat conditions such as epilepsy, Lou Gehrig's disease, and cancer (and which Latvala opposed).
"Today we have a law on the books that enriches a handful of people, and places barriers between doctors and their patients by depriving them access to a treatment that could improve their quality of life," Brandes added. "The law today must change, and Amendment 2 is a responsible option for sensible medical marijuana regulation."
Latvala says he believes some people are coming out in support of the measure because the odds of passage look good next month, according to public opinion polls. He says it takes more courage to go against the grain.
"I think a lot of people are being quiet about it because they assume it's going to pass and they don't want to be on the wrong side, and I think it'd be interesting," he says. "To get involved in something's that winning over 70 percent of the vote is not an easy thing to do. It takes a little bit of courage to get involved in an issue where it looks like you're losing."