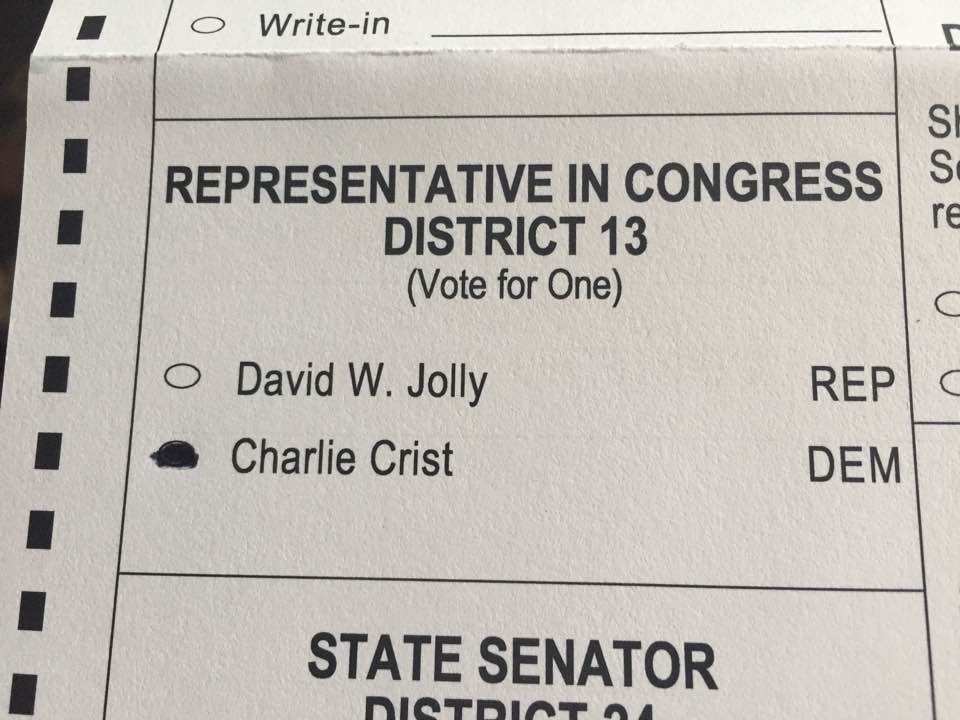 Beverly Young announced Thursday she's voting for Charlie Crist over David Jolly in Florida's 13th Congressional District.
Young made the announcement by placing a photo of her ballot on her Facebook page showing she had scribbled the bubble next to Crist's name.
Young is the widow of Bill Young, who represented Pinellas County in Congress for more than 42 years before he died three years ago at the age of 82.
Shortly after his passing, Mrs. Young announced she would support Jolly in the special congressional election to succeed her late husband, and ultimately appeared in an ad endorsing him in his race against Democrat Alex Sink. Jolly was a former senior adviser to Young who was said to have been viewed as virtually a member of the Young family.
But her attitude towards Jolly changed when she said he reneged on his deathbed promise to Bill Young that Jolly would maintain Young's staff immediately after the election.
"He made promises to my husband that he was going to continue to carry on his legacy, and the first thing he did was dump the people who made his legacy what it is," Young told WFLA's Lauren Mayk a month after Jolly's election. "He's made a mockery out of my husband's life and his legacy." Jolly told the press shortly after that interview that he was no longer speaking to Beverly Young.
Until this past June, Jolly was not intending to run again for the seat. But his ambitions to run for Senate ended when Marco Rubio announced he would run again for his Senate seat.
"World has changed so much," Young wrote on her Facebook page, which also showed a picture of her selecting Donald Trump for president. "I can't look away from Benghazi and pretend that 4 Americans, pleading for back up, were ignored and slaughtered and can't believe Jolly is still saying Bill is his mentor, when Bill would be totally disgusted and ashamed how he has handled his district of 50 years."
It should be noted that Beverly Young wasn't exactly friendly towards Crist in the immediate aftermath of Bill Young's death. She sent him an email after his passing to tell Crist "your presence at my husband's memorial services will be unacceptable."
"I have watched over the years, as Bill had, your transparent attempts to manipulate the political arena," she wrote. "I don't want my husband's memorial service to be another opportunity for that and I will not tolerate anyone turning this into a platform for political gain."