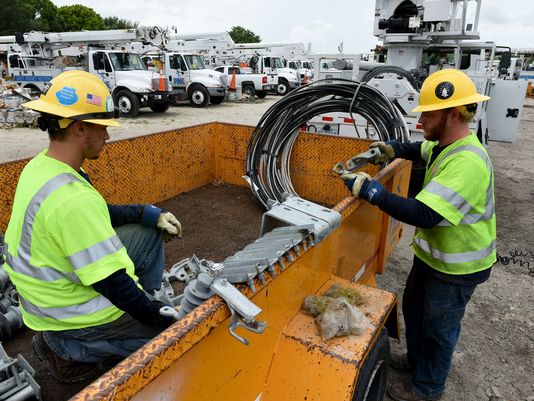 On Florida's northern Atlantic coast from New Smyrna Beach to the Georgia state line, residents may spend a second straight evening in the dark. Massive power outages are being reported as far west as Baker and Bradford counties, after Hurricane Matthew's journey north up the seaboard Friday.
673,019, or 8 percent, of Florida electrical customers lack power.
Most of the power is out in Flagler County, where 82 percent of electricity customers were blacked out at 6 p.m. Saturday, according to the office of Gov. Rick Scott.
The number is down from 94 percent at 6 a.m.
In Volusia County, which began losing power Friday morning, 63 percent were still without electricity at 6 p.m. Saturday. In St. Johns County, 43 percent of electricity customers were in the dark. In Nassau County, 36 percent were without lights, in inland Putnam County it's 37 percent, and in Duval County 43 percent of Jacksonvillians were without power.
With the restoration of some power grids farther south, the total number of Florida electrical customers with no power stood at 673,019, just over 878,000 at noon Saturday.
South of Volusia, 31 percent of Brevard County customers remained powerless, as did 19 percent of Indian River County customers and 8 percent of Seminole County customers.
At 6 a.m., that Seminole County number was 20 percent.
The brunt of Matthew's late assault on the Sunshine State left Florida's First Coast on Friday.
And at this rate, much of the First Coast will face a dark Saturday night.