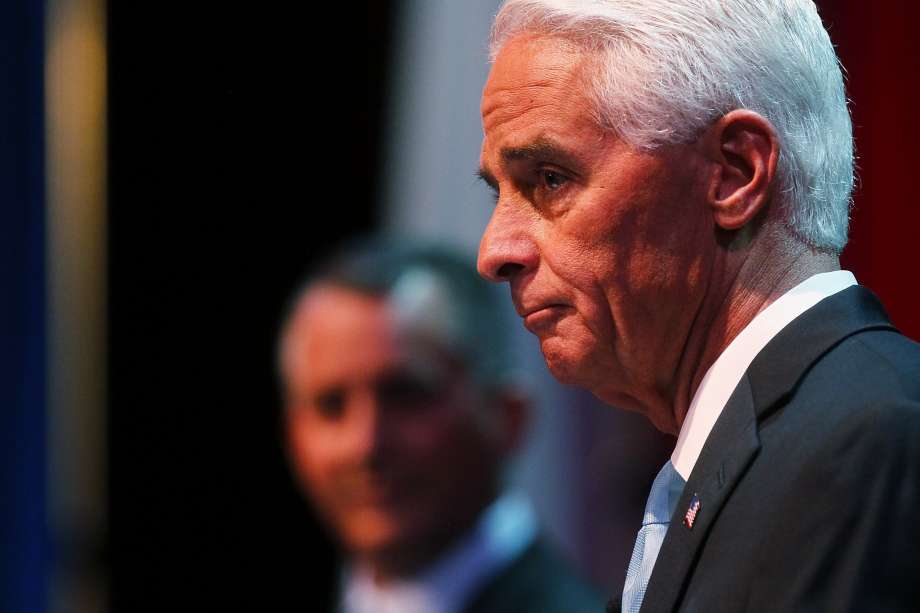 His commercials omnipresent on Tampa Bay televisions, Charlie Crist has taken back the lead from David Jolly in the race for Florida's 13th Congressional District.
According to a fresh survey from St. Pete Polls, the former governor now leads the incumbent congressman 48 to 43 percent with a healthy 9 percent of CD 13 voters undecided.
A poll conducted three weeks ago by the same firm had Jolly up three points over Crist.
This swing may be both easy and complicated to explain. The easy answer for Crist's eight-point move is that he and his allies at House Majority PAC have turned on the spigot and are inundating the Pinellas County district with positive ads about Crist and negative spots about Jolly. Crist holds a significant fundraising advantage over Jolly, while at the same time national Republicans have been hesitant to invest in a seat they believe is difficult to win and in a candidate with whom it has had a rocky relationship.
The more nuanced explanation for Crist's new advantage is that some voters' perception of Jolly may have changed. With little money to air attack ads against Crist, Jolly has had to take the gloves off against the Republican-turned-Independent-turned-Democrat. Jolly took a harder edge against Crist in a televised debate and has been relentlessly critical of Crist, despite a commitment he made at his announcement event in June to avoid discussing his opponent.
"I have expressed my opinions about his candidacy, and I don't intend to reference it anymore between now and November," Jolly said at the time. "Part of my promise to change the tone is hopefully you all won't hear me utter another candidate's name between now and November."
The latest polling suggests Jolly's new direction is costing him with voters. In September, CD 13 voters held a +28 favorable opinion of Jolly. This new poll shows Jolly with a -2 favorable rating. Crist's favorability rating remain a mixed bag at +6, although that is an improvement from the previous poll's -2 rating.
Of course, there is a third explanation for this poll showing Crist leading Jolly by four points. That's also about the same margin by which the top of the ballot is being decided.
Voters in the swing-y CD 13 narrowly support Hillary Clinton over Donald Trump for president. In a four-way match-up that also includes Libertarian Party nominee Gary Johnson and the Green Party's Jill Stein, Clinton leads Trump 47 to 43 percent.
The poll has a sample size of 1,280 respondents and has a 2.7 percent margin of error.
Crist, an attorney who was Florida's governor from 2007 to 2011, was cited as a possible VP pick for John McCain in 2008. He ran for U.S. Senate as a Republican in 2010 but lost to Marco Rubio in the primary. Crist then switched parties, ran in the general as an independent and lost. He then switched parties again, becoming a Democrat, and ran unsuccessfully for governor against Rick Scott in 2014.
Jolly, 43, who has been in office only two years, earlier had announced he would run for U.S. Senate. But when Rubio dropped out of the presidential race and said he would run for re-election, Jolly got out of the race.