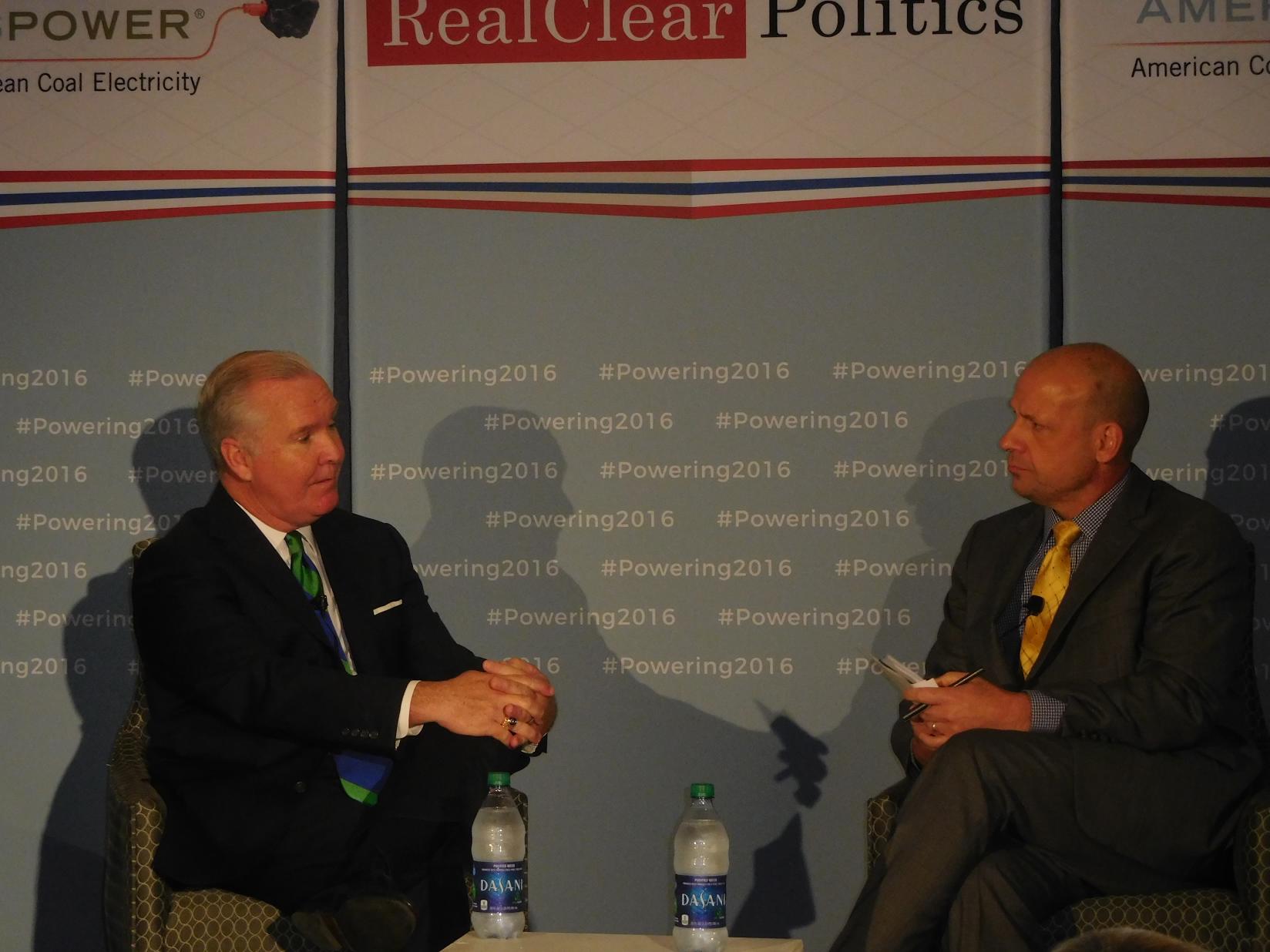 Bob Buckhorn is very keen on getting Hillary Clinton elected. He traveled to New Hampshire this past winter to campaign for her, and has been front-and-center at the three campaign events she's held in Tampa during this election cycle. Yet when it comes to the Trans Pacific Partnership, Buckhorn says both Clinton and Donald Trump are dead wrong in opposing the controversial free trade pact.
"I think they're both wrong," the Tampa Mayor told RealClearPolitics' Tom Bevan in a lunchtime discussion held at the Sheraton Tampa Riverwalk Hotel Tuesday. The event was the second of four different "Powering the Debate" events held by RealClearPolitics, the political news and polling data aggregating website.
"It is sad to see the demonization of trade," Buckhorn continued. The TPP is a trade pact that aims to deepen economic ties between 12 nations (the U.S., Japan, Malaysia, Vietnam, Singapore, Brunei, Australia, New Zealand, Canada, Mexico, Chile, and Peru) by slashing tariffs and fostering trade to boost growth. Some of the strongest criticism against the pact is that it was conceived in secret, where governments were said to be seeking to bring in sweeping changes without voters' knowledge. There is also residual anger at previous trade deals, like the 1993 NAFTA deal between the U.S., Mexico and Canada which Trump has called "a disaster."
The deal is opposed by both forces on the political left and right, but Buckhorn is a strong advocate, saying it would eliminate 18,000 different tariffs and barriers, largely in the Far East where the U.S. has not previously engaged. "If we are not there setting the framework for labor agreements and for protection of intellectual properties, then China will step in and do it, and I can promise you that what they will deal with is not going to be nearly as good for the 11 countries in the TPP."
Clinton used to support the TPP, but changed her position during the Democratic primaries as it became a potent issue for Bernie Sanders. Trump has been against the pact since he hit the campaign trail over a year ago. The anti-trade sentiment isn't necessarily new, as Pat Buchanan ran on a similar platform for president in 1992 and 1996 with limited success. Buckhorn spoke disparagingly of the U.S. now being "sucked into the morass" of thinking that trade is somehow wrong.
"We're in a global economy," he said. "I'm not just trading with Alabama, I'm trading with the world, and we need those barriers reduced and those tariffs reduced so that American goods can be more effective. So I think they're both wrong."
The TPP may be voted on during the lame duck session of Congress in December.
Earlier in the discussion, Buckhorn described the mood of present day America as being uncertain and fearful, and he said that he understood the frustration of the American people, particularly when it comes to the lack of cooperation in Washington. "I think it's the perfect storm of anger, which I think lends itself to some of the venom we see in this country," he quipped.
RCP's Bevan then challenged him about the angst and anxiety that working class people feel about the economy, and the anti-trade sentiment that has grown in the Republican Party. "What would you say to those people who are feeling that economic anxiety?" he asked. "To look at trade and say, 'you know what? I don't like the fact that we ship a bunch of jobs to Mexico or overseas. Trade hasn't been good for me."
Buckhorn conceded that "those were legitimate concerns," but said it hasn't been trade agreements that have led to major job losses in the country, but technology.
"Technology has forced industries to compete," he said. "It is eliminating some jobs…but it's not the trade agreement that's causing that, it's the ever increasing, ever encroaching disruptive types of technology that is changing the way we do business."
The two men also spoke about terrorism, police interactions with the black community and the efficacy of the Affordable Care Act.
Inevitably, Bevan also asked Buckhorn if he still harbored thoughts about running for governor in 2018. The mayor has previously said that he would assess that possibility after the 2016 election.
"I'm looking at," he said. "I think the Tampa story, the renaissance of this great American city, is a pretty good story to tell. I also think that Floridians are ready for another style of leadership," he continued.
"I think that there is a path there, because I think Floridians are tired of blatant partisanship and are looking for folks who are willing to work and … get this job done."
Buckhorn concluded it would be a "massive disruption" to his family, "but I do think 2018 does represent a pivotal election to this state, and if I can lend my voice to that progress, then I'll take a look at it."