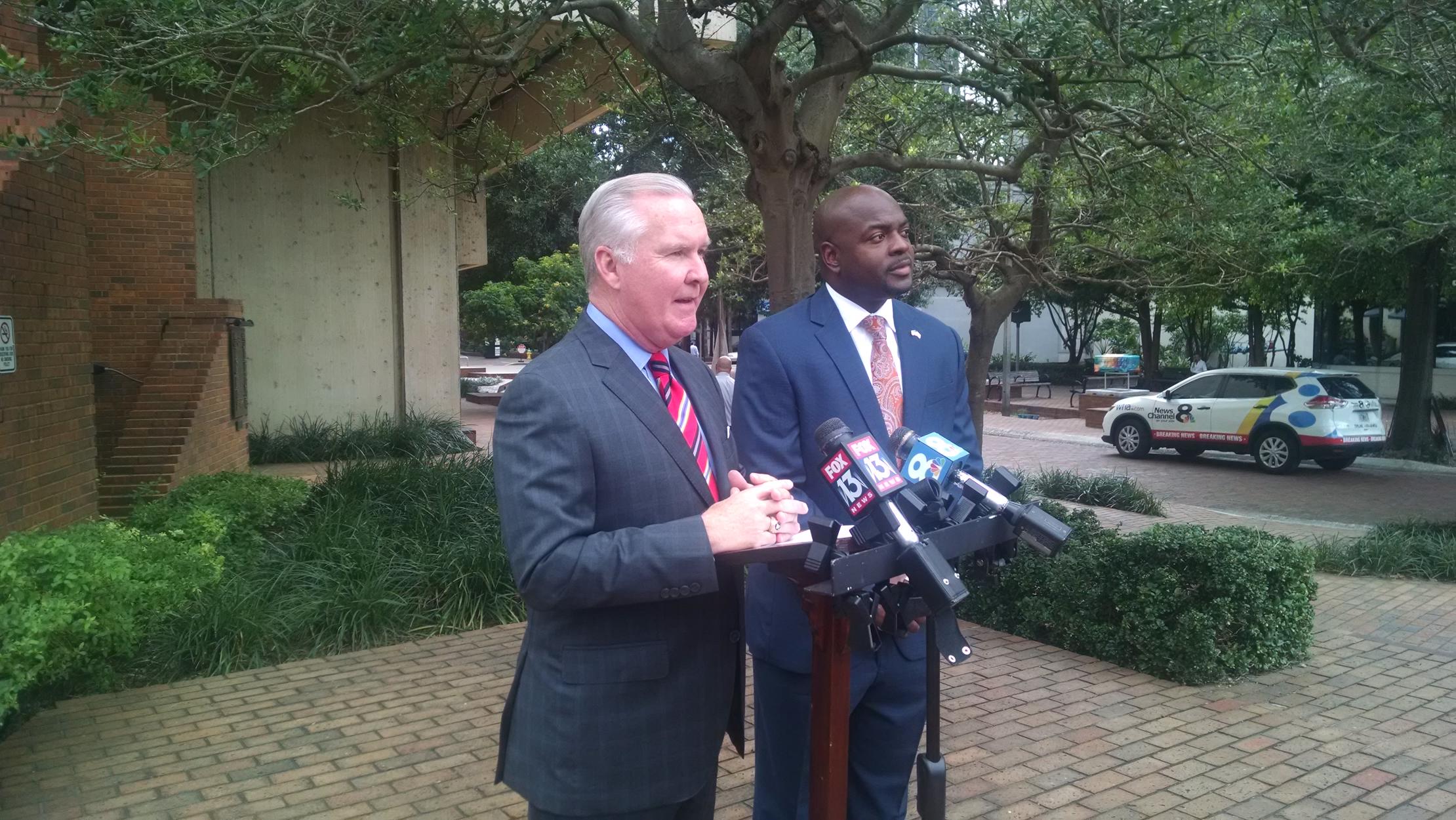 Bob Buckhorn has a simple question for the four members of the Florida Cabinet regarding Donald Trump.
"Where ya hidin'?" the Tampa mayor asked Wednesday at a news conference held outside City Hall. He was referring to how some of Florida's leading Republicans have cut a very low profile when it comes to discussing Trump in the aftermath of the lewd sexual comments the Manhattan real estate magnate made in a 2005 video leaked to The Washington Post last Friday.
"You've got to make a fundamental choice: Pam Bondi, Adam Putnam, Jeff Atwater, Gov. Scott — do you stand with Donald Trump or not?" the mayor asked provocatively. "If you don't, then you need to stand up and say so. But if Donald Trump's politics represent what you think is what the Republican Party stands for, then I'm sorry, that is not the Republican Party that this country has known. That is not the candidate deserves to be president of the United States."
Buckhorn of course, is hardly an objective observer. Hizzoner is all in with Hillary Clinton in this campaign, to the extent that some have speculated he may be offered a job in her administration if she's elected next month. Historically he hasn't been a huge partisan in his time in office, which contributed to his winning more than 95 percent of his re-election vote in 2015. In fact, more than a few Democrats were unhappy the mayor pledged his neutrality when Scott was running for re-election against Charlie Crist in the 2014 gubernatorial election.
That was then, however.
The mayor is the father of two young daughters, and he said that it was a "painful moment" in his life to have to discuss the contents of Trump's comments that went national last week. It should be noted Republicans made similar comments back in 1998, when the report by special prosecutor Ken Starr on Bill Clinton's relationship with Monica Lewinsky was laid bare for the world to observe.
"Last week was the most embarrassing, shameful episode that I have ever seen in 25 years of doing politics," Buckhorn said of the Trump tape. "It showed me in no uncertain terms that Donald Trump is absolutely temperamentally unfit to be the president of the United States, and I have no problem standing up here and saying that."
He also called on "all of our Republicans friends" to realize it's time to hop off the Trump train: "It is time to abandon ship. It's time to put your country first, and put your party second, and come over and do the right thing for America in voting for Hillary Clinton."
Hillsborough County Republican Executive Committee Chair Deborah Tamargo was not impressed by Buckhorn's comments.
"I didn't think that the mayor was elected to be God and a moral judge. I thought he was elected to carry out the law," she said, adding, "I don't remember him running on a moral platform, and I don't believe he's a pastor, priest or rabbi. And I don't think he's in a position to make moral judgements. I think that's a personal thing."
Like many Republicans, Tamargo says she believes Clinton broke the law when she was found to have used a private email server when she served as secretary of state and sent out classified material. In July, FBI Director James Comey announced that despite evidence Clinton was "extremely careless" in her handling of classified emails on a private server, the bureau would not recommend to the Department of Justice that criminal charges be brought her.
"I'm really perplexed that he would be trying to extort people into not exercising their free will in voting and endorsing and supporting, and I'm rather shocked he would be supporting someone who has broken the law," Tamargo said of Buckhorn's comments.
The press conference, called by the Florida Democratic Party, was held to mark the decision earlier Wednesday by federal judge Mark E. Walker of the U.S. District Court for the Northern District of Florida to extend voting registration in the state until Oct. 18 because of the impact of Hurricane Matthew.
"There is no more fundamental right than the right to vote," said House District 61 Democrat Ed Narain, who joined Buckhorn at the press conference. "While people are trying to make this out into being a political issue, it's far from political. It's a fundamental constitutionally protected right that all citizens have the right to vote."
The decision is considered a victory for the Florida Democratic Party. Last week, Gov. Scott told reporters he didn't "intend to make changes," saying "people have had time to register."