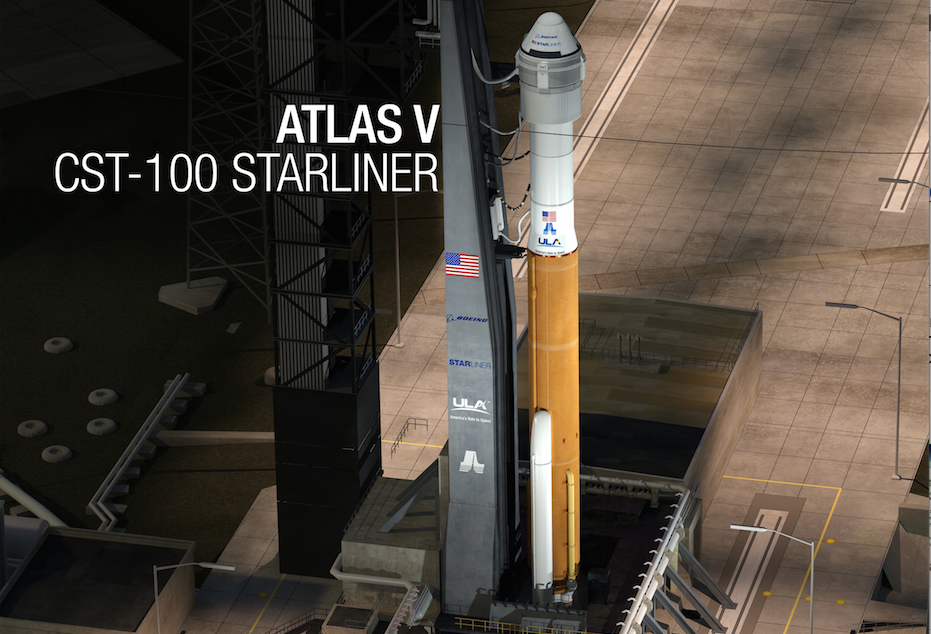 The Atlas V rockets that would blast American astronauts into space in a couple of years will be wearing a skirt.
United Launch Alliance and Boeing announced Wednesday they have created a new configuration of the venerable Atlas V rocket to eliminate an aerodynamic stability problem identified with carrying Boeing's Starliner Crew Capsule during launch and ascent. The configuration incorporates an aeroskirt attached to the spacecraft.
Boeing, along with SpaceX, has been contracted by NASA for the next generation of American spacecraft to carry astronauts into space. Since the retirement of the last space shuttle, Atlantis, in July 2011, NASA has had to rely on Russian Soyuz spacecraft and rockets to ferry astronauts to and from the International Space Station. If all goes well, the Starliner and SpaceX's Dragon capsule could resume American astronaut flights in 2018.
Both would launch from Cape Canaveral. ULA plans to use its launch pad at Cape Canaveral Air Force Station while SpaceX plans to use its pad at Kennedy Space Center.
The new Atlas V configuration incorporates an aeroskirt below the spacecraft, extending the Starliner Service Module cylindrical surface to improve aerodynamics and bring load margins back to acceptable flight levels, ULA stated in a news release issued Wednesday.
"Through incredible coordination and continued innovative thinking, the collective team of NASA, Boeing and United Launch Alliance completed three wind tunnel tests in six months to investigate the aerodynamic stability of various configurations and to anchor our analytical predictions. Based on that information, we updated the configuration for the Atlas V Starliner integrated vehicle stack," Gary Wentz, ULA vice president of human and commercial services, stated in the release. "This configuration is unique because it combines the Atlas V launch vehicle without a payload fairing with Boeing's Starliner capsule, resulting in different aerodynamic interactions."
The aeroskirt is a metallic orthogrid structure designed to be jettisoned after launch. In the unlikely event an emergency occurs during the boost phase of flight, the aeroskirt has venting provisions to control over-pressurization if the Starliner's abort engines are fired.
Testing was completed earlier this month. Fabrication of the aeroskirt is scheduled to begin this month at ULA's factory in Decatur, Alabama, following completion of a Production Readiness Review.
"Our testing indicates the solution we chose will sufficiently smooth the air flow around the vehicle during ascent, ensuring crew safety and mission success," John Mulholland, vice president and program manager of Boeing's Commercial Crew Program, stated in the release.
The Atlas V with Starliner has a planned uncrewed flight test in 2018 with operational missions to follow.