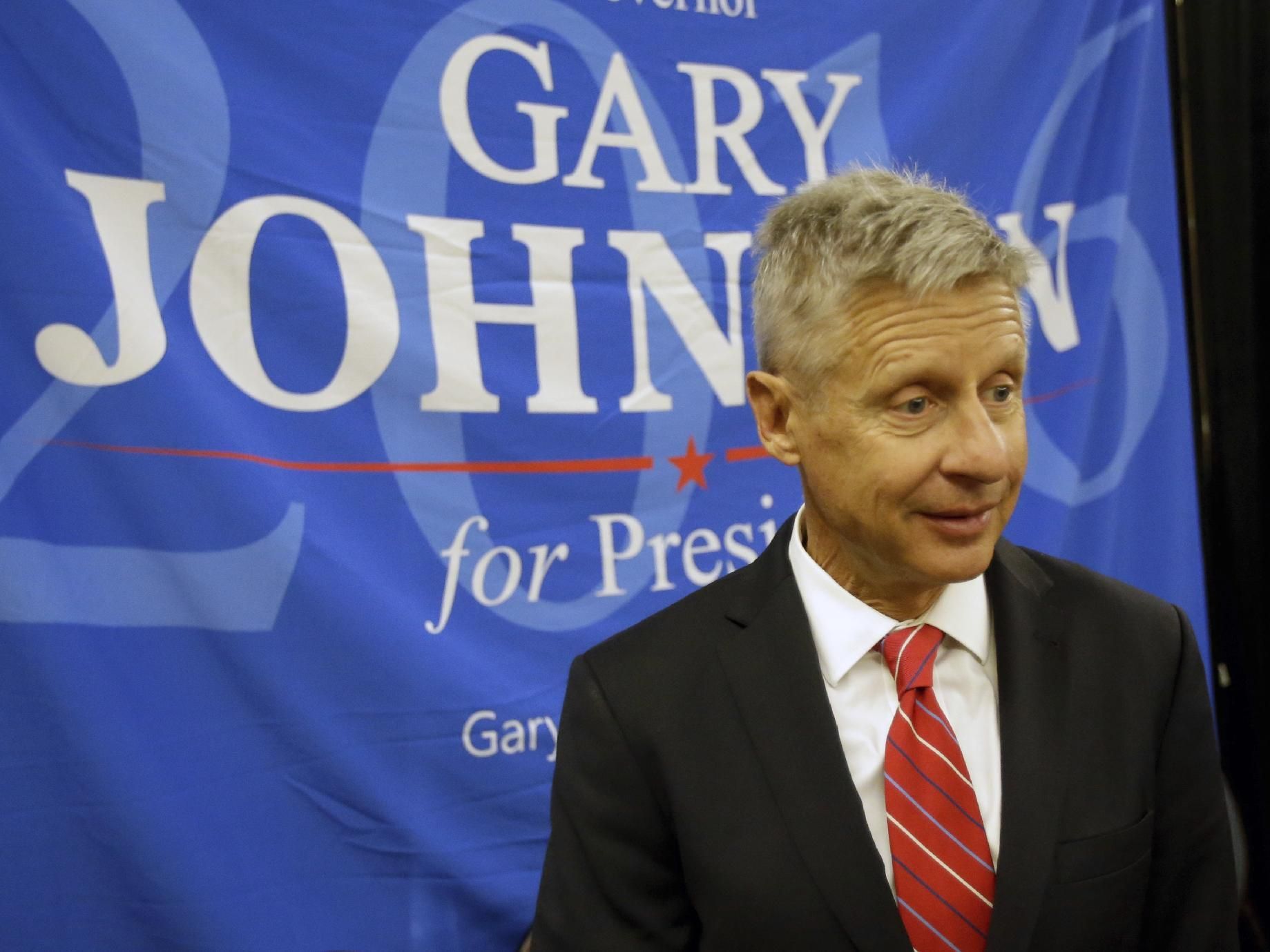 Ronald Reagan won a historic landslide victory in the 1984 election, taking 49 of 50 states. But he failed to win the vote of a young Republican businessman in New Mexico whose willingness to go against the political grain has made him this presidential campaign's X-factor.
Outraged at the GOP president's budget deficits, Gary Johnson for the first time voted for the Libertarian candidate. Ten years later, Johnson became New Mexico's governor, and was known for vetoing bill after bill before he became a national curiosity for advocating legalized marijuana.
Now, at age 63, he's the Libertarian Party's presidential nominee, a marijuana-promoting fitness aficionado who summited Mount Everest and now climbs a political mountain with tough odds of reaching the top.
Though Johnson has grabbed more attention for his stance on drugs and difficulty answering foreign-policy questions, fiscal conservatism remains his animating force.
"I always pushed the envelope," said Johnson, who's proposed deep cuts to military and other government spending as well as elimination of the federal departments of Homeland Security, Commerce, Education, and Housing and Urban Development. "I wasn't a wallflower when I was governor and I do think government spends too much money in areas that don't make a big difference in people's lives."
Before he came out for legalizing marijuana shortly after his re-election as New Mexico governor in 1998, Johnson was nicknamed "Governor Veto." He piled up a record 700-plus vetoes during his two terms in Santa Fe. Admirers liked his dedication to limiting the size of government. Detractors considered him narrow-minded and incurious about the outside world.
"He just does not believe government should be involved in dealing with social problems," said state Sen. Jerry Pino y Ortiz, who ran two social service agencies during Johnson's administration and feels the former governor let down his achingly poor state. "It's like the dad who's proud that his kid gets by on the smallest allowance at school, but the kid's shoes have holes in them."
Rod Adair is a Republican political strategist and former state lawmaker who agrees with Johnson's small-government philosophy. The problem, Adair said, is that the former governor knows relatively little beyond that.
He says Johnson prefers to focus on his obsessive fitness routine — he's an ultramarathoner and triathelete who summited Mount Everest in 2003 after leaving office as governor— rather than learn about unfamiliar areas like foreign policy.
"Running for president, I don't care where you're governor, it's very different and you need to have a degree of intellectual curiosity," Adair said. "He doesn't have that."
Supporters and admirers in New Mexico agree that Johnson was an unusual politician. He didn't horse trade or hold grudges, they say, and was generally direct and honest.
Those are attributes that have won him an unusually wide swath of support in the current presidential race, helping him appeal both to some disaffected liberal Bernie Sanders voters and more traditional libertarians.
He and running mate Bill Weld, Massachusetts' former GOP governor, are the only third-party ticket on the ballot in all 50 states
Johnson has fallen short of the 15 percent threshold in national polling needed to enter the presidential debates, polling at about 8 percent for several months. If he receives 5 percent of the vote in November, that would be a bonanza for the Libertarian Party, assuring it of a valuable place on state ballots in the 2020 election.
Johnson's deer-in-the-headlights response to a question from a television interviewer about what he'd do to deal with the crisis in the Syrian city of Aleppo — "What's Aleppo?" — earned him derision in September, though he quickly apologized.
Weeks later, Democrats feared Johnson was pulling enough young voters from [Hillary] Clinton to throw some swing states to [Donald] Trump. Johnson's campaign put out a lengthy statement urging Republicans disgusted with Trump's taped boasts about forcing himself on women to vote Libertarian instead.
Johnson says he's happy to criticize Clinton, even though his running mate says his focus is solely on Trump.
In an interview at a hotel near his Santa Fe home, Johnson predicted the national debt would more than double to $50 trillion should Clinton implement her various plans. She's proposed spending that would be paid for by $1.4 trillion in tax increases on the wealthy. Johnson said those would doom the economy.
"If those tax hikes go through, I think the recession of 2008 is mild by comparison," Johnson said.
Johnson was born in North Dakota, but his father moved the family to New Mexico when the future governor was 13. Raised by a school teacher and an accountant for the federal Bureau of Indian Affairs, Johnson founded a construction company while he was still at the University of New Mexico. The firm grew and became a major contractor on Intel's chip factory in Albuquerque, making Johnson his fortune.
In 1994 he entered a competitive four-way Republican primary for governor.
Johnson squeaked through with just over 30 percent of the primary vote, then defeated an incumbent Democrat whose party was so badly split that his own lieutenant governor ran against him.
The new Republican governor confronted a Democratic-controlled legislature and it was ugly.
Johnson vetoed more than half of the bills that came to his desk that first year and kept rejecting ones afterward. "When you have both houses of the legislature in the opposite party you're always going to have a lot of sparks that fly, especially on financial issues," said David Harris, Johnson's longtime finance secretary. "He always applied the same test to everything," Harris added — veto it "if it didn't improve the government or it raised taxes."
Over the years Johnson routinely shot down efforts to create commemorative license plates that would collect extra money for wildlife preservation, firefighters or West Point graduates. He vetoed a proposal for a state holiday recognizing Hispanic labor icon Cesar Chavez. He vetoed a $2 hotel room fee increase in the city of Las Cruces.
He even vetoed the entire budget in his final year only to have the legislature override him.
In the end, Johnson had limited success reining in state spending — the budget still grew from $4.4 billion in his first year to $7.7 billion in his last. But even his critics acknowledge it would have been far higher without him.
"He was just a very results-oriented guy and there's some utility in his view that doing more does not mean delivering more," said Doug Turner, who ran Johnson's re-election race.
Johnson also championed school choice, brought private prisons to the state, implemented managed care in the state's Medicare program and built a new highway to New Mexico's western edge. But it was his push to legalize marijuana, announced shortly after his 1998 re-election, that made him famous.
A longtime marijuana user, Johnson said he was persuaded to end the drug war by watching the escalating costs to courts, police and jails from locking up addicts. He wasn't able to persuade the legislature to decriminalize marijuana but came away with more money for drug treatment programs.
After leaving office, Johnson pushed for marijuana legalization and founded a marijuana branding company. In 2011, he ran for the GOP presidential nomination. But he was largely ignored in the race and switched to the Libertarian ticket. He received 1 percent of the vote in 2012.
Johnson rarely dealt with issues like gay marriage or immigration as governor, but he emphasizes them in this campaign, effectively merging the small-government, non-interventionist libertarianism of Ron Paul with a more socially liberal message.
One of the more emotional moments in his rallies usually comes when he announces that "Black Lives Matter" — often to cheers from the largely white audience — and rattles off statistics about the way the justice system treats African-Americans.
Johnson is also a non-interventionist, one of his greatest areas of difference with Clinton.
He argues that the military could be one-fifth smaller, especially if it pulled back from overseas areas where he says it doesn't need to be, like Japan. He recently said Syria's civil war has been worsened by the U.S. arming some of the rebels and said he wouldn't push for safe zones for civilians in besieged Aleppo, where the U.S. government has accused Russia of targeting civilians to help Syria's government.
"That's just opening another conflict with Russia," Johnson said.
Republished with permission of the Associated Press.