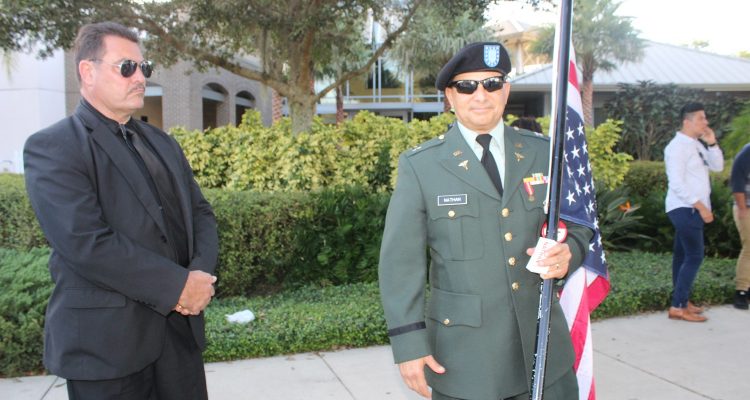 In the midst of the rallying college students and others at the U.S. Senate Debate at UCF, came marching a man dressed in military garb, carrying an American flag and flanked by three men in dark suits.
It was third-party Senate candidate Bruce Nathan.
"My goal is to be noticed," he told FloridaPolitics.com. "No-Party Affiliated candidates are never seen. I'm making a point. I drove two and a half hours to be here."
He claimed the polls showing favorable results for his campaign were "squashed" by the Democrat and Republican parties — such as a Quinnipiac poll he claimed showed him at 17 percent, above the required number for being included in the debate.
"I'm a nine-year military veteran," he said. "Patrick Murphy didn't serve his country after 9/11. Neither did Marco Rubio. But I did. I wanted to make a difference."
Nathan wasn't the only third-party candidate feeling disenfranchised, left out, or otherwise disappointed at the debate rally — Tony Khoury and Steven Machat were equally fired up and ready to rebel against the status quo.
Robert Simmons with the Khoury campaign said Nathan was "trying to get arrested" to make a point, and did not look upon the stunt favorably.
"He makes independents look bad," Simmons said. "That's not who we are."
Khoury himself walked the green courtyard with an animated and fervent energy, angry he had been "shut out" of the debate.
"They shut us out," he said. "We are the voice for the No-Party Affiliated, and they shut us out — the news, the pollsters, the debate. It has to be changed. All parties must be involved so voters can be smart — independents are the largest growing segment of the population. Trump says this is all rigged? I can see it. He says the media's biased? I can see it."
Machat spoke from his experience as an entertainment mogul ("I've done maybe a thousand records," he said), and compared the U.S. political system to something he called "commercial payola," in which artists have to pay to get on the radio to get exposure. He called it "political payola."
"The networks decide that we have two candidates, Democrat and Republican, because they sing the corporate song," he said. "So kids are dropping out not voting, many people are not voting, because they don't believe anyone but the Democrat or Republican, basically the same clone, can do anything."
He said the country needed to "open up the airwaves" and let every candidate, even those without Democrat or Republican allegiance, speak their mind so people could make better choices.
"I will do more for Florida than those two puppets," he said. "And I'm not knocking them, but that's what they are. I will protect us from Big Sugar, they won't, because Big Sugar pays them. I'll stop fracking – they won't, because frackers pay them. I will stop Monsanto from killing us. They won't, because Monsanto pays them."
His intention now is to sue to be on the next Senate debate — and continue his life after this election trying to open up the country's political spectrum beyond the regular two parties, he said.
"This is for mankind, more than just for me, this is what I need to do," he said.