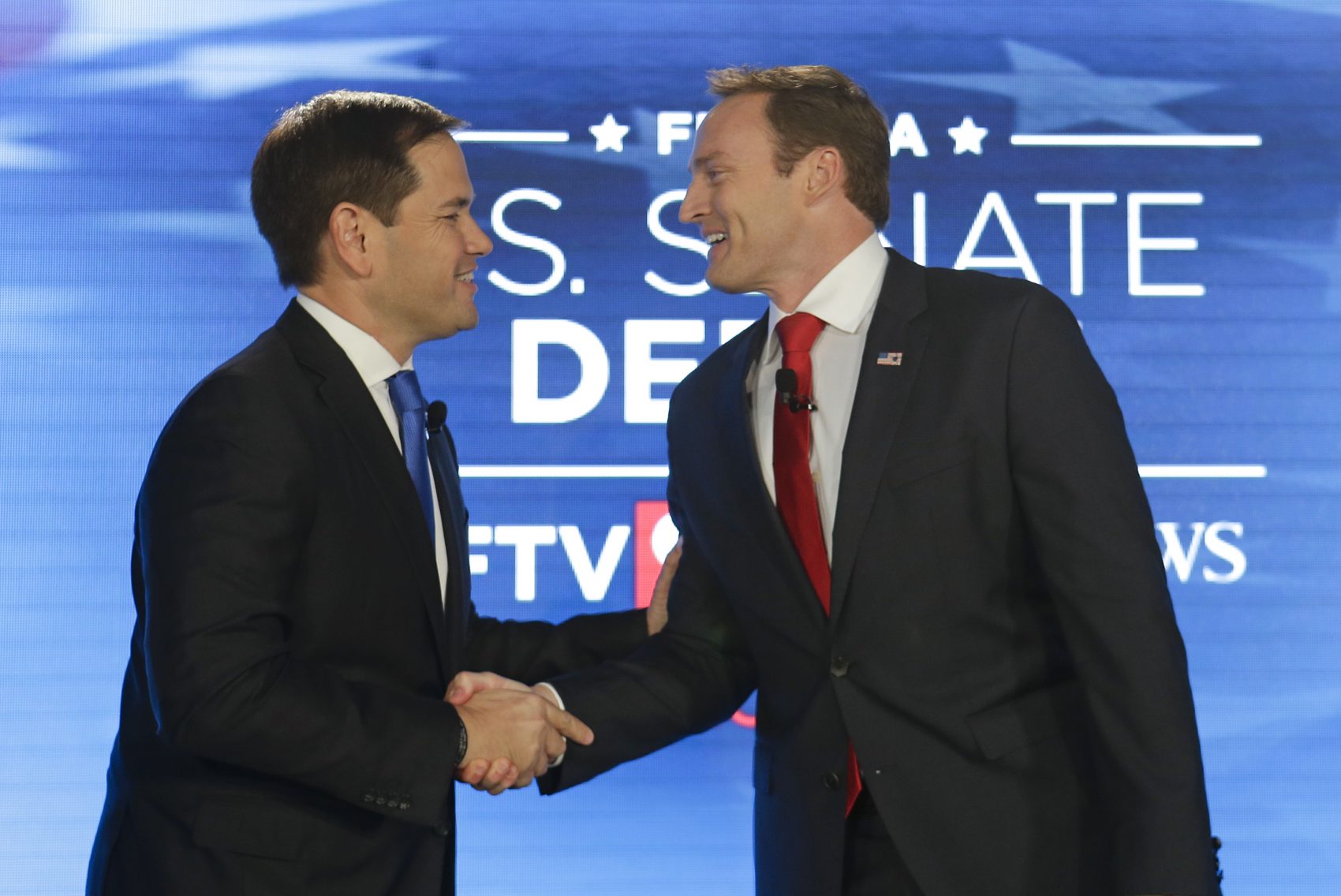 A Spanish-language oriented debate scheduled to take place next Friday between Marco Rubio and Patrick Murphy will not happen, according to the Rubio campaign.
Team Rubio fired off a press release early Friday afternoon announcing the two major U.S. Senate candidates had failed come to terms for a candidates' discussion that would have been broadcast on the Univision television network. Rubio's campaign issued a statement that read, "Murphy Bails On Florida Hispanics," loaded with links to 15 different news stories that reported on some variation of the back-and-forth between the candidates regarding debates, or in two cases, on a 2013 Murphy vote that the Rubio campaign says would have restarted the deportation of "Dreamers," the group of immigrants who came to the U.S. illegally as children.
"Patrick Murphy is blowing off the Univision debate, just like he's blown off Florida's Hispanic community for the last four years," said Rubio spokeswoman Olivia Perez-Cubas. "Clearly he doesn't want to explain why he uses Dreamers as a talking point in this race, even though he voted to deport them in 2013. Or maybe he's pulling out because he just doesn't understand Florida's Hispanics, a community he completely ignored until weeks before the election. This is just the latest example in Murphy's long history of lying and ducking debates, compared to Marco's record of achievement on behalf of all Floridians."
The Murphy camp appeared surprised by the Rubio camp's statement, saying they are still working with Univision to make the debate happen.
"The goal of a debate is to allow the voters the opportunity to see a vibrant exchange of ideas between the candidates, but that will not be possible if the candidates are not speaking the same language," said Murphy campaign manager Josh Wolf. 
The hangup apparently is on whether the candidates could speak English and then allow for a back and forth exchange. Rubio is bilingual in Spanish and English, Murphy is not.
"In 2010, Marco Rubio agreed to the exact parameters we are requesting, debating Charlie Crist and Kendrick Meek in English on Univision, so we were shocked that he no longer thinks that arrangement is reasonable," Wolf said. "Whether it's a reaction to Marco Rubio's weak debate performance in Orlando or a decision to hide from his record of turning his back on Hispanic voters, it is clear his campaign does not want this debate to happen."
In September of 2010 those three candidates did engage in a Univision debate, where the candidates answered questions in English and had their answers dubbed in Spanish.
There is a fierce battle going on between the two candidates in trying to win the Latino vote, and not getting on Univision for a full hour is definitely a blow for Murphy, who has had to spend more time and resources in this campaign on getting Latinos to know who he is.
Rubio was the first candidate to propose a Spanish-language debate back in March. He included such a forum when he called for 
six different debates
 between the two major party candidates for Senate. The Murphy camp came back and agreed to two of those proposed dates, and offered two of their own that the Rubio camp 
rejected
, expressing concerns over the partisan nature of those proposed venues.
Murphy and Rubio debated last Monday night in Orlando for the first time in this election season. Their second, and apparently last debate, will take place next Wednesday night hosted by Leadership Florida and the Florida Press Association at Broward College.
(Immediately after this story was posted, the Murphy campaign said they had accepted an invitation to participate in a debate hosted by Telemundo Orlando and the Hispanic Federation. No word yet on what the Rubio camp might do regarding that event.)