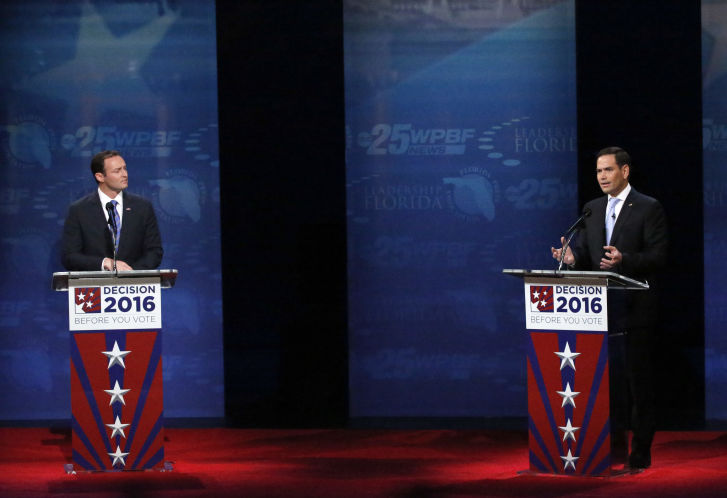 When Florida's two U.S. Senate candidates talked about their issue policy positions they made Florida voters choices really easy during their final face-to-face debate Wednesday night broadcast statewide on TV.
But rather than run with that, U.S. Rep. Patrick Murphy appeared obsessed with trying to tie U.S. Sen. Marco Rubio to Donald Trump, who, in Murphy's clear view has undeniably has enraged millions of Floridians; and to label Florida's incumbent Republican senator seeking a second term as someone who failed to show up for his first term.
And Rubio tried to characterize Murphy as someone who's a "serial embellisher" of his resume and record, when neither of them, in Rubio's repeated assessment, have anything worthwhile to actually claim.
Over and over and over. Trump, Trump, Trump. Embellish, embellish, embellish. Doesn't show up, terrible voting record, unreliable. Never accomplished anything. Nothing. Ever.
Murphy was arguably the more obsessed, criticizing Rubio's endorsement of the Republican presidential nominee so often that Rubio finally squealed, 36-minutes into the 60-minute debate at Broward College in Davie, "The answer to every question tonight by Congressman Murphy is Donald Trump." Yet Murphy didn't quit, even after being called out for it.
Too bad. Because Rubio's call-0ut came because Murphy walked on one of his own best answers of the night.
A left-field question demanded that the candidates each take a position on the concerns about police killing unarmed black men. The tragic phenomenon, played out too often to ignore in the past four years while the Black Lives Matter movement emerged in outrage and the All Lives Matter movement emerged to polarize the issue, actually had Murphy and Rubio largely agreeing. Both expressed strong empathy and concern for communities, particularly minority communities, which have come to distrust police. Both also expressed strong support and admiration for "the vast majority" of police, but both agreed the pattern had exposed a horrible gulf of mistrust that must be addressed. And both talked about legislation they proposed or supported, including their support of police body cameras. But while Rubio spoke in general or unspecified terms, trying to balance both sides, Murphy sought to make it real.
"Just in the past several months, in my own congressional district, there have been two terrible tragedies," Murphy said. Then he went into detail about the Cory Jones case, and the Demarcus Semer case, and what he made of them. He brought them home, talking about worshiping and praying with the families, and his efforts on their behalf. And then Murphy…
Don't do it. Don't.
"What we can't do," Murphy concluded, "is let presidential candidates like Donald Trump, who is one of the most prejudiced, racist candidates ever to run for office…"
It happened over and over Wednesday night, as Murphy and Rubio offered clear distinctions on their views of issues from Social Security to Cuba, the Affordable Care Act to their priorities for new members of the U.S. Supreme Court, Syria to the economy and the wage gap.
And then someone played the Trump card, or the Embellish card.
The overriding theme of their answers seemed to be that Murphy wanted to characterize himself as a reasonable lawmaker willing to work across the aisle to get things done, and to characterize Rubio as a partisan fanatic whose loyalties were to the Koch Brothers, when he bothered to vote at all. Rubio was unabashed and proud about his conservatism, but argued that he knows how to get things done with bipartisan help, and has proven it on a wide range of issues that included Zika response funding but mostly a list of iconic conservative causes, including sanctions against Nicaragua and Venezuela, as opposed to his opponent, whom he characterized as accomplishing nothing.
Rubio's most personally revealing point may have been when he was asked to explain his "God willing" caveat when he declared, in the last debate, two weeks ago in Orlando, that he would serve out all six years of his next U.S. Senate term, "God willing."
"God willing is something I always say. Because while I deeply believe that man plans his own steps, it's God who plans his course," Rubio said. "I do. I believe that, for example, no matter what happens on Nov. 8, on Nov. 9 the sun will rise and the Creator of the universe will be still sitting on the throne. And that everything that's going to happen will be because of him."
Murphy's best line of the night may have been when he jumped on Rubio's pride for passing a bill that ended a provision of the Affordable Care Act that allowed federal help when insurance companies got into fiscal trouble in some states. "I know he's about to tell us about the risk corridors and the plan he put forward. You see, that should be renamed 'The Florida Premium Increase.'"
Rubio's best line of the night may have been when he responded to Murphy's points about the need for a minimum wage increase, and how Rubio had called it a waste of time, then added, "but he thinks being Senator is being a waste of time…. but you got 100 percent of your salary when you missed those votes."
"I find it ironic that I'm being being lectured about the plight of the working class by a millionaire who inherited his money, who is lecturing the son of a working class immigrant who inherited no money. So I understand exactly what people are going through," Rubio said.