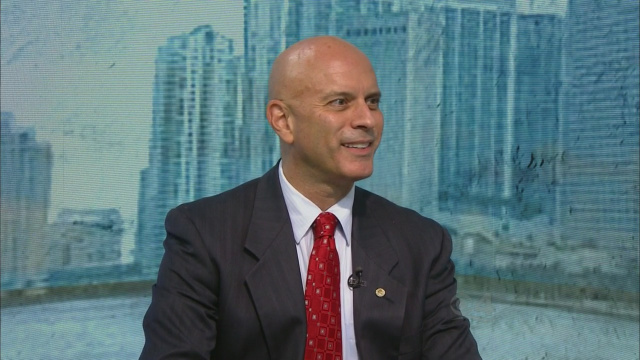 Tim Canova wasn't kidding when he said he was going to stay involved in the political process following his loss to Debbie Wasserman Schultz in Florida's 23rd Congressional District.
The progressive Democrat announced the creation of a political and community action group last month called "Progress For All," that he said would "will harness the power of our movement."
He now says the group is "making plans" for a series of referendums on the November 2018 ballot, some of which other activists have been working for years to try to get on the ballot.
The five referendums Progress For All is calling for are:
— Open primaries in which everyone can vote for any candidate, regardless of party. The top two finishers in the primary, regardless of party, then square off against each other in the general election.
— Creation of a Nonpartisan Redistricting Commission to prevent partisan "gerrymandering" to create safe, uncompetitive legislative districts.
— Limiting contributions to Super PACs to $5,000.  This would rein in the corrupting influence of big money in our politics and provide the Supreme Court with an opportunity to overturn Citizens United (That's an initiative that the St. Petersburg City Council is voting on Thursday).
— Election integrity to ensure they are transparent and verifiable. That would include paper ballots counted by hand in public, as is presently done throughout European democracies.
— Overturning felony disenfranchisement. Unfortunately, the failed war on drugs, mass incarceration, and the New Jim Crow have resulted in millions of American citizens being deprived of their right to vote for the rest of their lives, often for nonviolent felonies committed years ago.
Groups were formed in recent years to try to get amendments on open primaries and the automatic restoration of voting rights for ex-felons on this year's ballot, to no avail.
As has been shown in recent years on issues like medical marijuana and solar power, such citizen-led initiatives require millions — in some cases, tens of millions — of dollars to get on the ballot.
"Together these reforms would remake our politics in Florida and provide a model for progressive reform throughout our country," Canova said in a statement. "To get these referendums on the ballot in 2018, we must begin now. There's no time to delay. State referendums require the gathering of hundreds of thousands of signatures on petitions and canvassing of voters to get our message out.
"This is exactly how we were so successful in our recent campaign against Debbie Wasserman Schultz. We created a huge grassroots movement on the ground that knocked on 10,000 doors a week and, in the face of enormous odds, got us within striking distance."
When it was announced last month, Progress For All said they would be limited to small donations and would reject contributions from any corporate-funded political action committees.
Canova, a Nova Southeastern law professor, had never run for political office before he took on Wasserman Schultz in the Democratic primary earlier this year. His insurgent campaign against the then-Democratic National Committee Chair inspired the same progressive voters around the nation who rallied around Bernie Sanders' presidential candidacy, though he ended up losing by 14 percentage points.
Earlier this week, an award-winning report published a statistical analysis of Canova's race against Wasserman Schultz. At a news conference in Washington, Lulu Fries'dat raised concerns that the contest's electronic voting machines might have been "manipulated."