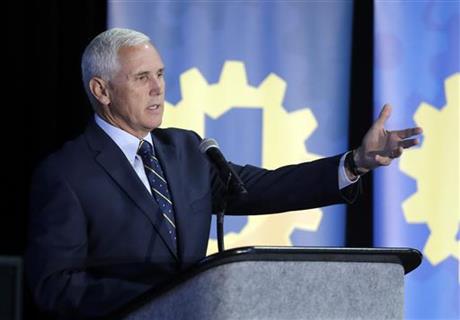 Republican vice presidential nominee Mike Pence will talk space policy Monday in Cocoa at a special meeting of the Economic Development Commission of Florida's Space Coast.
Pence becomes a late replacement for an appearance that had been scheduled for Donald Trump earlier this week. Trump's schedule got difficult and he never firmed up the appearance, leaving the EDC until the day before until it knew it would be canceled.
But Trump is sending Pence. That makes the Indiana governor the first and potentially only national candidate to take up the Space Coast EDC's invitation to come talk space policy this year. In past years, the Space Coast EDC forums have provided opportunities for presidential candidates to roll out their space visions.
Pence has agreed to meet with the EDC's Aerospace, Aviation, and National Security Council, a group that includes such space, aerospace, and defense heavyweights as Boeing, Lockheed Martin, Northrup Grumman, SpaceX, and Blue Origin. The meeting is slated for 3 p.m. Monday at the Holiday Inn Express & Suites in Cocoa.
Neither Trump nor Democratic presidential and vice presidential nominees Hillary Clinton and Tim Kaine have said much yet about their visions for America's space program.
The Space Coast EDC has hosted other candidates in this year, including the U.S. Senate candidates, Republican U.S. Sen. Marco Rubio and Democrat U.S. Rep. Patrick Murphy.