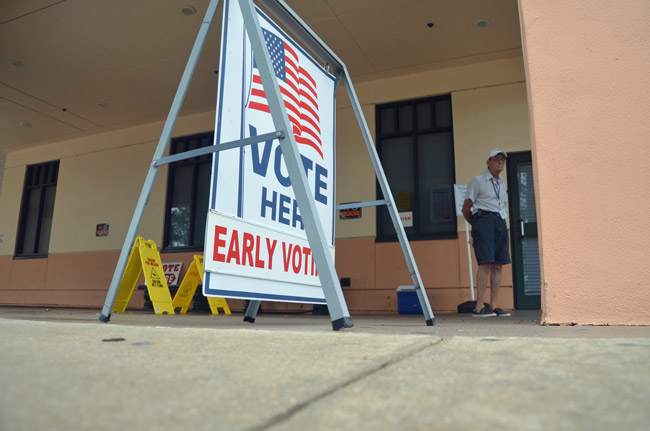 To: People like me who need a life
From: Steve Schale
Re: Freedom is Near
*7 days until the election.
*11 days until FSU basketball tips off.
*115 days until the Daytona 500.
*1,455 days until my 7 days out memo in 2020.
Before I begin, a note to Democrats (Republicans, skip a graph or two).
Have you voted?
If yes, skip the bold section.
If no, seriously, WTF are you waiting for? Too cool to early vote? Well, be that way. You are banned from this memo until you vote.
OK, America, we've made it this far. It has been 504 days since Trump announced for president. We only have seven more to go. Embrace your inner Joe Biden: "Come on, we are America. We can do this."
I got a ton of calls, emails, tweets, and notes by carrier pigeon asking me to sum up yesterday's five-page memo.
So here it is: It is close. Shocker. It is Florida. It is always close.
How close?
So here is where we stand:
Yesterday, we had our four-millionth vote, and we saw the Big 3 counties in Southeast Florida top 1 million votes. We also saw in-person early vote almost overtake vote-by-mail. That will happen today.
Republicans won vote-by-mail by an 8K vote plurality, and Dems won in-person early voting by 1K. In total, 345,875 people voted yesterday. One other note, NPA participation is increasing, a trend which started over the weekend.
I do need to note that not all the data on the state site lines up with data on local SOE sites. The differences aren't huge — though because one of the places where it looks like the data isn't totally updated is Broward, this could change these numbers throughout the day:
Total ballots cast: 4,077,521
Total Vote-by-Mail: 2,054,519 (50.4 percent)
Total Early Vote: 2,023,002 (49.6 percent)
Republicans: 1,648,603 (40.4 percent)
Democrats: 1,632,677 (40.0 percent)
NPA: 769,241 (19.6 percent)
Total Margin: GOP +0.39 percent
The brilliant Tim Russert is running around heaven with that little white board, saying "I told you so, Florida, Florida, Florida," though I suspect he's added a hashtag — because he's Tim Russert.
Right now, I think about 43-44 percent of the likely electorate has voted.
And there are still 1,273,396 vote-by-mail ballots sitting out there, and yes, Democrats have more outstanding mail-in ballots than Republicans. Unreturned vote-by-mail ballots look like this: 41D-35R-24NPA, meaning 79,658 Democrats apparently think watching cat videos is more important than putting a stamp on their ballot.
YO DEMS — THE CAT VIDEOS WILL BE THERE IN FIVE MINUTES — VOTE YOUR BALLOT AND PUT IT IN THE MAILBOX!
Back to the benchmarks. In advance, I apologize for the thinner look at the county data below. I had to hit the road early this morning and the state updated the site late.
Hillsborough
Democrats had a good, but not great day. The early voting margin was about 1,000 over the GOP, but the GOP narrowly won the vote-by-mail vote (GOP +43). The NPA number here, like everywhere, is increasing. Of the day's total vote, 23 percent was NPA, leading the overall NPA share to rise to 20 percent. Democrats still maintain an approximately 6.5 percent lead over Republicans, or about 16,500 voters.
And Hillsborough Democrats, there are 7,718 more Democrats with ballots on their couch than Republicans, but the Republicans won the vote-by-mail day. #JustSayin
I-4
Democrats won the day, another one which saw increased NPA participation. The day went 40-35-25 to the Dems, claiming a 4K vote plurality. About 83,000 ballots were processed today.
In the "this probably means more for 2020" file, Democrats won the day in Polk, after winning in-person early voting for the eighth day in a row.
South Florida
According to the ballots on the state site, Democrats won the day by about 20,000 votes, but I would caution that it doesn't look as though the Broward VBM totals are fully updated, so this will grow.
While I didn't love the totals, the margins for Democrats in Dade continue to improve, winning the day 45-28-27, which is several points better than the Dem's registration advantage, and once again Broward NPAs outpaced Broward Republicans.
Duuuuuuval
Republicans won the day by 95 votes, but because Democrats won the in-person early vote by about 250 votes, they cut the overall GOP advantage from 1.7 percent to 1.5 percent, out of 168K votes.
As a reminder, Bush in 2004 won Duval by 17 points, or about 61,000 votes. In Obama's two wins, the margin averaged around 10,000 votes. I would happily spot the GOP a 20,000-vote win and walk away, but right now, I don't see any path to him to get back to that 17-point Bush margin. And since there are very few places where he can change the traditional Florida battleground math, right now, Democrats are in pretty good place.
And again, special note to Duval Democrats: You don't have to lose days to the GOP; 1,730 more Democratic vote-by-mail ballots are sitting on entryway tables. Go talk to your neighbors.
Additional notes
The electorate continues to get more diverse. Through the Sunday vote, Hispanics are now 13.5 percent of the votes so far, with Black voters (African-American and Caribbean) at 11. White is down to 70 and has trended down from nearly 80 percent when in-person early voting started. I have no doubt at this point that the electorate in 2016 will end up more diverse than 2012.
I also don't expect the Black share of the vote to match 2012. That was a historic moment. But I do expect the Black share of the vote to approach its registration share (13.9 percent). In my models, which have her winning, I expect it to land at 13 percent, so anything north of this is positive.
On the flip-side, Hispanics, particularly low-propensity Democratic and NPA Hispanics, are turning out. So far, 50 percent of Hispanic Democrats and 55 percent of Hispanic NPAs who have voted are low-propensity voters, which I define as voters who either have no voting history or have voted in just one of the last three elections. And keep in mind, Hispanic registration grew by 121K voters in just the 10 weeks after Aug. 1.
Democrats now have a low-propensity-voter advantage of 65,000.
Moreover, there is something in Dade that I have been wondering about. Right now, 153K Hispanics have voted, many of whom are people who inevitably fall into Marco Rubio's turnout universe. But how many will vote for Rubio, and also Clinton? In other words, as Rubio is turning out Miami Republicans for his own campaign, is he also inadvertently helping Clinton? In a lot of polling I've seen in South Florida, there are areas where the difference between the Rubio and Clinton margins are as much as 20 points. How many of those are Miami Hispanic Republicans? I suspect it is more than a few.
Another interesting point a very smart observer mentioned to me yesterday: more traditional Election Day Republicans are voting early than Election Day Democrats. According to the file I use, about 620,000 people who have voted early already are voters who in 2012 voted on Election Day. In other words, in the absurd terms of today's politics — these are early voters the parties are "cannibalizing" from their own Election Day turnout.
Republicans have been making the case that Democrats have closed the VBM gaps by cannibalizing their own vote, but here is an interesting finding: Republicans are actually doing it more to themselves. Right now, about 34,000 more 2012 Election Day Republicans have voted early than Democrats.
In other words, the GOP lead right now is based on cannibalizing their own supposed Election Day advantage.
On the flip side, Democrats, please don't get all giddy.
There are plenty of worrisome things in the data, not the least of which is the ridiculous number of vote-by-mail ballots are out there, and there are slightly more 2012 voting Republicans yet to vote than Democrats. In other words, to stay with the theme, take nothing for granted. And again, there are almost 80,000 more Democratic VBM ballots gathering dust in homes around the state — but a large chunk of those are low-propensity voters — volunteer to go chase those. Whether or not Trump wins Florida is largely on you.
One last thing, looking at media market vote shares.
For the day, Orlando stretched it out, coming in as 23 percent of the state's votes for the day. Jacksonville also had a good day, with nearly 10 percent of all the ballots coming in. West Palm continues to be under where it should be, and Miami looked almost exactly as it should.
Overall, Fort Myers continues to come back to reality, but so does North Florida, which is up to 17 percent of all votes processed. Orlando and Miami continue to exceed their traditional vote shares, which is likely a result of some of this Hispanic surge.
Lastly, tomorrow morning I have an early meeting, and a drive back to Tallahassee. I honestly don't know if I will get a full memo out until late in the day. I will tweet out some data, and try to get some notes out early, but forgive me, this #FloridaMan volunteer has some real work to do tomorrow.