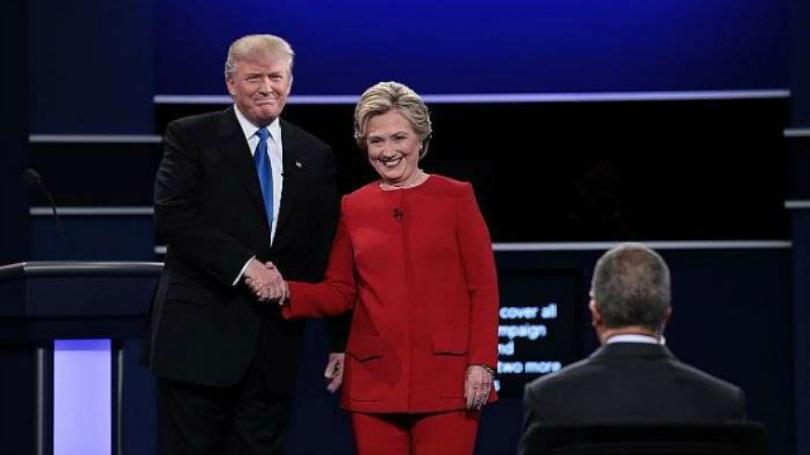 Hillary Clinton and Donald Trump are making one last push to appeal to voters, taking to the airwaves this weekend.
Both campaigns released advertisements Saturday, with each painting a starkly different picture of the election. The new ads come as polls show a dead heat between the two candidates. According to RealClearPolitics, Clinton leads Trump nationwide on average 1.8 percentage points.
The Clinton campaign released a 60-second spot featuring the Katy Perry song "Roar." The ad features images of voters and scenes from campaign stops as the words "I'm voting for …" scroll across the screen. The ad ends with the words "I'm voting for a president," before Clinton is heard saying she approves the message.
The disclaimer at the end of the ad is the only time Clinton is heard speaking in the advertisement. By contrast, the Trump campaign released a 2-minute spot — called "Donald Trump's Argument for America" — narrated by the candidate. And while the Clinton spot is largely positive, the Trump ad has a more negative tone.
"The political establishment that is trying to stop us is the same group responsible for our disastrous trade deals, massive illegal immigration, and economic and foreign policies that have bled out country dry," the GOP nominee is heard saying in the advertisement. "The political establishment has brought about the destruction of our factories and our jobs, as they flee to Mexico, China and other countries all around the world."
He continues by saying the "only thing that can stop this corrupt machine" is you.
"The only force strong enough to save our country is us," he says. "The only people brave enough to vote out this corrupt establishment is you, the American people."
The Clinton ad, according to POLITICO, is running in Florida, Arizona, Colorado, Iowa, Michigan, Nevada, New Hampshire, North Carolina, Ohio, Pennsylvania and Wisconsin through Election Day.