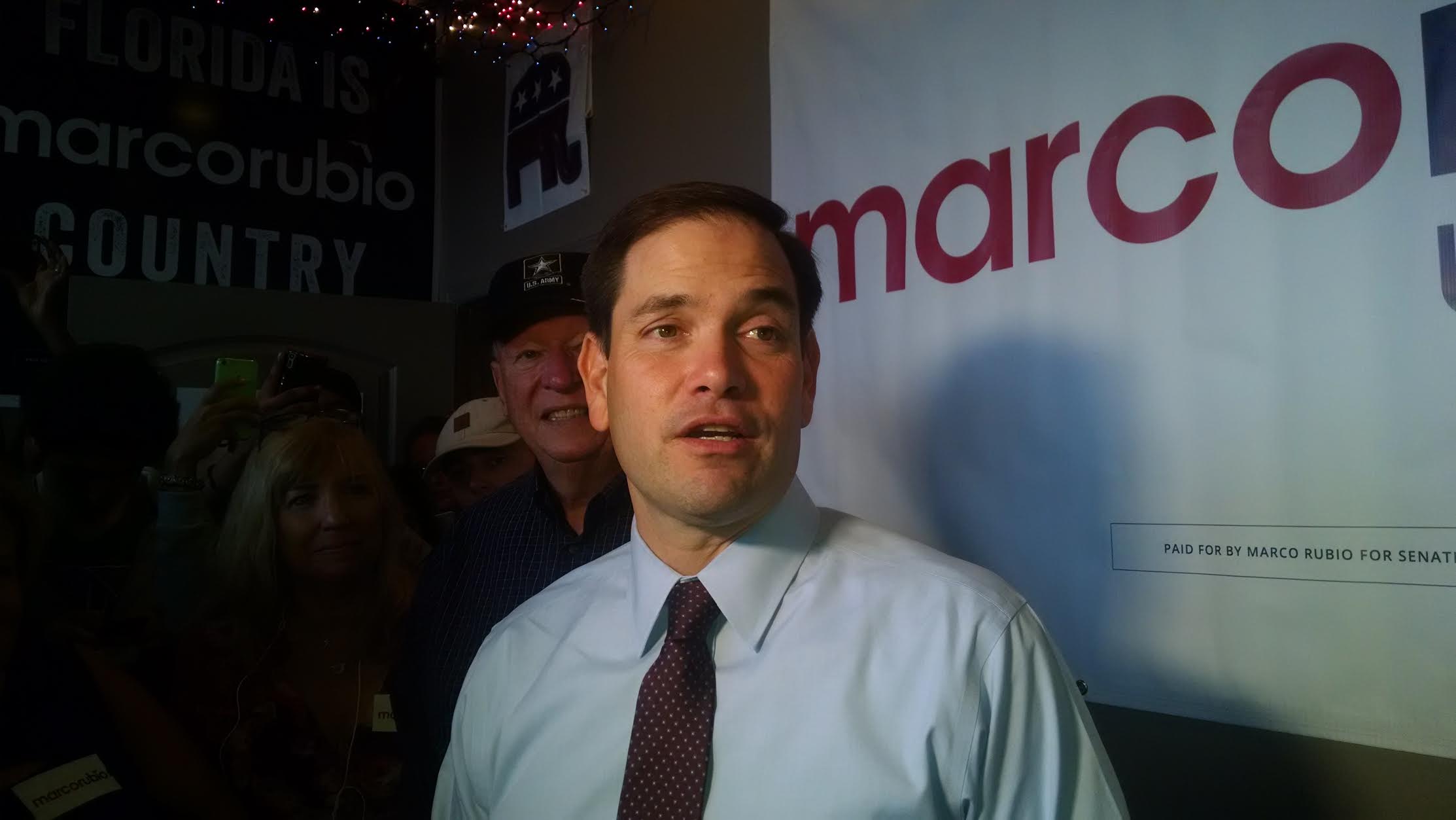 BRANDON — Although Marco Rubio is a clear favorite to win re-election to his U.S. Senate seat tomorrow night, he wasn't doing a victory lap when he made a visit to the Hillsborough County Republican Party headquarters in Brandon Monday morning.
"Two-hundred and seventy-five thousand Republicans who requested a mail ballot have not returned it yet," he told the crowd who surrounded him inside the small lobby area of the office. "We're going to have to start guiding them, because if they have a ballot and haven't put it in the mail yet, they're not going to be able to vote unless they show up with that ballot, so we gotta walk 'em through that process."
"Please come out and vote," he implored the crowd. "What if this race comes to down to 100 votes? Whether it's for president, senator or Congress, what if it's one of those years? Do you want to be one of those 100 people that decided not to vote?"
Rubio has led his Democratic rival, Patrick Murphy, in virtually every poll taken between the two Senate candidates in Florida all year long. However, the Murphy camp was playing up a SurveyMonkey poll released Monday that actually shows him up by a single point, 49 percent to 48 percent. A Quinnipiac survey, however, showed the norm, with Rubio up 50 percent to 43 percent.
An emerging story that has come out of the past two weeks of early voting in Florida has been the explosion of Latino voters. Rubio has always held a substantial lead Murphy with that key demographic in polls of the Senate race, and the Cuban-American legislator said he's earned the support of the Hispanic community.
"I don't think anyone understands the issues in the Hispanic community better than I do," he said. "I live in the community — my wife is from the community as well, so for me these are not political issues when we discuss them, they are things I've lived. It's my life." Rubio said there's no one one in the Senate who has worked harder or spent more time on Latin American issues than he has. He added that it's the beginning of a new era in politics if the much-vaunted potential of a strong Hispanic vote actually takes place this year. "I'm glad they're voting, because that means from here on out, every candidate for statewide office and for president is going to have to care about the Hispanic community in Florida, and that's a good thing," he said.
There have been anecdotal reports that some in the Latino community are splitting their ticket in Florida: voting for Hillary Clinton as a statement against Donald Trump for president, but then coming back and supporting Rubio in the Senate contest. This morning marked yet another time when both Trump and Rubio were campaigning in Florida — separately, however, and not at the same event.
"We want everyone's vote," Rubio said. "I don't want Hillary Clinton to be president, but people are going to have to make their own decisions. "
Dover GOP House District 59 Republican Ross Spano introduced Rubio to the crowd. Spano backed Rubio in the presidential primaries earlier this year until he dropped out after his devastating loss in the Florida primary to Trump, where he won only Miami-Dade County.
"We need men and women like Sen. Rubio to represent us," said Spano, calling him "one of the brightest, strongest political figures that have come on the stage in several decades."
Spano is himself running in what could be an extremely close race for re-election, against attorney Rena Frazier. Unlike Spano, however, Frazier never went up on the air with a television ad.
Meanwhile, Rubio refused to comment on whether or not he supported Amendment One, the solar power initiative which comes heavily funded from the public utility industry in Florida. He did say once again he is opposing Amendment 2, the medical marijuana initiative, saying, "if they want to legalize marijuana for medicinal purposes they should go through the FDA process to be approved just like any other medicine, but I'm not in favor of the way it was drafted and where I think it will take Florida."