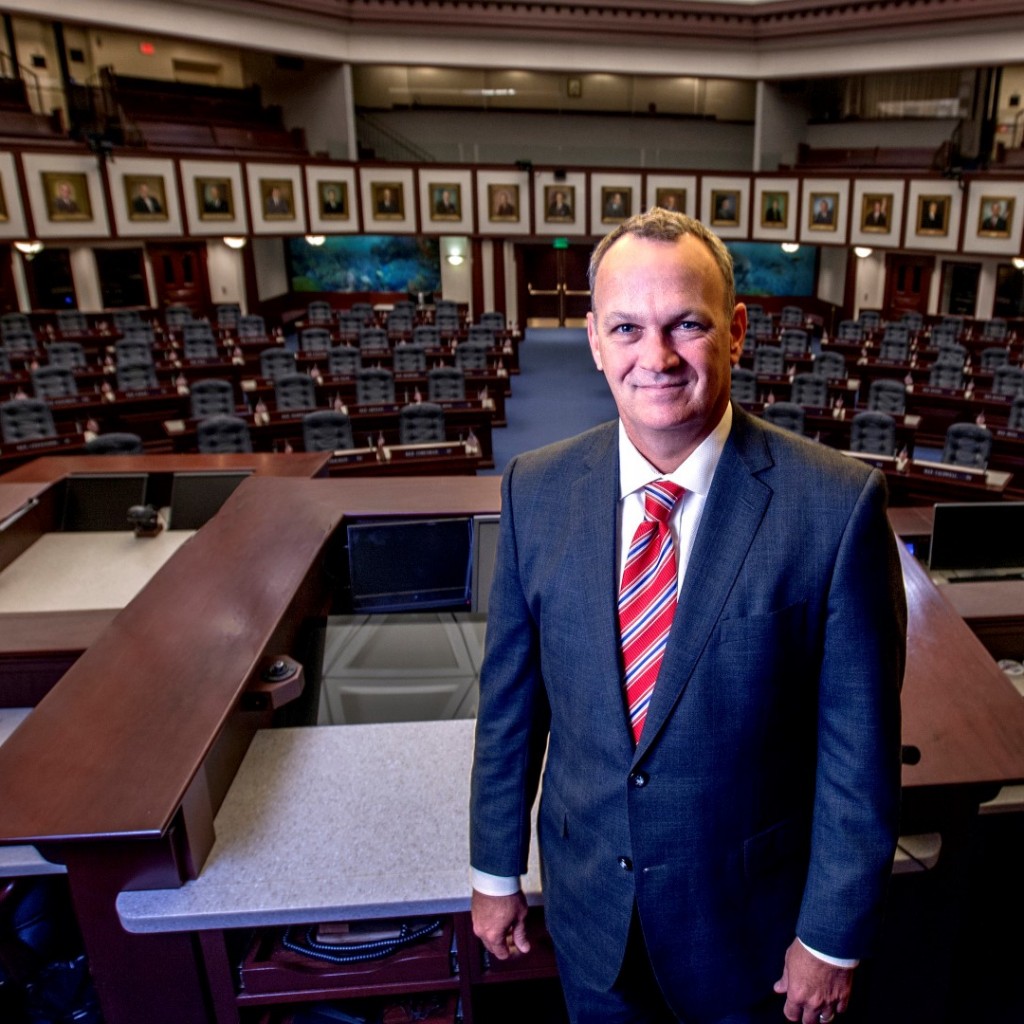 The new rules of the Florida House of Representatives, among other things, will increase the ban on former members lobbying their colleagues from two years to six years, and prohibit state representatives from flying in aircraft owned, leased, or otherwise paid for by lobbyists.
That's according to a final copy of the rules, released Thursday by incoming House Speaker Richard Corcoran.
"It is time that government embodies the very highest of standards and serve citizens and not self," he said in a statement. "The Florida House, in adopting these rules, will take a transformational leap into a new era of accountability, professionalism, transparency, and fairness.
"Those who cannot live up to the highest ethical and professional standards will find the Florida House a difficult place to work or visit," he added.
The new rules also were endorsed by incoming House Democratic Leader Janet Cruz of Tampa.
"While we will have our policy differences, one thing we can all agree on is that special interests enjoy far too much influence and not enough transparency in policymaking in our state," she said. "I look forward to letting my constituents know about this first in a hopefully long line of bipartisan achievements."
One of many new rules would let House members refuse to consider bill amendments on the floor if they are issues of "first impression" that haven't been vetted through the committee process.
Other rules that have already leaked out include heightened lobbyist registration requirements, such as disclosing every bill, amendment, and individual appropriation they are trying to influence.
Another previously disclosed item requires House members to file separate bills for each budget request they make, such as for hometown projects.
Corcoran, a Land O' Lakes Republican, had begun hinting at his program as early as his closing remarks on the budget during the 2015 session, calling the lobby corps "Gucci-loafing, shoe-wearing special interest powers-that-be."
In his designation-as-Speaker speech last September, he went further.
"We must close the revolving door between the Legislature and the lobby corps," said Corcoran, whose brother Michael is a prominent state lobbyist. "We need to restore the distance between those who seek to influence the laws and those of us who make the laws."
He called for a constitutional amendment banning "any state elected official from lobbying the legislative or executive branch for a period of six years."
Corcoran also said he wanted to toughen lobbyist registration rules by requiring lobbyists to specifically "disclose which bills, which amendments and which appropriations they are trying to influence."
"Other states require such disclosure," he said during his remarks. "It's time Florida does too."
Further rule changes include:
— Prohibiting lobbyists from sending text messages to House members while they sit in committee meetings or on the floor. Representatives should be focused on official business at hand, according to a commentary on the rules.
— Prohibiting members from entering into "business deals or financial relationships" with registered lobbyists or with businesses in which registered lobbyists have an ownership interest.
— Creating a new Committee on Public Integrity and Ethics, which would "consider legislation and exercise oversight on matters relating to the conduct and ethics standards of House members, state and local public officials, public employees, lobbyists, and candidates for public office, the regulation of political fundraising and the constitutional prerogatives of the Legislature."
"We cannot say we are serious about ethics reform, lobbying reform, or judicial reform, without creating a mechanism to compel change," the commentary says.
— Requiring members to disclose any new employment with a taxpayer-funded entity.
— Prohibiting sitting members from "lobbying local governments except to the degree that they are engaged in professional work," such as "land planning."
The House members will have to approve the new rules at a constitutionally required organization session on Nov. 22 before they go into effect.
Unless the Senate adopts them as joint rules, they will only govern the House.
"We can never create a perfect society," Corcoran told reporters after his designation speech last year. "Our burden is to do as many checks and balances to make the process as pure as it can be."