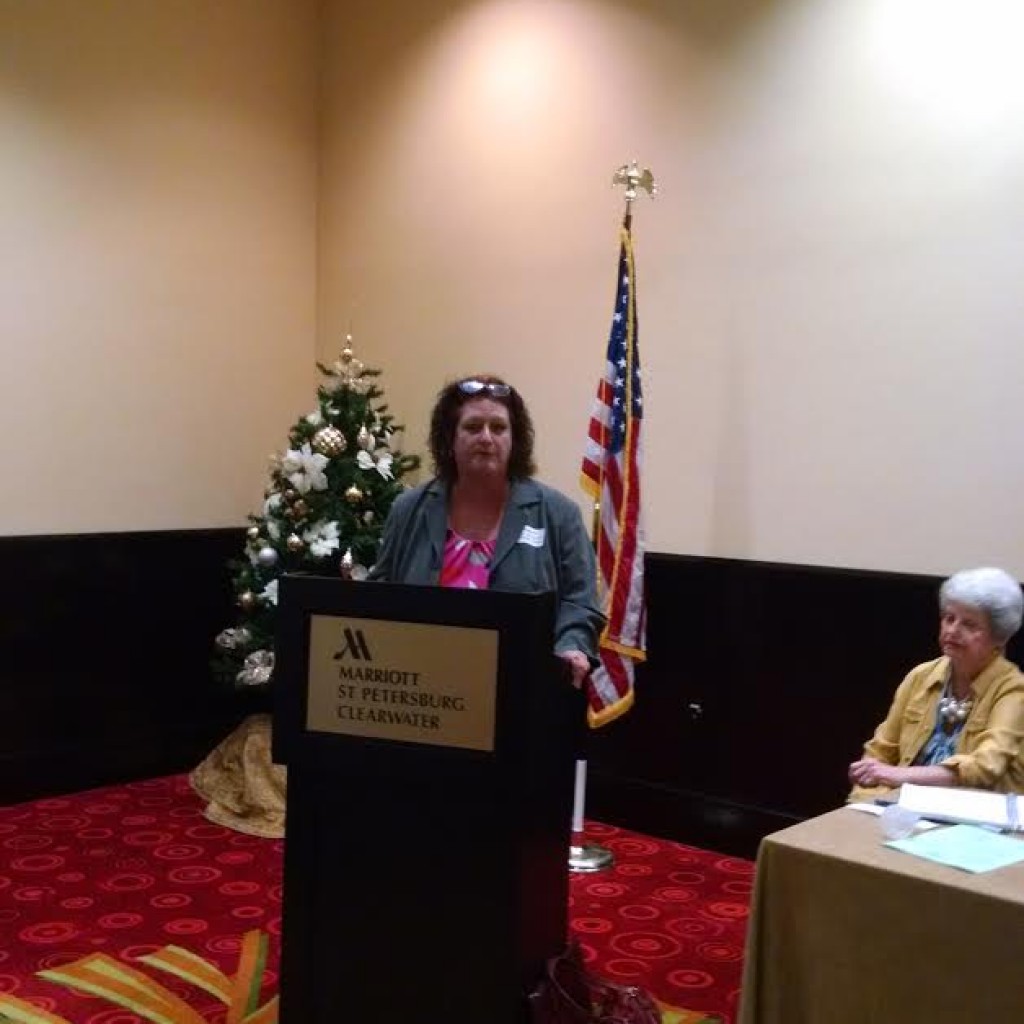 In what had devolved into a very divisive election campaign in the past week, Susan McGrath defeated Mark Hanisee Thursday night to become the new chair of the Pinellas County Democratic Executive Committee.
The final vote was 57-41.
McGrath is the president of the Stonewall Democrats and has served the last two years as vice-chair of the Pinellas DEC. She takes over a party that had been led by Hanisee for the past four years. After the vote, the audience inside the second floor conference at the St. Petersburg Marriott Clearwater hotel gave Hanisee a standing ovation, which McGrath noted in her first remarks as party chair. "For all of his hard work, and all of the efforts he's done on behalf of our party. We genuinely appreciate what he's done for us."
It was a gracious statement in what had become an ungracious campaign, reminiscent of some of the battles that have gone in recent years with the Hillsborough County Democratic Executive Committee.
Those fissures were exposed in the nominating process on Thursday night, when a surrogate for McGrath spoke about how under Hanisee's leadership, some Pinellas Democrats in the party had become disaffected from the DEC.
Mary Ann Renfrow specifically mentioned that McGrath "had exhibited the qualifications to bring back to the party segments of our party that have been alienated by the current chairperson of the party. She could reach out to these groups, the African-American community and others offended by our organization to allow us to become a stronger party." That was a reference to the blowback that ensued after a particularly harsh phone call that Haniseee made to former St. Pete NAACP Chair Manuel Sykes was made public during the summer. In that call, Hanisee told Sykes that he would become "persona non grata" if he decided to run for the Democratic nomination for Congress in District 13 this fall.
Sykes chose not to run, and the party ultimately chose Ed Jany as their nominee. But Jany dropped out of the race just shortly before the deadline for candidates to file to enter the race approached. Though Hanisee took heat for that failure in some quarters, most observers blamed the Democratic Congressional Campaign Committee and the Florida Democratic Party for that debacle.
But McGrath's other chosen surrogate, Dr. Larry Floriani, got more personal, saying that while McGrath had turned her life around many years ago, "our current chair has not turned his life around." He then alluded to health problems that he said that Hanisee has suffered from that prevented him from attending the previous four straight DEC meetings. "That's why members of our board have asked him to step down, and for Susan to step up."
McGrath had only a minute to speak about why Democrats should support her. She said that if elected she would make sure the party was competitive in every race and that a situation like what happened in CD 13 would never happen again. She also said, "There have been horrible things said about me in the last week," adding that because her record was unassailable, her opponents were only left with going to personal attacks. Some of those "horrible things" she was referring to included a column written by Hanissee ally Patrick Manteiga in La Gaceta last week, where he wrote that there was concern that McGrath would turn the Pinellas Democrats into a "gay party" if elected.
Hanisee's only surrogate was recently vanquished state Representative Carl Zimmermann, who said things had improved dramatically with the party from the time he first became a member in 2005, specifically when it came to fundraising and electing candidates. "And that's why I stand with Mark."
Hanisee then took to the floor, where he said it was his leadership that brought unions to the table to support the party. "They don't give money because they like Pinellas, they give money because I'm able to deliver unions," he said. "I don't need to talk about our achievements, you all know the kind of money that I raise. Every candidate in this room – every elected official I've raised money for. You all know that." (Candidates in the room included City Council members Amy Foster, Steve Kornell and Karl Nurse).
Alluding to the reference to poor health, Hanisee said that he just needed rest, and boasted that he had worked "seven days a week for four years."
"My phone starts at 7 a.m. in the morning, and sometimes it doesn't stop until 12:30 a.m. I'm always accessible," he said, adding that he had raised over half a million dollars in his four years as chair. And he denied that his behavior had alienated any demographic. "I have discriminated against no one."
But in the end, it wasn't enough.
The Democrats then named Dr. Larry Floriani as their vice-chair. Floriani is an orthopedic surgeon from Tarpon Springs, and is also deputy director of Doctors of America.