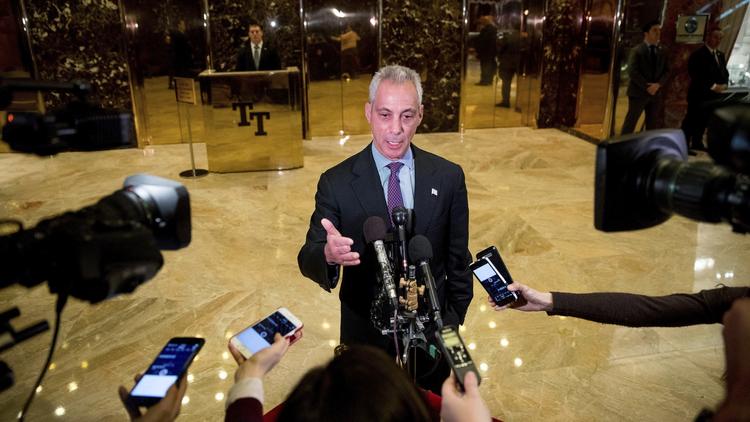 On Wednesday, Chicago Mayor Rahm Emanuel traveled to Trump Tower to hand deliver a letter signed by 17 big-city Democratic mayors urging President-elect Donald Trump to reconsider his vow to end Deferred Action for Childhood Arrivals (DACA), the provision that protects young, so-called Dreamers who came to the country before the age of 16 from deportation and allows them to study and work in the U.S.
"Ending DACA would disrupt the lives of close to one million young people, and it would disrupt the sectors of the American economy, as well as our national security and public safety, to which they contribute," Emanuel wrote. "We encourage your administration to demonstrate your commitment to the American economy and our security by continuing DACA until Congress modernizes our immigration system and provides a more permanent form of relief for these individuals
Bob Buckhorn was not a co-signer to the letter, but that does not mean he doesn't agree with the sentiment.
The Tampa Mayor's press secretary, Ashley Bauman, tells FloridaPolitics in an email that Buckhorn was not asked by Emanuel to sign the letter. She says he would have done so if asked.
In that respect, Buckhorn is like other mayors who say they would have signed the letter if asked.
Miami Mayor Thomas Regalado tells the Miami Herald that, "I would have signed that letter in a heartbeat," adding that "I think they're missing a lot of mayors, and I hope that they expand it. It should be a Republican, Democratic and independent thing."
In an interview with Time Magazine published on Wednesday, Trump said he's "going to work something out" with regard to Dreamers, saying, ""I want Dreamers for our children also. We're going to work something out. On a humanitarian basis it's a very tough situation. We're going to work something out that's going to make people happy and proud. But that's a very tough situation."
Last month, approximately two dozen activists delivered a letter to Buckhorn calling on him to designate Tampa to be a "sanctuary city," a jurisdiction where local law enforcement doesn't cooperate with federal immigration authorities. On the campaign trail, Trump said that he would work with Congress to pass legislation to cut federal funding for sanctuary cities.
The ACLU of Florida released a report last year identifying some 30 counties in Florida that currently have policies declining to respond to Immigration and Customers Enforcement (ICE) detainer requests, or to honor them only in limited circumstances, such as when they are accompanied by a judicial warrant. They include Hillsborough, Pinellas, Pasco and Sarasota Counties.
On Wednesday, Buckhorn told WMNF's Rob Lorei that "we're "looking at that" when asked about the possibility of Tampa becoming a sanctuary city.  He said he may not officially make such a declaration because "that has other impacts, but added that,"I'm not interested in disrupting families and breaking up families, purely because they are of an undocumented status."