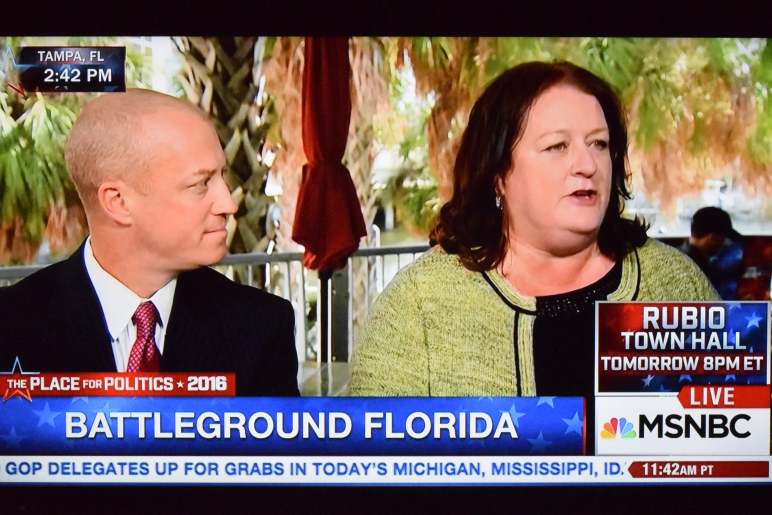 When it comes to drama with their upcoming party reorganization meetings taking place next week, Pinellas County Republicans and Democrats have nothing on their Hillsborough County brethren.
This coming Monday night, the local executive committees for the Republican and Democratic Parties in Pinellas County will be voting for their party leaders, and in both cases, it doesn't appear to be many changes at hand – at least not yet.
Pinellas Democratic Executive Committee Chair Susan McGrath is running to serve a second term, after defeating Mark Hanisee in a contentious election back in 2014. She has no competition at the moment. Amos Miers is running for vice chair, Wanda Schwerer, who is running for state committee woman, and Rick Boylan, who is running as state committee man. That meeting will take place at the St. Petersburg Marriott Clearwater at 7:00 p.m.
"We are fortunate to have some solid unity and forward momentum in Pinellas with 4 of 7 people running for December PCDEC Board positions who are new, 3 of which are Berniecrats (Bonnie Agan for Secretary) and two who were Bernie Delegates (Wanda Schwerer for re-election to State Committee Woman and myself running for Vice Chair for the first time ever)," Miers said on Saturday.
Over in the Republican world, incumbent Pinellas County Republican Executive Committee Chair Nick DiCeglie is also running unopposed for a second term this Monday night as well. A former vice chair, DiCeglie defeated Lee Pilon and George Farrell for the top position two years ago.
Todd Jennings is also running again as vice chairman. The Pinellas GOP meeting takes place at the Feather Sound Country Club in Clearwater at 7:00 p.m.
While there is little competition in the local party elections, there is a definite rivalry between McGrath and DiCeglie.
McGrath boasts that the Democratic Party leads the GOP in terms of registered voters, and that that the "two most important seats that local parties include, the Board of County Commissioners and Florida's 13th Congressional District went to Dems," despite the turnout advantage for the Republicans last month.
The Democratic Party took control of the Board of County Commissioners for the first time in decades after the 2014 election and maintained it last month, while Charlie Crist defeated David Jolly in the CD 13 contest.
DiCeglie concedes the Pinellas Democrats have retaken the lead in voter registration, but says his party took the real prize when Pinellas went for Donald Trump last month over Hillary Clinton, after Barack Obama had taken Pinellas by nearly ten percentage points four years ago.
"The minute a president wins an election and caries that county, this is now a Red county," he says.
The relative no-drama party elections are in stark contrast with the R's and D's across the bay in Hillsborough.
Although Ione Townsend won re-election as Hillsborough Democratic party chair this past week with no opponent, some local Democrats are still cross with her after Monday night's controversial meeting which resulted in the locally elected Democrats being told that the by-laws of their DEC banned them from participating in the race.
The Republican Executive Committee of Hillsborough County doesn't get together until Tuesday, December 20, but that could be interesting. Incumbent chair Deborah Tamargo, who defeated former chair Debbie Cox-Roush for the top role two years ago, is being challenged by Jonny Torres.