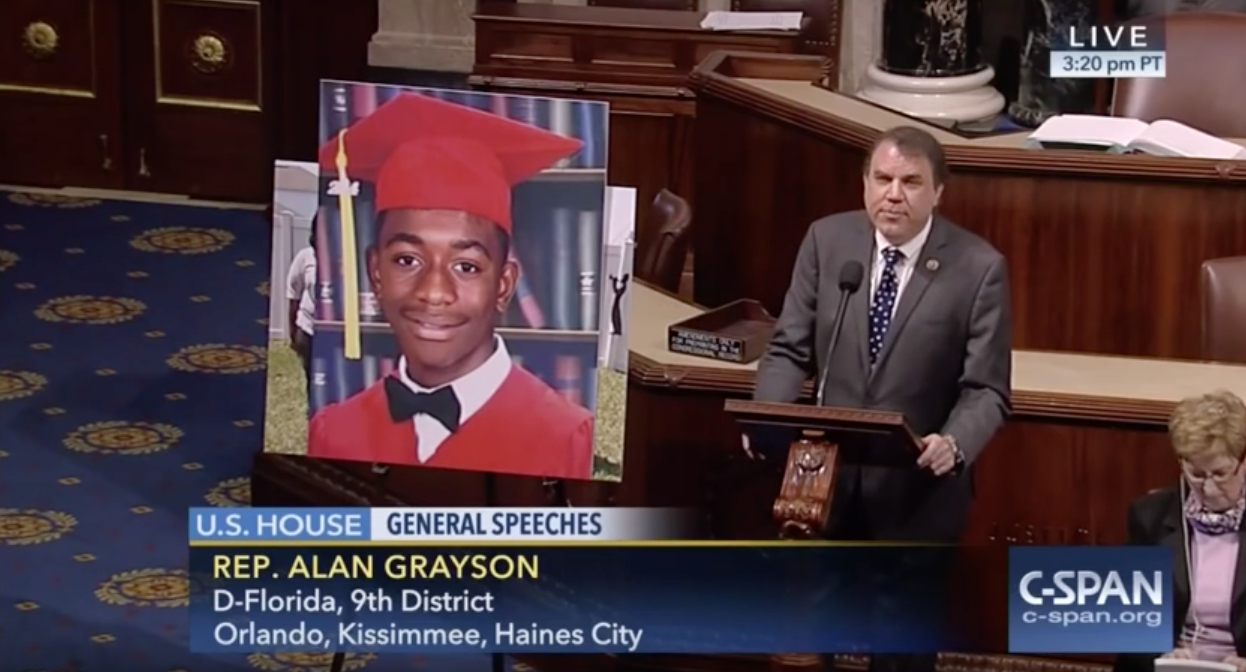 In perhaps his last act as a member of Congress, Orlando-area Democratic Congressman Alan Grayson announced on Friday that he was filing the "Andrew Joseph III Act," a bill which requires any jurisdiction seeking a specific federal grant to have an independent civilian review board in place.
In February of 2014, Hillsborough County Sheriff's deputies ejected 99 students from the Florida State Fair, including Andrew Joseph III, a 14-year-old African American, for rowdy behavior during the annual Student Day – a day off from Hillsborough County Schools with free admission to the fair. After interrogating him, stripping him to the waist and arresting him without notifying his parents, deputies dropped Andrew two miles from the fair. He was killed trying to cross I-4 to return to the fairgrounds.
In February, the family of Joseph filed a lawsuit naming Hillsborough County Sheriff David Gee and several deputies, the Florida State Fair Authority, the Hillsborough County School Board and the school district. The suit alleged the "unjustified arrest and detention of a nonviolent and non-resistant juvenile."
In 2015, Student Day's rules were changed. Deputies would have to contact the parents or guardians of any juveniles who were ejected. Students must also be with an adult after 6 p.m.
"Andrew was forced to take off some his clothes, for the stated purpose of allowing the police to check for gang-related tattoos," Grayson wrote. "He was photographed, and information about him was entered into a database. With no evidence of wrongdoing, or even suspicion of wrongdoing, the police nevertheless removed Andrew (a 14-year-old without adult supervision) from the Fair, by patrol car. The police released Andrew well away from the Fair, by patrol car. The police released Andrew well away from the Fair, near four busy thoroughfares, two of them Interstate highways. At no time did the Sheriff's Office attempt to contact Andrew's parents, or direct him to do so."
In March of 2016, Grayson returned to Tampa near the scene of Andrew Joseph III's death to announce that the Justice Department would not be investigating the case. In a letter to Grayson that he made public that day, Assistant Attorney General Peter J. Kadzik wrote that "accident, mistake, fear, negligence or bad judgement are not sufficient to establish a willful federal criminal civil rights violation."
"It's been two years!  And I don't have a police report. Not one sentence,"  Joseph's father, Andrew Joseph Jr. said at that news conference (The Hillsborough County Sheriff's Office says that the Florida Highway Patrol did write up a report).
"I absolutely do not know how I can ever show my appreciation and gratitude to Congressman Grayson," said Deanna Joseph, Andrew's mother, in a statement on Friday. "This has given us hope that the world will never allow another tragic death of a child in the manner in which Andrew Joseph III's life ended."
The Andrew Joseph III Act, H.R. 6505, calls for building a stronger system of law enforcement accountability, and instill a greater confidence in community policing.
Grayson will be leaving Washington when the new Congress is sworn in next month. He gave up his congressional seat earlier this year to run for the Democratic nomination for U.S. Senate, where he fell a distant second to Jupiter Representative Patrick Murphy.