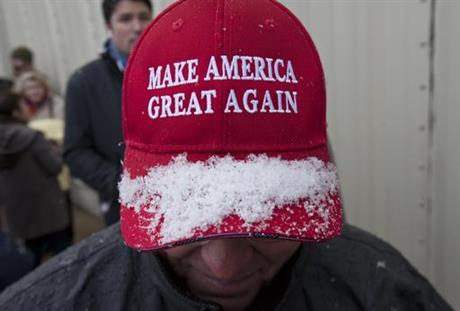 President-elect Donald Trump is partaking in one the nation's most storied football rivalries, saluting U.S. troops at the annual Army-Navy game on Saturday as he prepares to enter the White House.
The future commander-in-chief planned to attend the 117th game between the military academies at West Point and Annapolis, which is being held on relatively neutral ground, at M&T Bank Stadium in Baltimore, Md.
The appearance caps a week of rolling out Cabinet picks, holding "thank you" rallies in North Carolina, Iowa and Michigan, and trying to cement his incoming Senate majority with Saturday's runoff election in Louisiana.
The incoming president appeared jovial and relaxed as he plunged back into electoral politics on Friday, a full month after he won the presidency. He held large-scale events in Louisiana and in Michigan, where he regaled supporters in Grand Rapids by reciting his victories in battleground states.
Trump is the first Republican to win Michigan since George H.W. Bush in 1988. He attributed his feat to failures by Democrats.
"They forgot about you people," Trump said. "In four years they're not going to forget. But it's not going to work because you're not going to forget." Several protesters were removed from his rally at DeltaPlex Arena, prompting the president-elect to declare at one point, "Get 'em out of here."
Trump introduced Betsy DeVos, his choice for education secretary who hails from west Michigan, and announced that Andrew Liveris, the chief executive of Dow Chemical, would lead his American Manufacturing Council. Taking the stage, Liveris said the company would soon bring a new research-and-development center to Michigan.
In Baton Rouge, Louisiana, Trump campaigned for Republican John Kennedy, the state treasurer who faces off Saturday against Public Service Commissioner Foster Campbell, a Democrat, for the seat of retiring Republican Sen. David Vitter. Neither won a majority in the November primary. Polls show Kennedy with a comfortable lead in the runoff.
While candidate Trump was often at odds with the establishment wing of his party, GOP leaders have broadly supported him as president-elect, and he's trying to consolidate any lingering factions, most immediately in Louisiana, where a Kennedy win would cement the party's four-vote advantage in the new Senate.
"We need John in Washington," Trump said, speaking in front of a lectern that urged voters to "Geaux Vote. Vote GOP."
In private, people close to Trump said he was expected to name yet another Goldman Sachs executive to his White House team. The president-elect's National Economic Council is to be led by Gary Cohn, president and chief operating officer of the Wall Street bank, which Trump repeatedly complained during the election campaign would control Hillary Clinton if she won.
Washington state Rep. Cathy McMorris Rodgers, a member of the GOP House leadership team, emerged as a leading candidate to head the Interior Department, according to a person involved in the transition.
Major decisions remain — most importantly Trump's choice for secretary of state. The deliberations have become a source of tension within his transition team, with chief of staff Reince Priebus said to be backing Mitt Romney while other advisers oppose the idea of selecting the 2012 GOP nominee, given his fierce criticism of Trump during the campaign.
Trump announced that Rudy Giuliani, the former New York mayor who was an early favorite, was no longer under consideration.
On a busy Friday, Trump also spoke by telephone with Scotland's First Minister Nicola Sturgeon, who broke with protocol during the campaign to publicly endorse Hillary Clinton and said afterward she would not maintain "a diplomatic silence in the face of attitudes of racism, sexism, misogyny or intolerance of any kind."
Sturgeon's office said she used Friday's call to emphasize the "values Scotland and the United States share." Trump's transition team described the conversation as a "short congratulatory call."
Meanwhile, there apparently is a split over Priebus' replacement as Republican National Committee chairman.
Priebus is said to support Michigan Republican Party chairwoman Ronna Romney McDaniel for the post, though other senior officials are backing Nick Ayers, an aide to Vice President-elect Mike Pence. McDaniel addressed the crowd in Michigan before Trump took the stage, but no announcement on the RNC chair was made.